When you visit Sedona, you instantly fall in love. When we visited I very much wanted it to be a get lost and explore kind of trip and I wasn't disappointed.
Sedona is located between the Coconino and Yavapai county lines. It is near Flagstaff and surrounded by red-rock buttes, high canyon walls and pine forests. Sedona is an Arizona desert town noted for its mild climate and lively arts community. You will find many New Age shops, spas and art galleries in uptown Sedona. There are numerous trailheads on the outskirts across Red Rock State Park, which provides bird-watching, hiking and picnicking spots.
As a couple we prefer easy to moderate hikes as we don't want to carry too much gear, so here are three of my personal favourites in Sedona. If you're stuck for time and trying to decide which to do or just wanting to find scenic spots then this post is for you. I also recommend getting up early and doing your hikes so that you finish around lunch-time, the trails aren't too busy and it also gives you the rest of the day to explore.
When hiking in the red rock area you must also have a pass which you can buy daily or weekly or annually, but must be displayed in the front of your car.
Little Horse Trail
Distance of hike: 3 miles
Time: 2.5 hours round trip
Difficulty: Easy
Where to start: Little Horse Trailhead parking
This trail ends at Chicken point and starts at Bell Rock Pathway. It is well sign posted and forks to where you can either head to Chicken Rock and views of The Two nuns or the Chapel of the Holy Cross.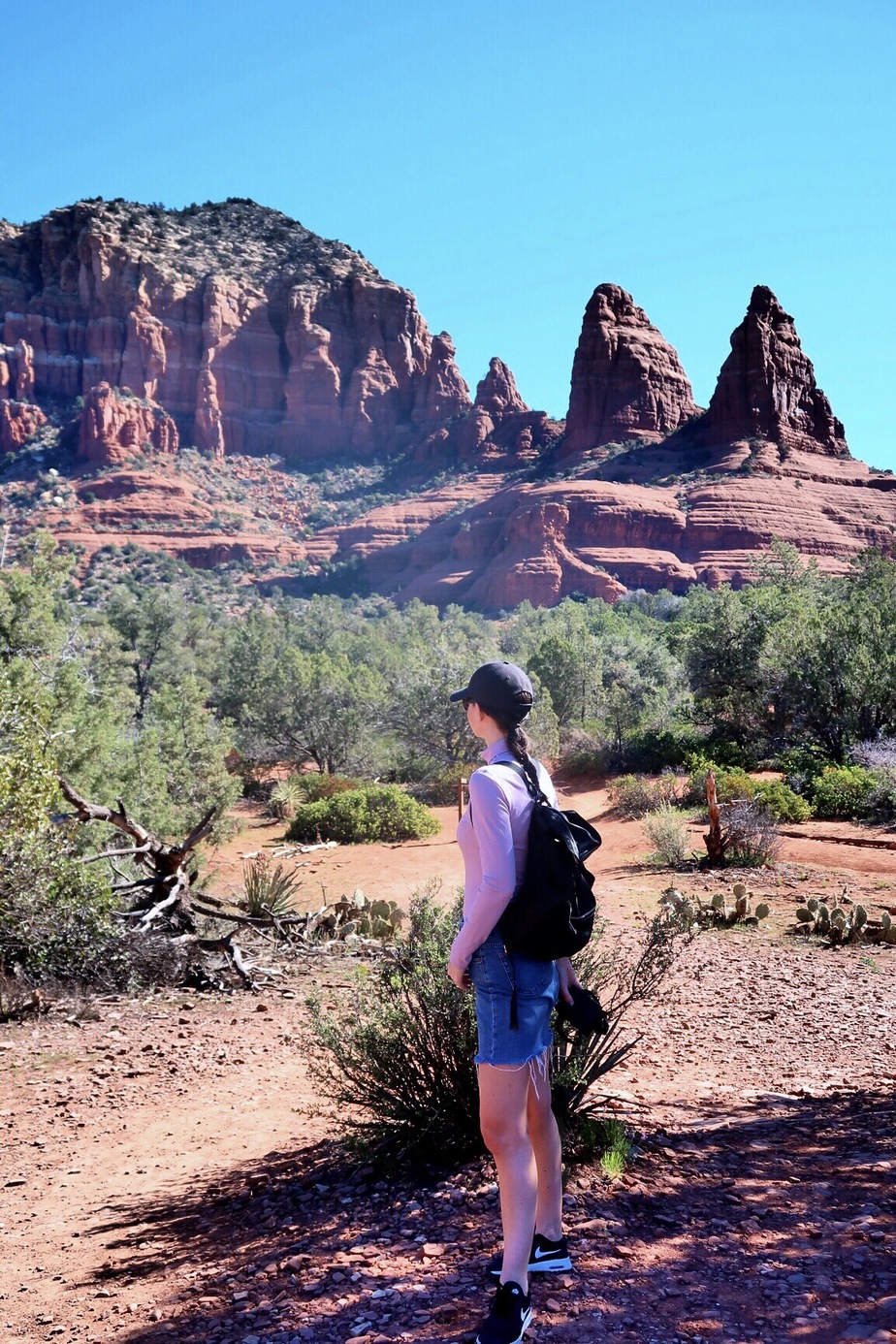 It's a very easy trail with beautiful views and if you arrive early enough, you may even get to see some wildlife like we did.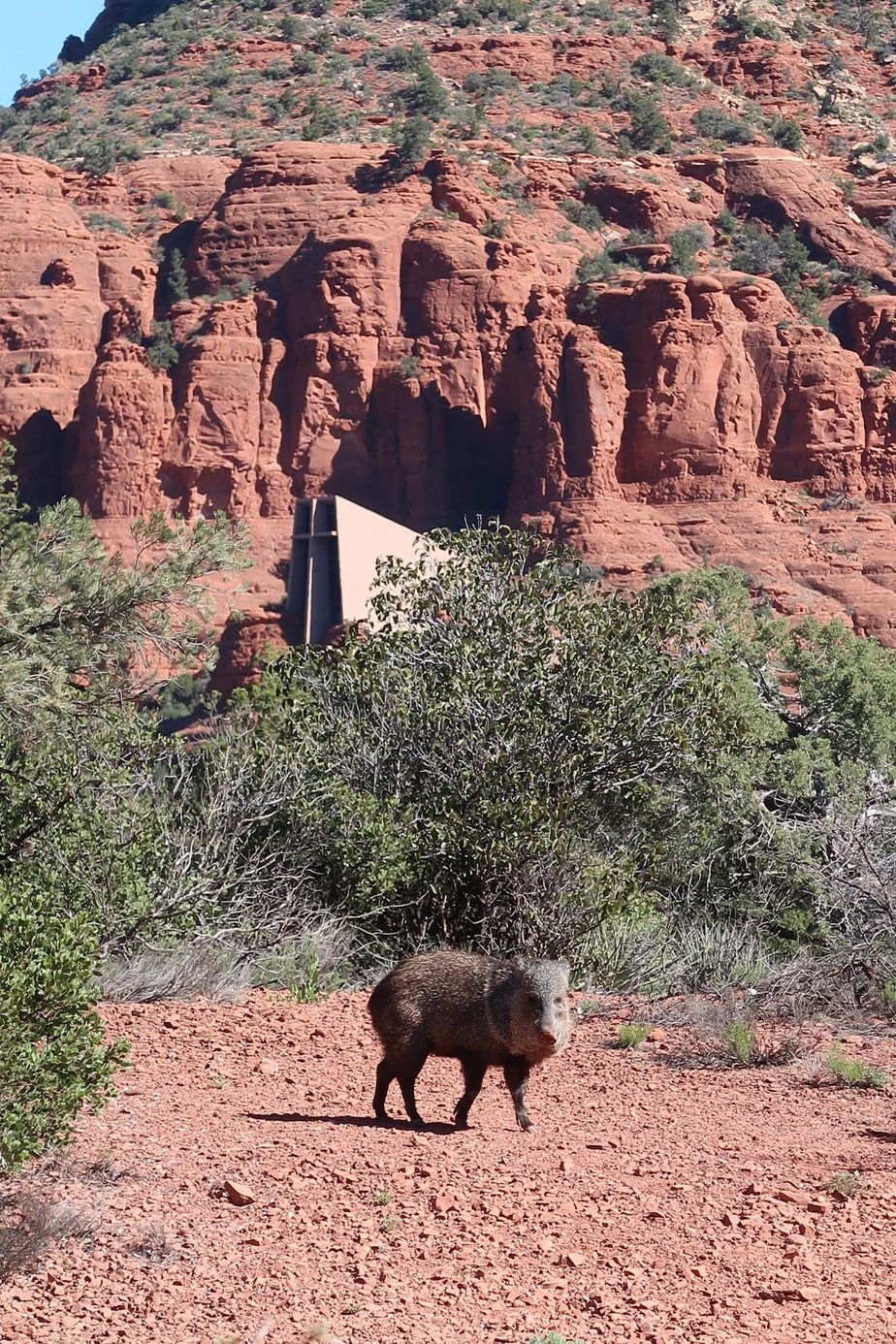 We started with this hike to get a taste of things to come, and we loved how quiet it was first thing and to really feel like we were escaping into nature.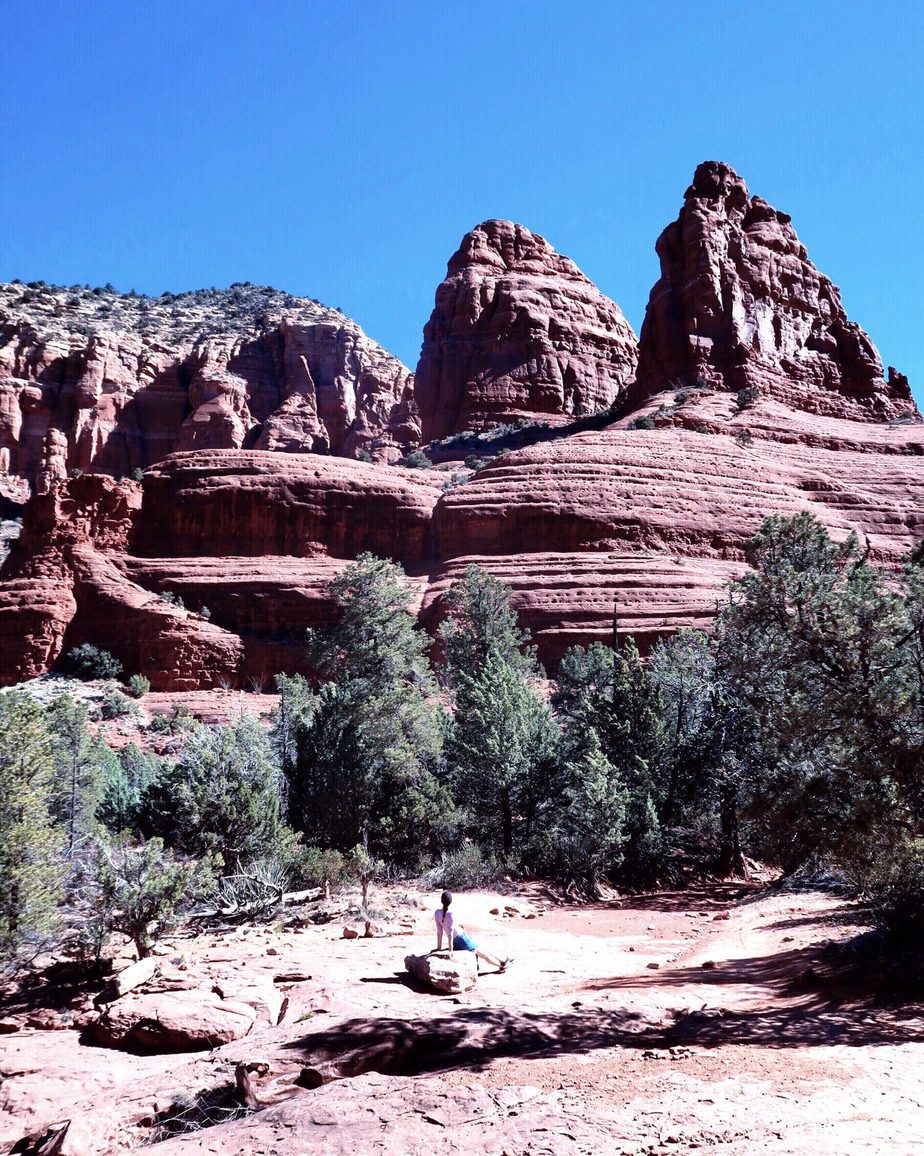 Broken Arrow Trail
Distance of hike: 3.5 miles
Time: 2.5 hours round trip
Difficulty: Easy to moderate
Where to start: Broken Arrow Trailhead parking
This is one of the most popular hikes in the area, especially for mountain bikes. We found the parking to be limited, so again, arrive early. As you head toward Chicken Point the views along the way are worth it.
Along the route you will see Submarine Rock, Twin Buttes and finally the famous Chicken Point.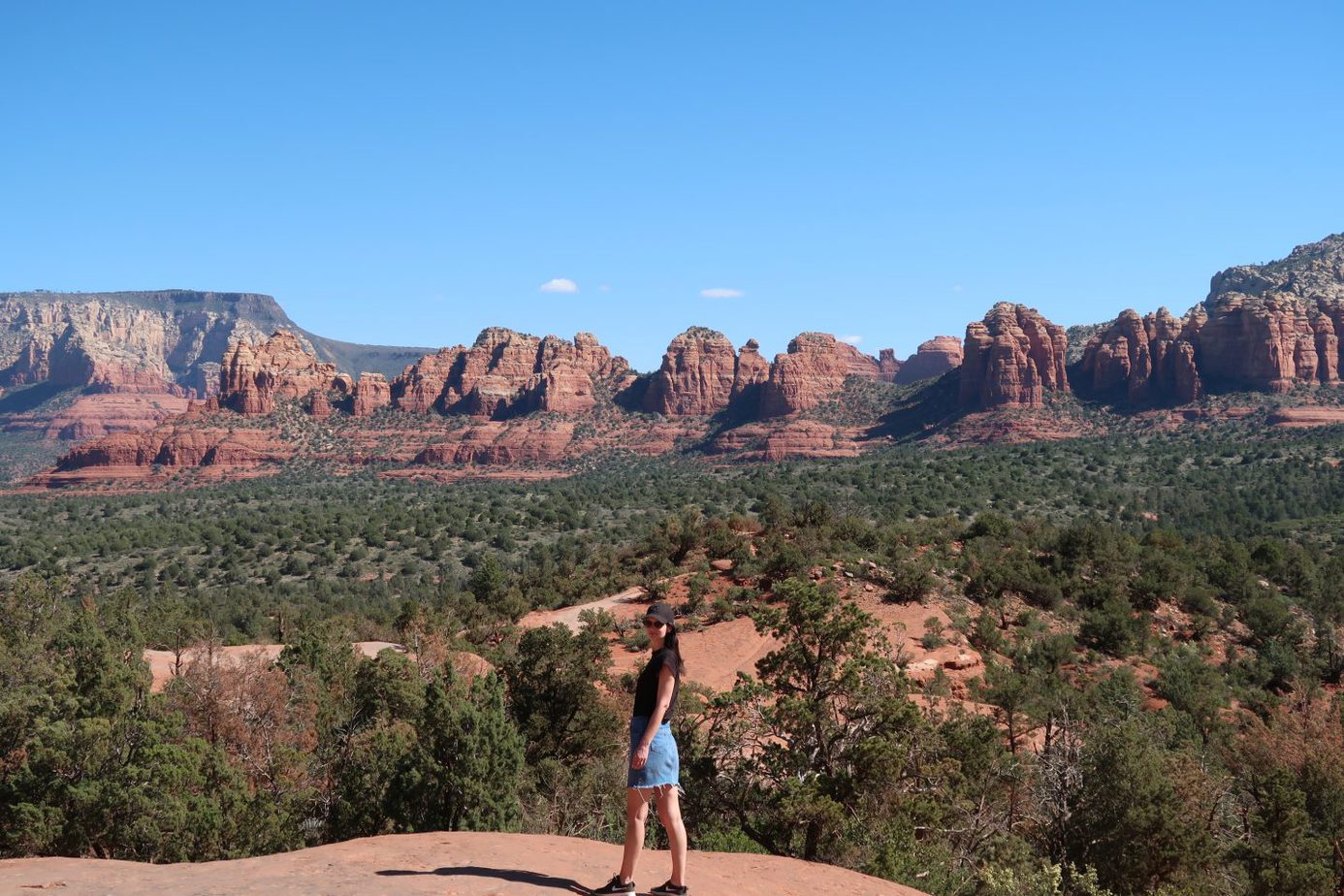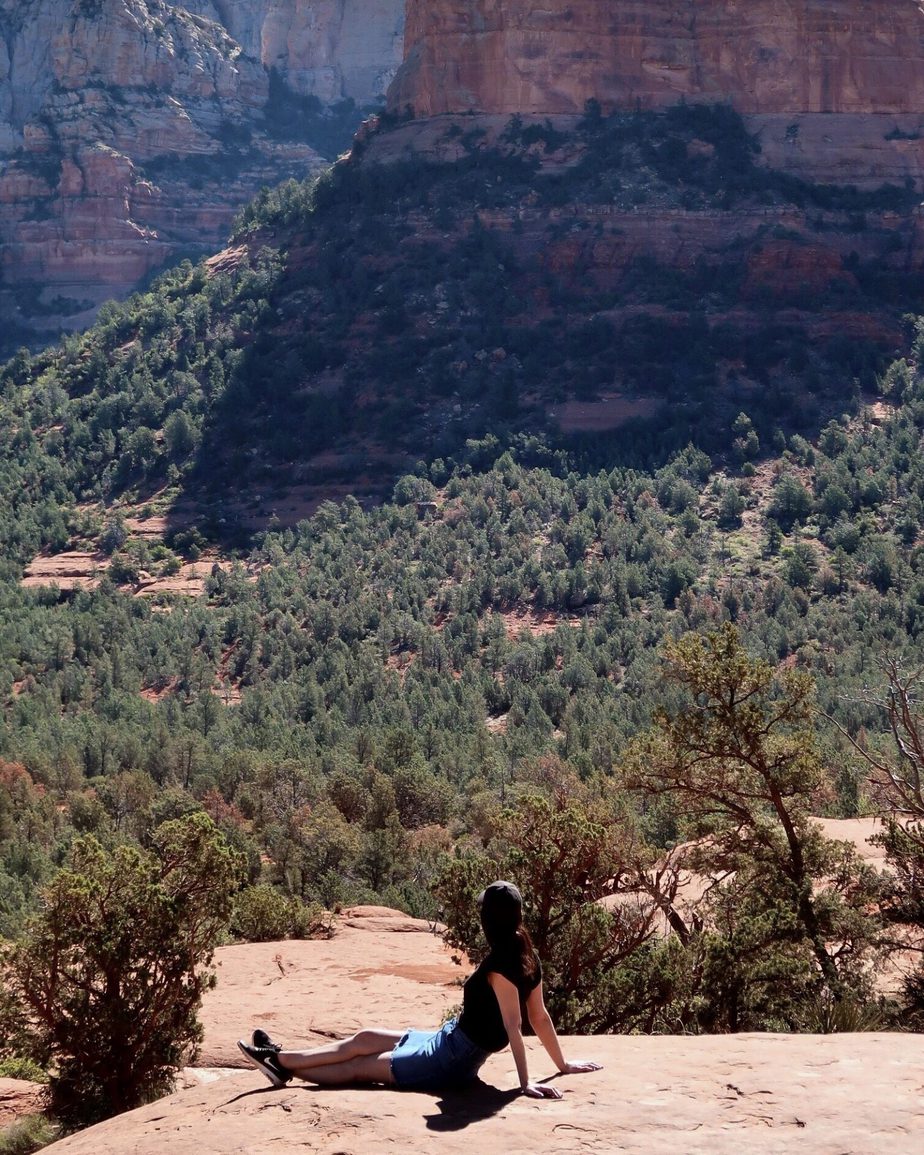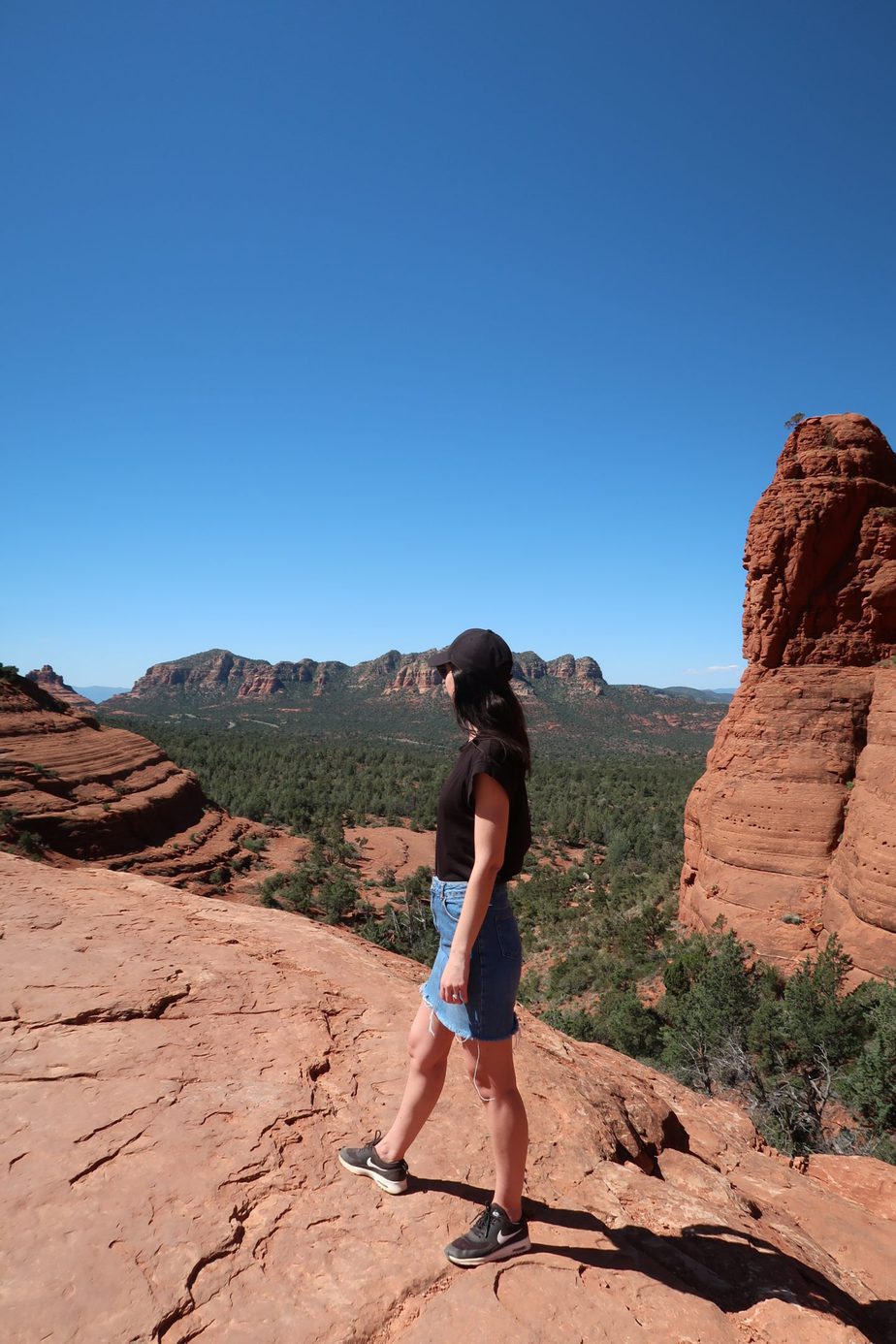 Devils Bridge Trail
Distance of hike: 4.2 miles
Time: 3 hours round trip
Difficulty: Moderate with steep climbs at the end that require use of hands.
Where to start: Devils Bridge Trailhead parking
Possibly the most famous and most-instagrammed hike in Sedona. Devils Bridge is the largest natural sandstone arch in Sedona and offers stunning views of red-rock country.
Be aware that this hike is very popular and can be quite strenuous climbing to the top of the bridge in the hot weather. Arrive early, as parking is also very difficult at this trailhead and take plenty of water.
The trail itself is fairly flat until you get to the last mile or so where it starts to climb. You will first find a natural rock staircase which will lead you to some fantastic views.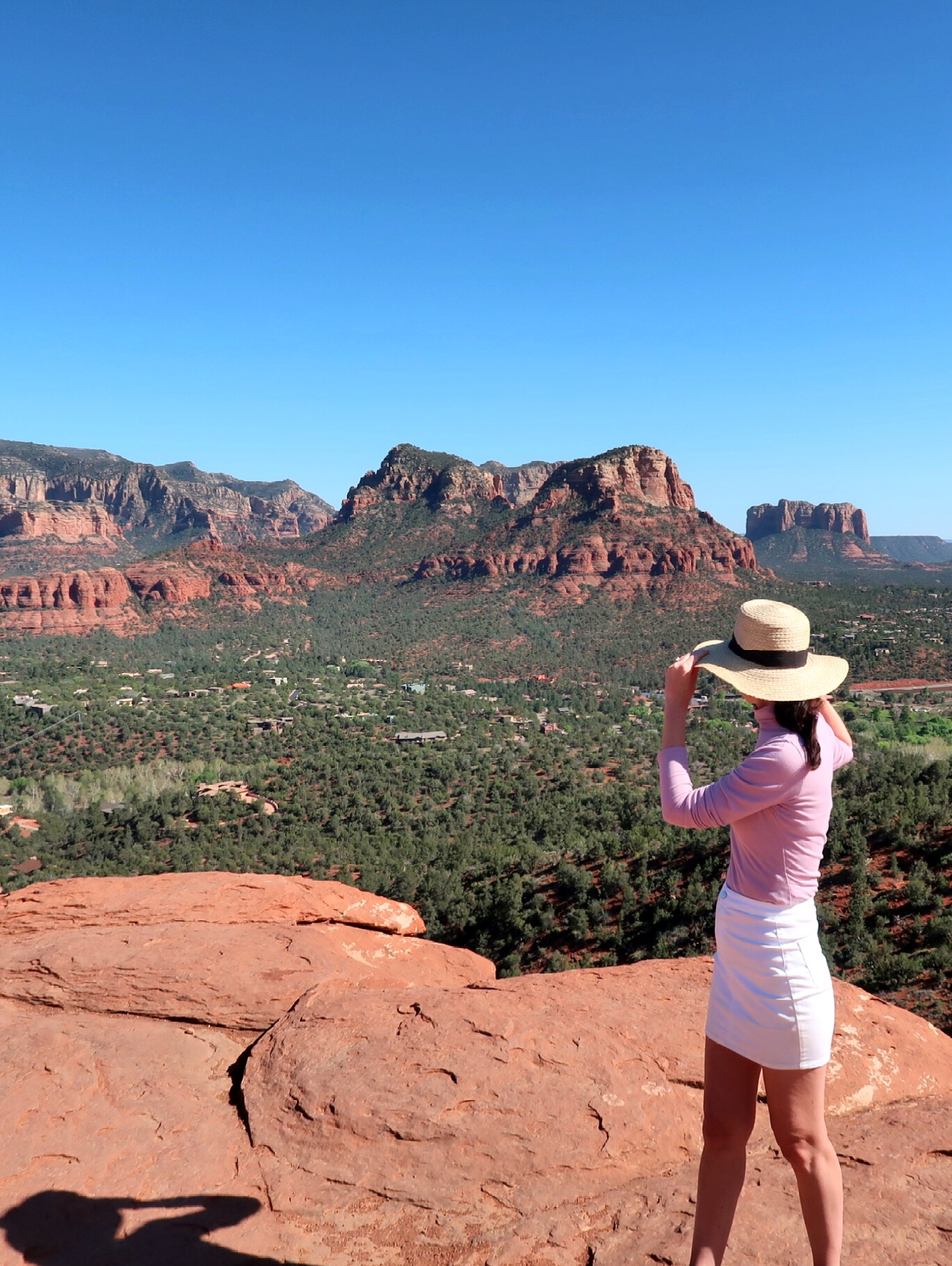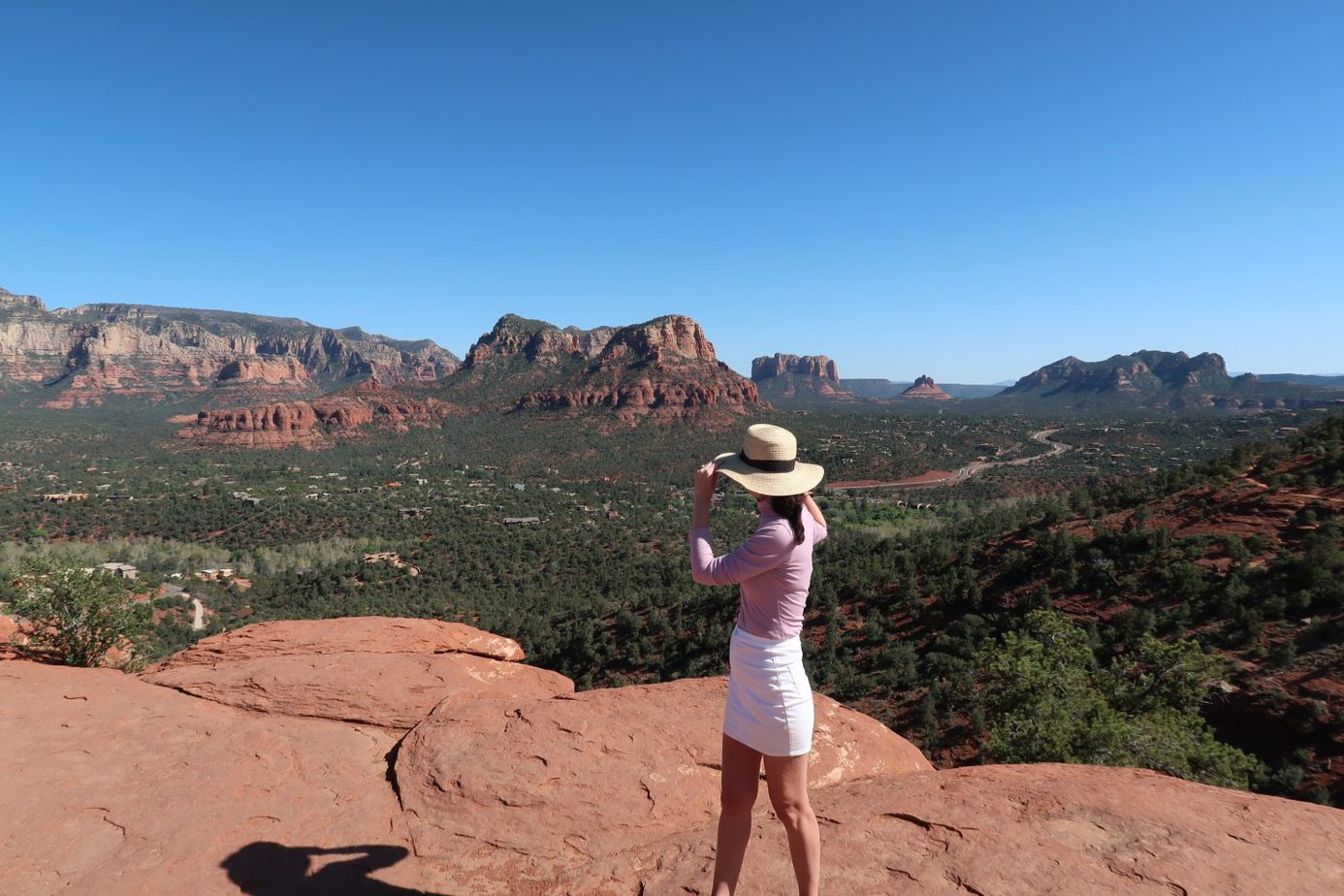 At this stage, it's wise to have a short break before ascending to Devils Bridge. The climb is narrow and people will be descending at the same time, so be careful!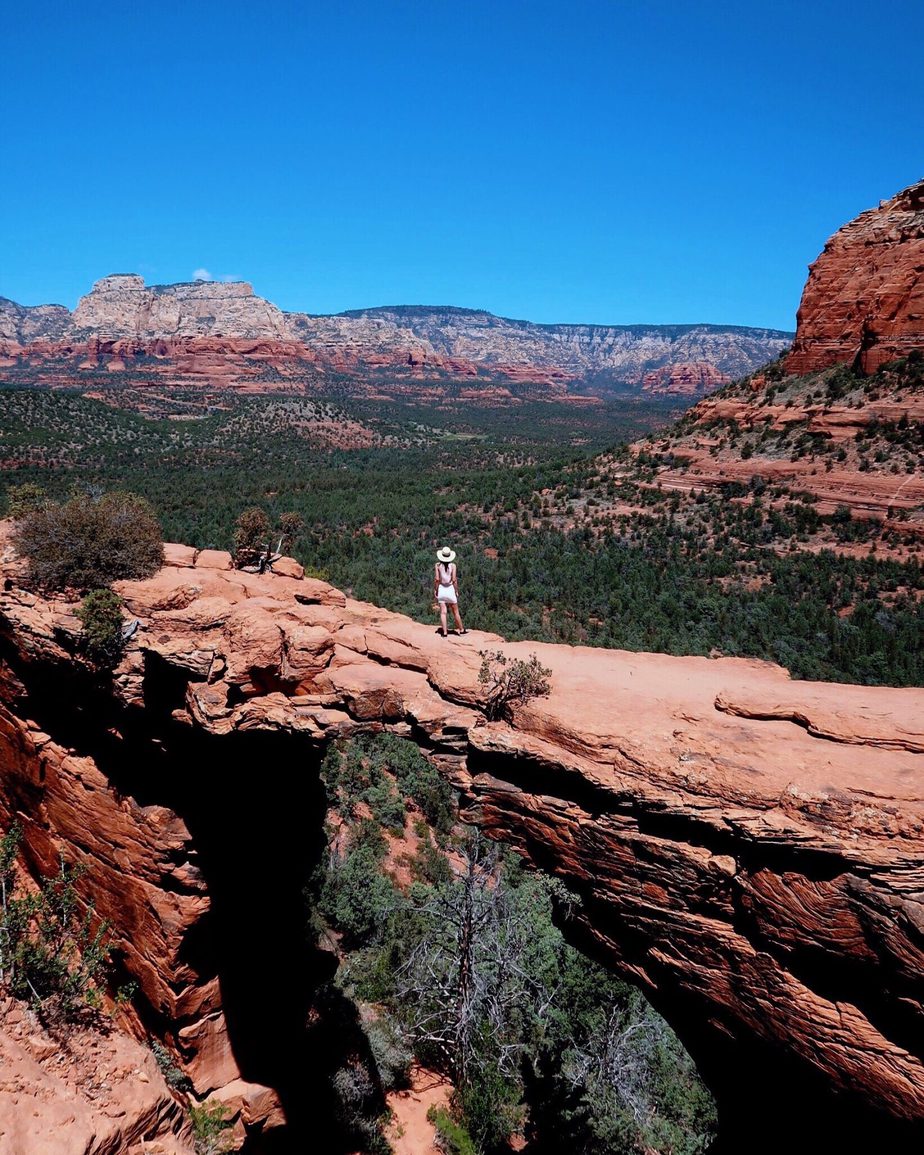 And if you don't want to walk…
I highly recommend getting the Mogollan Rim tour with Pink Jeep Tours. This 3 hour (very bumpy) tour starts on Schnebly Hill Road and historic Munds Wagon Trail, heading through canyons and over rocky trails. You'll travel up to iconic Merry-Go-Round Rock and past the Cow Pies rock formations.
Here are some of the views: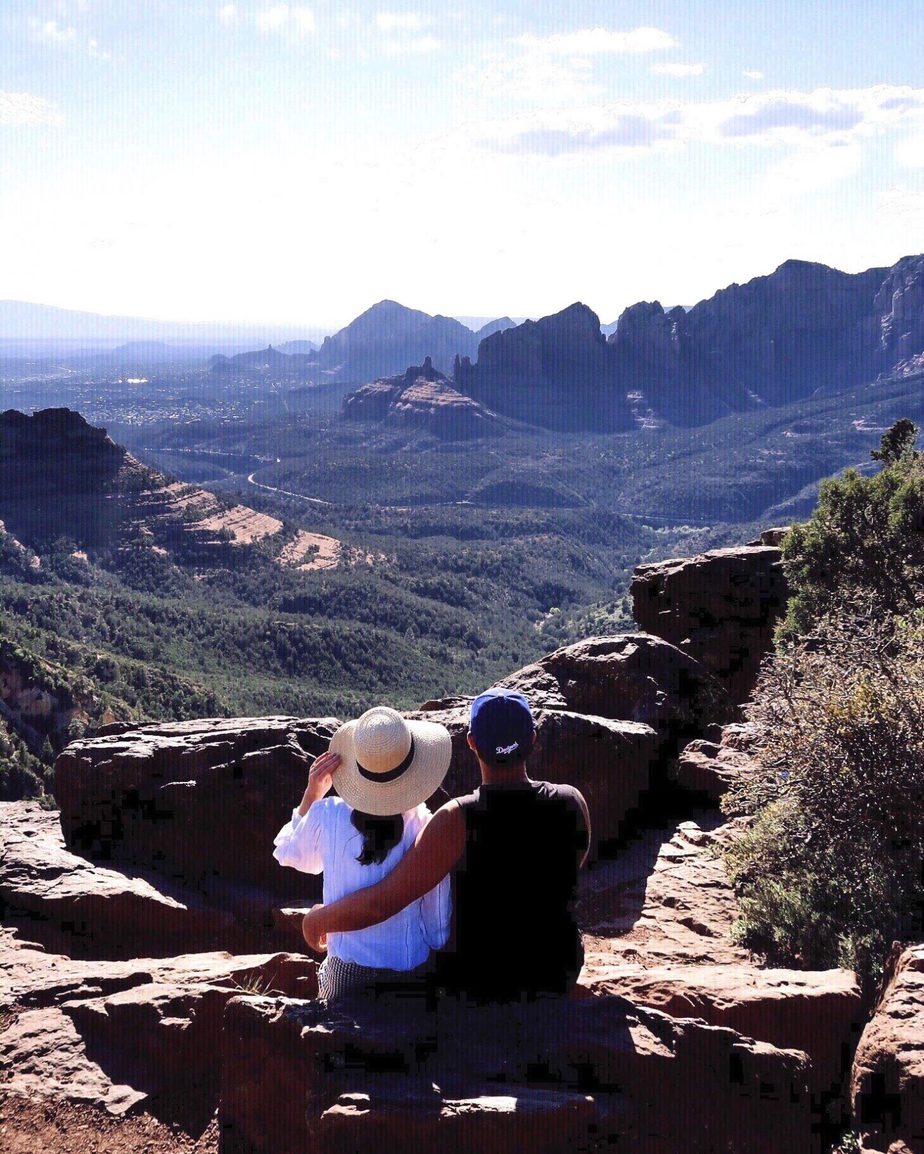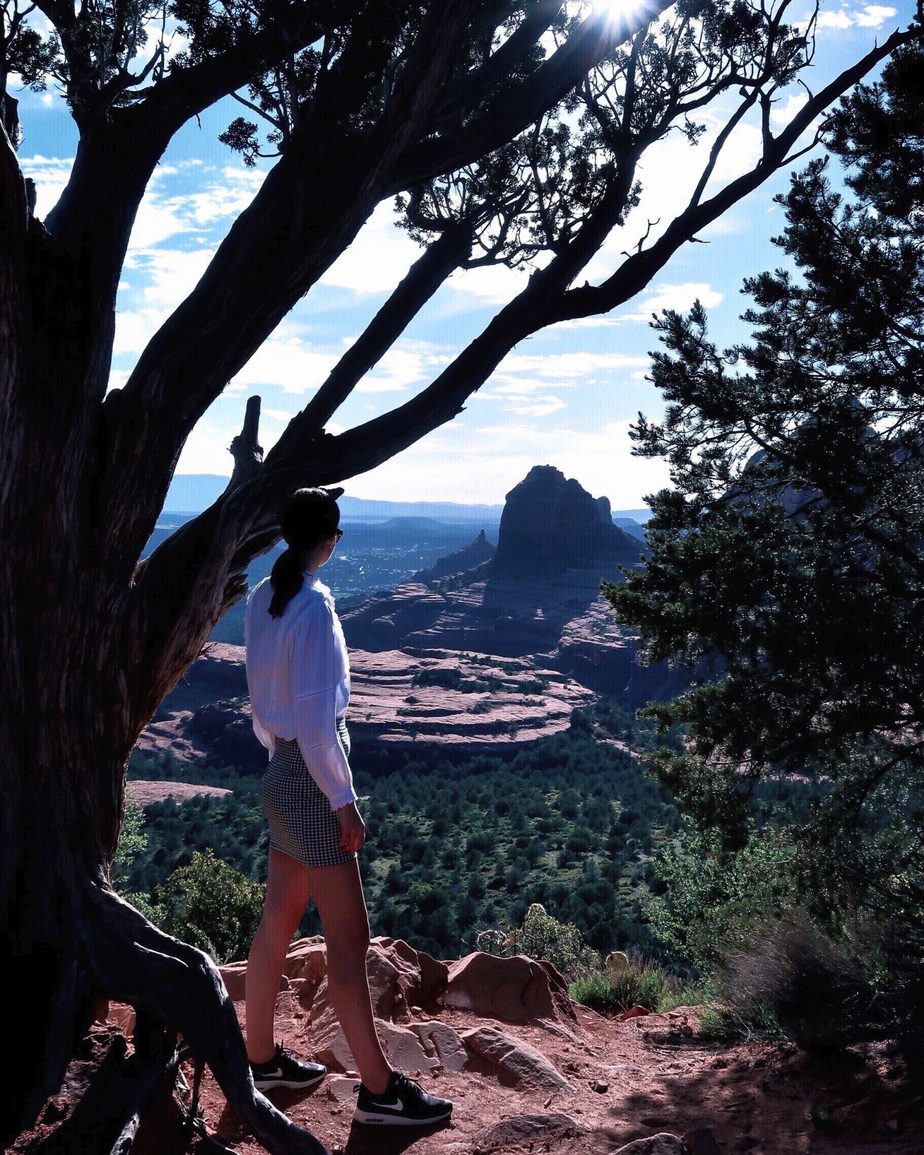 What are your favourite hikes in Sedona?