You've booked your trip to Aruba and you're excited. And so you should be, tropical beaches, sunny days and a laid back vibe will be coming your way very soon. But where should you head when you get there? What kind of things are there to see?
The island itself is very small, at just 21 miles long and 6 miles wide it's so easy to hire a car and set off on an aruban adventure.
Here I've curated in my opinion the most beautiful insta worthy locations to head too, to maximise your time.
The Fofoti Trees
Where: Eagle Beach
The Divi Divi tree the iconic symbol of Aruba. You will see twisted trees growing out of the sand throughout your stay on Aruba, however there are two particular trees that are more special than the others and these are actually Fofoti trees not Divi Divi trees.
People often get the Fofoti tree and Aruba's national symbol of the Divi tree mixed up. Here are the differences:⠀

The Fofoti tree grows on the beach and you can find two of them on Eagle Beach, whereas the Divi Tree grows in dirt and can be found throughout the island. They also grow at different angles.⠀

'The Divi-Divi, usually never more than a dozen or 50 feet tall, is permanently bent, at nearly a right angle, with its Medusa-like branches seemingly swept back by the wind. All divi-divi trees point to the west, in the direction of the trade winds that come from the northeast.'

Aruba-travel guide.com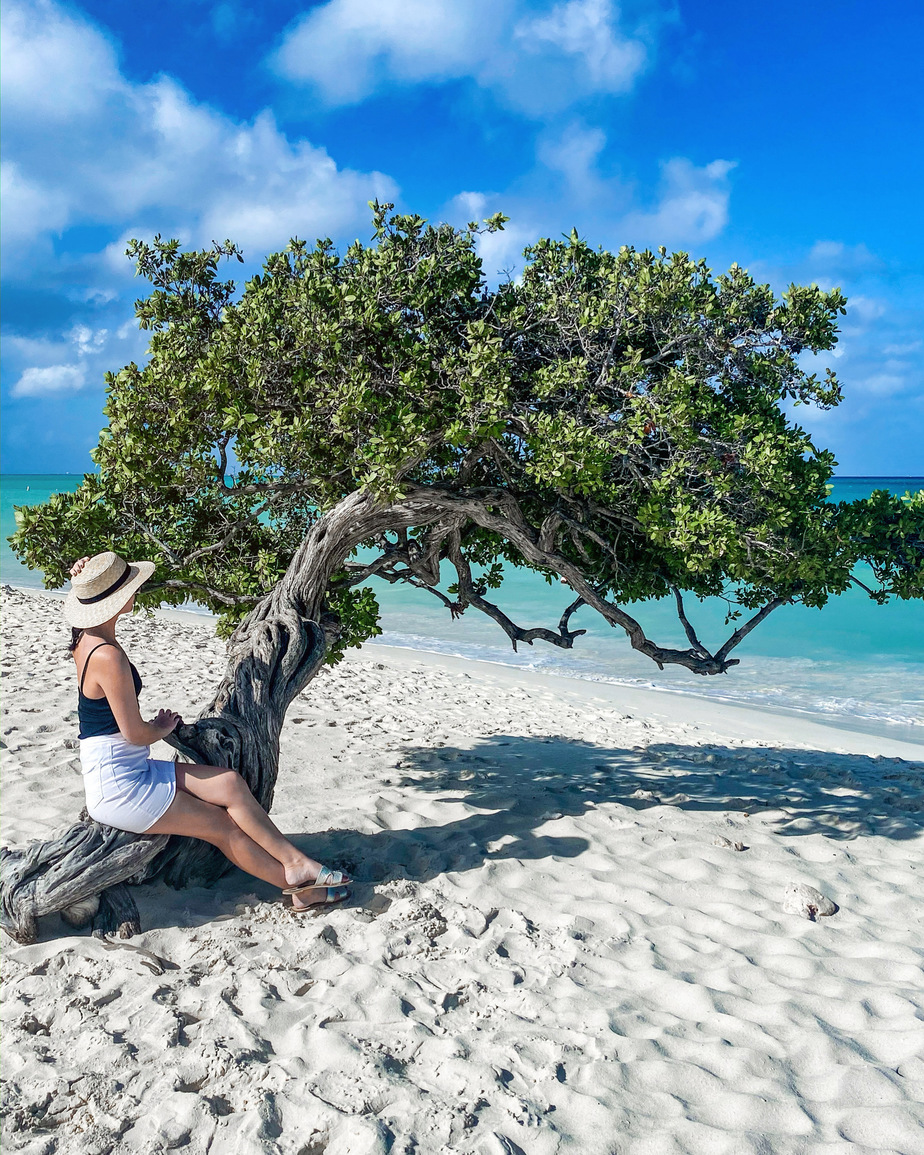 Renaissance Island
Where: Board a boat from the renaissance hotel in Oranjestad.
Possibly more famous than Aruba itself are the images from Renaissance Island and Flamingo Beach. You can gain access to the private island and beaches if you are staying at the Renaissance Hotel, if not you have to purchase a day ticket for $125 or book a spa treatment on the island.
Taxis run every fifteen minutes from the hotel starting from 7am.
The island consists of two private beaches, Flamingo Beach which is adult only, home to the Flamingos and the child-friendly Iguana beach where you can also see iguanas. There are private cabanas and also sun loungers which can be used by all visitors and also towels given on the island. There are bars and a restaurant located on Iguana Beach.
Top tip: If you want to avoid the crowds for images with the flamingos, get the first boat at 7am. Walk right as you exit the boat and head to the flamingo food dispenser with change (it only takes 25c) and head straight to flamingo beach. Here the flamingos will join you and you can take pictures in the soft light post sunrise.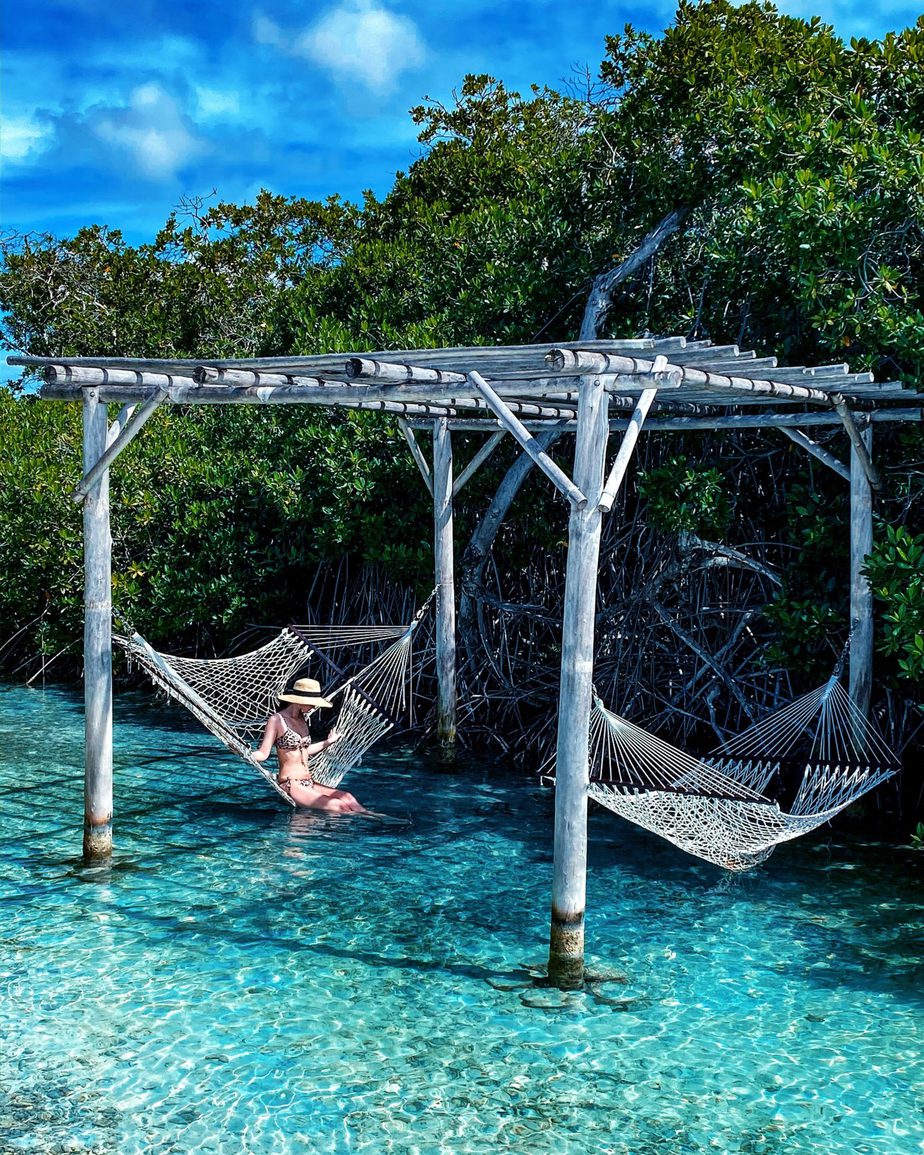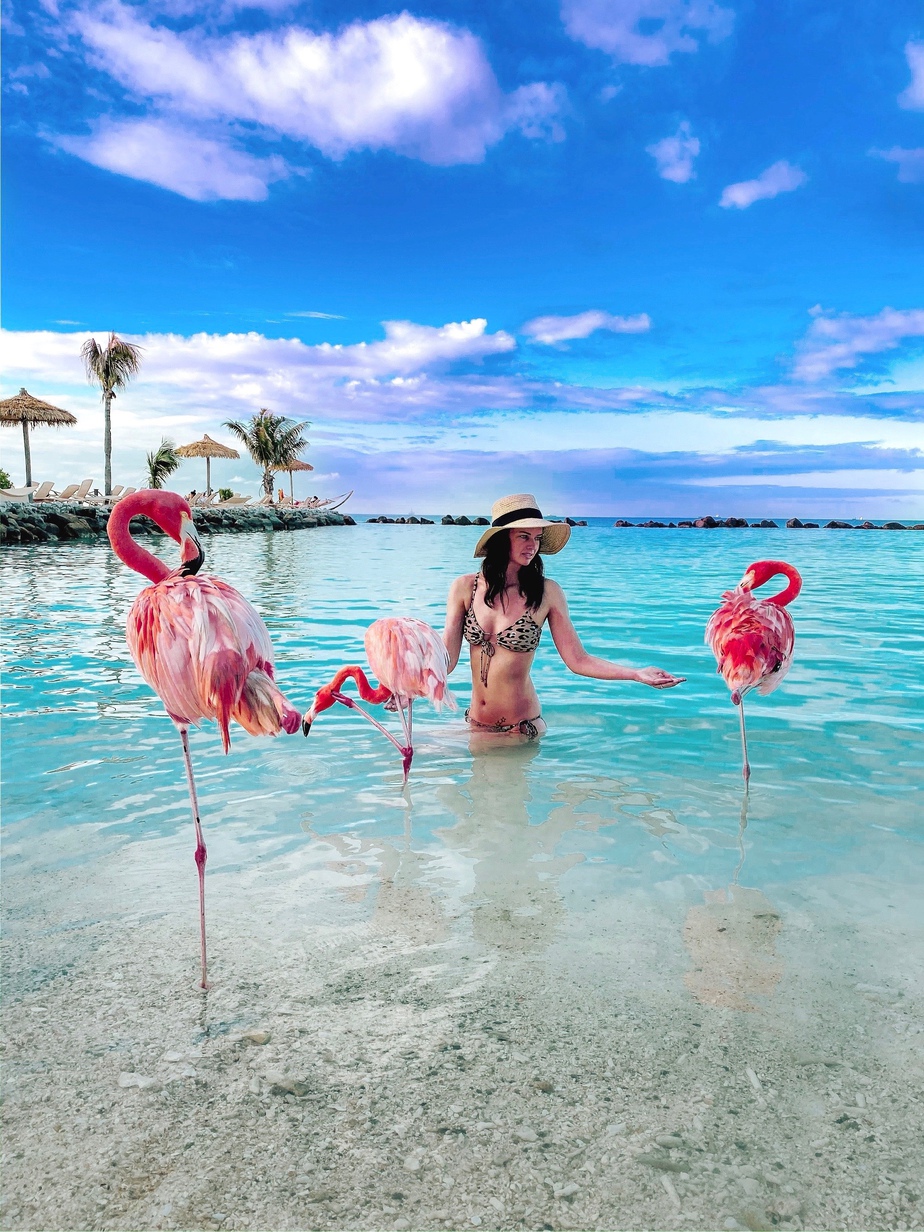 The waters are perfectly clear and snorkelling is a must. The snorkelling here was better than a boat trip we took to the ruins. I was also incredibly lucky to see an Octopus!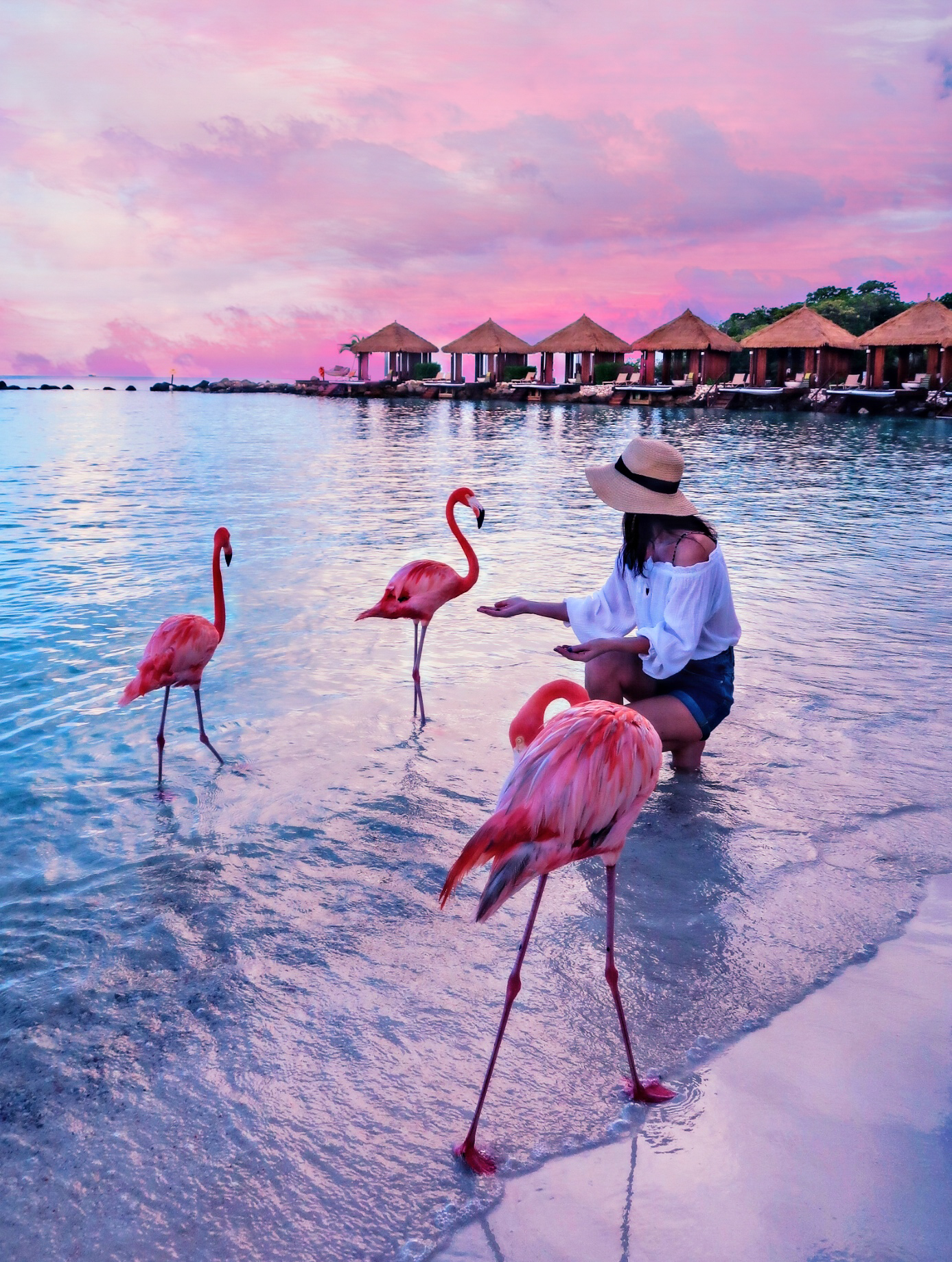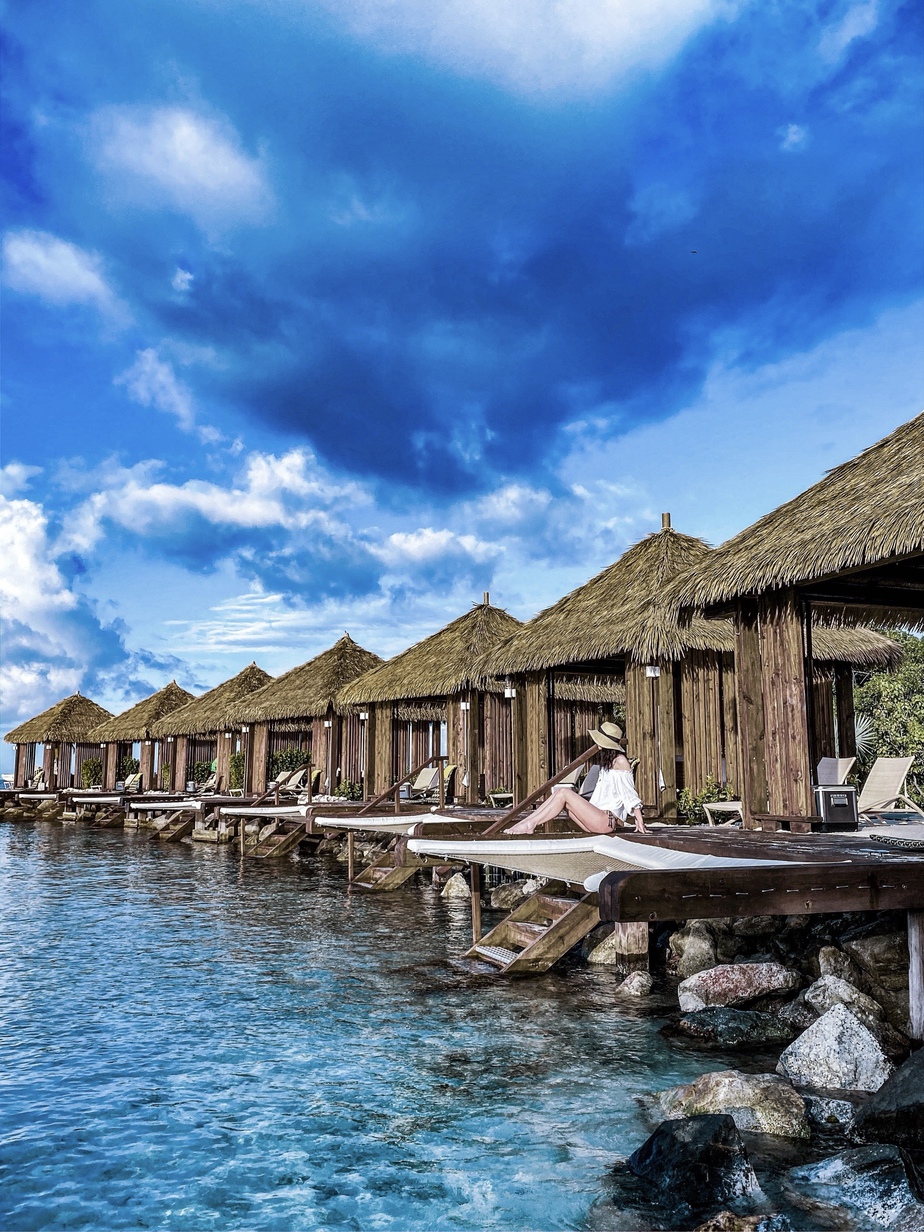 San Nicolas
Where: Head to the south of the island
As Aruba's second largest city, San Nicolas is located 19km South East of Oranjestad. Home to beautiful beaches such as Turtle Beach and Rodgers Beach. But San Nicolas is best known for it's art murals.
The Aruba Art Fair is an annual art festival where international and local artists create street art and you can see the wall murals they leave behind.
Easily accessible from the tourist centre, take a wander around the art hub of Aruba.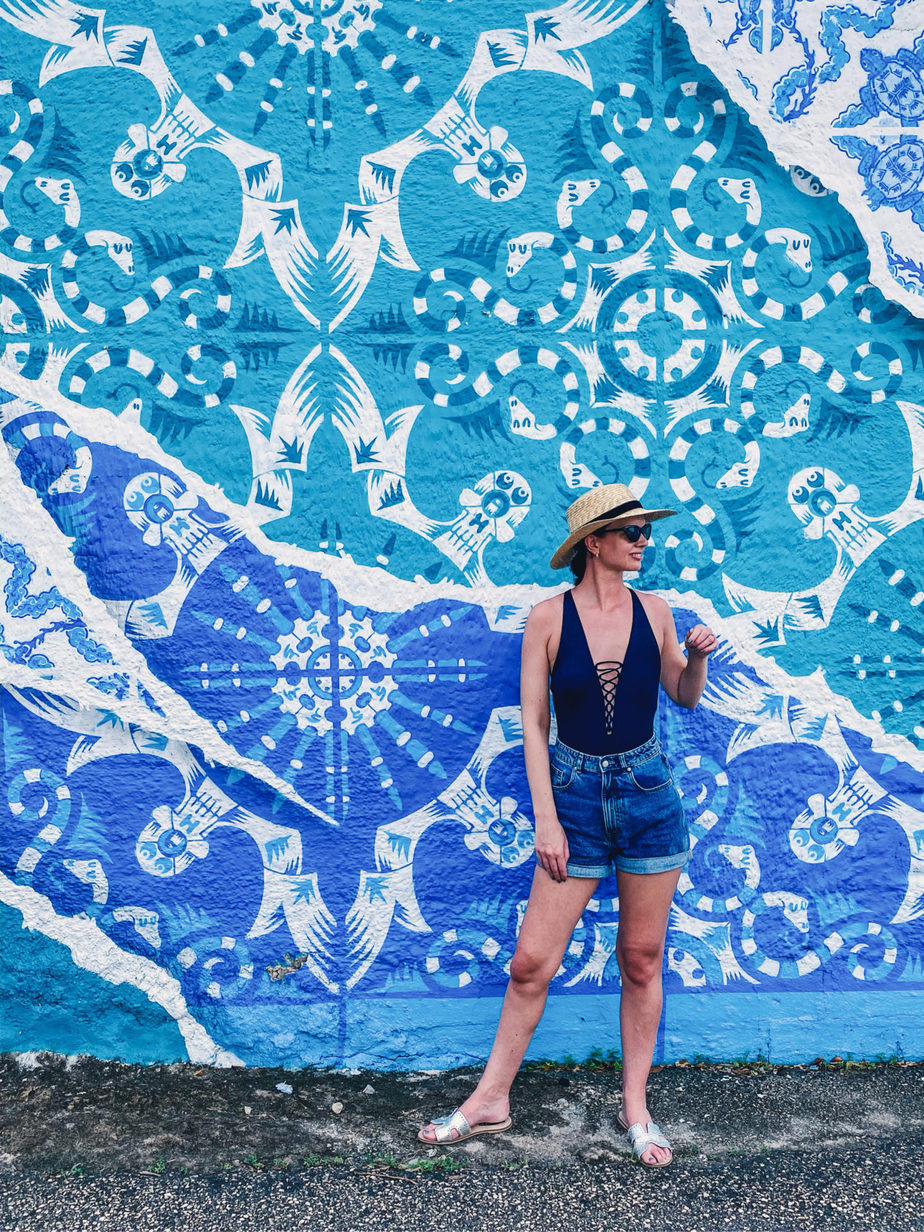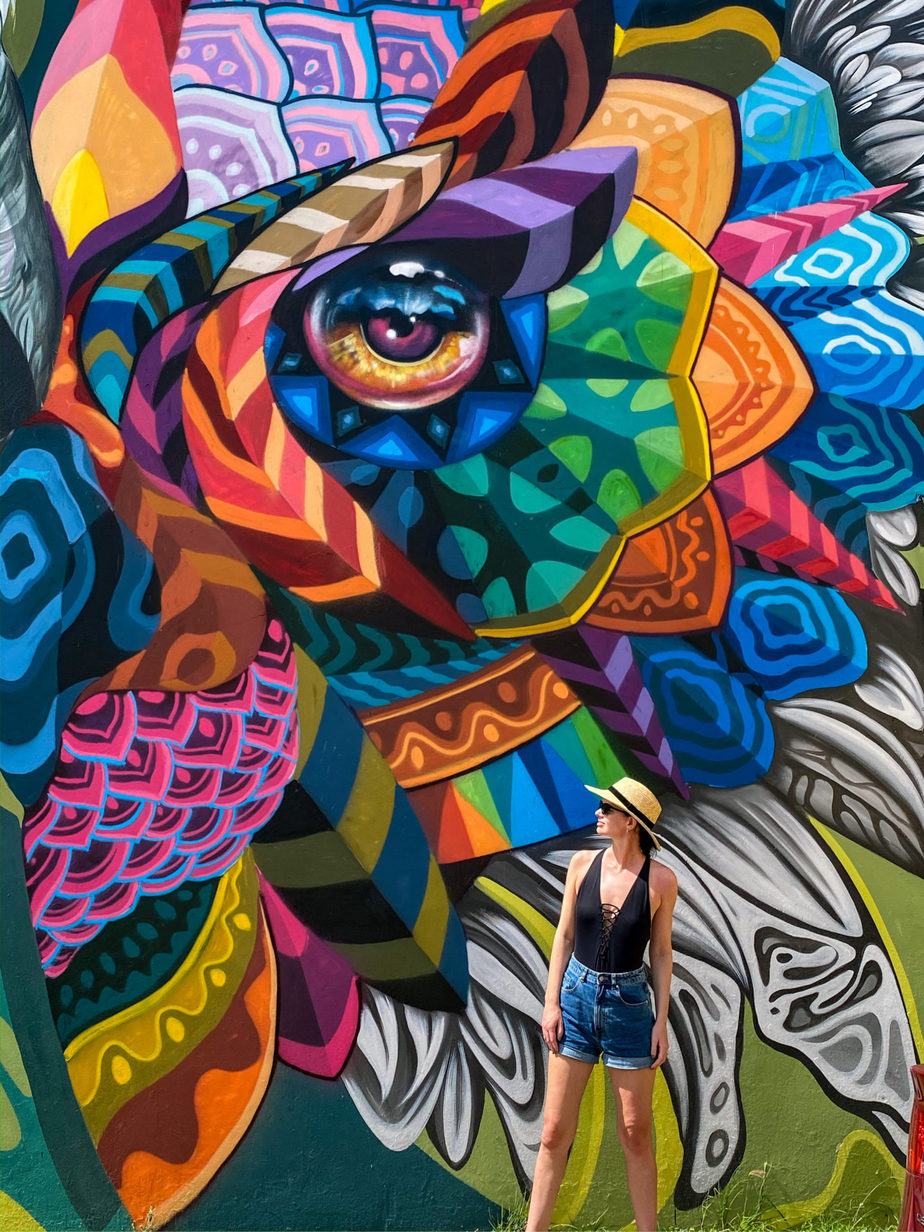 Whilst in San Nicolas, I highly recommend stopping by at Charlie's Bar and taking in all of the decor from bric-a-brac to antiques to items donated by customers. The food is also very good, so stop by for interesting tales from a place that has been an island icon for more than 70 years.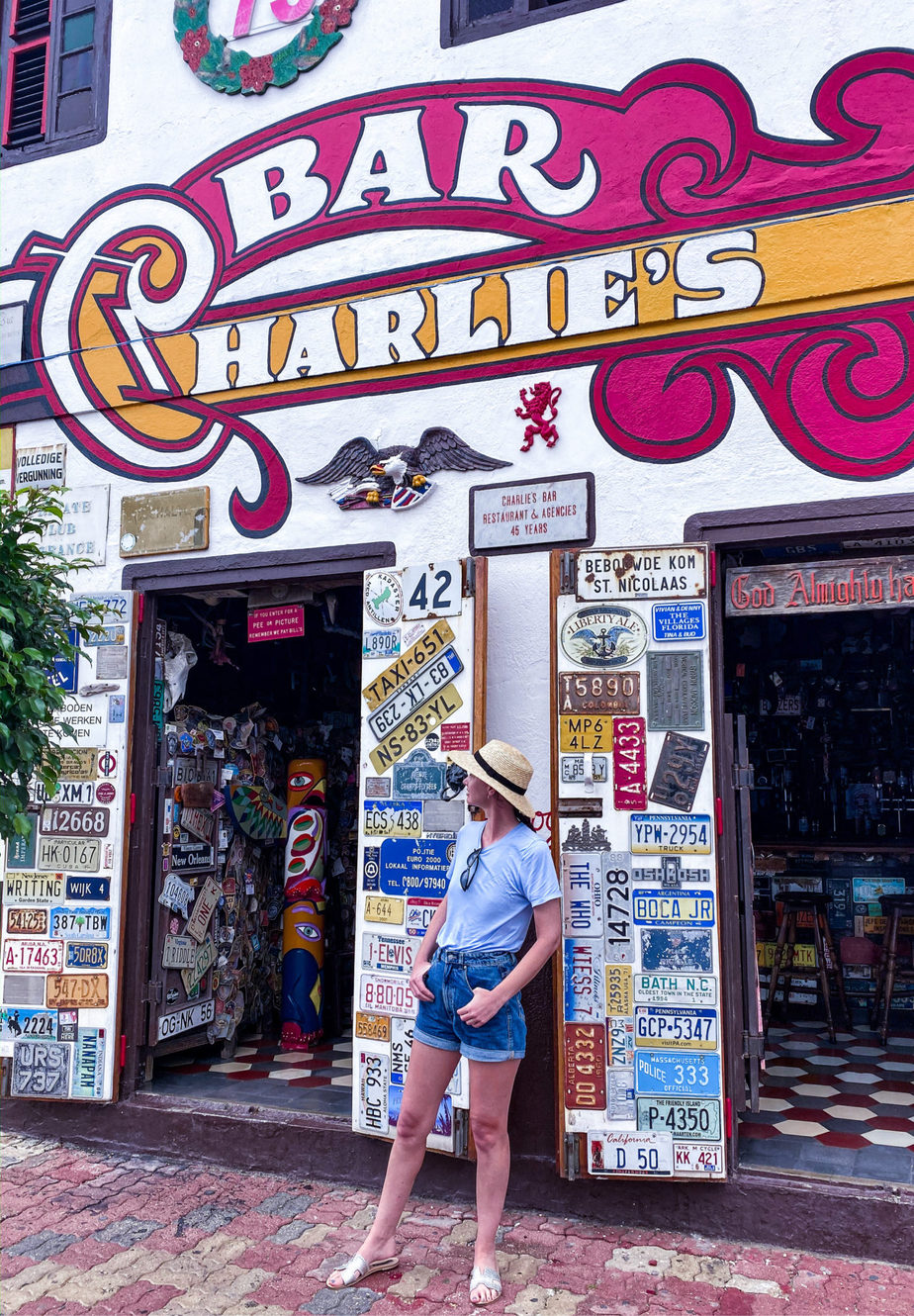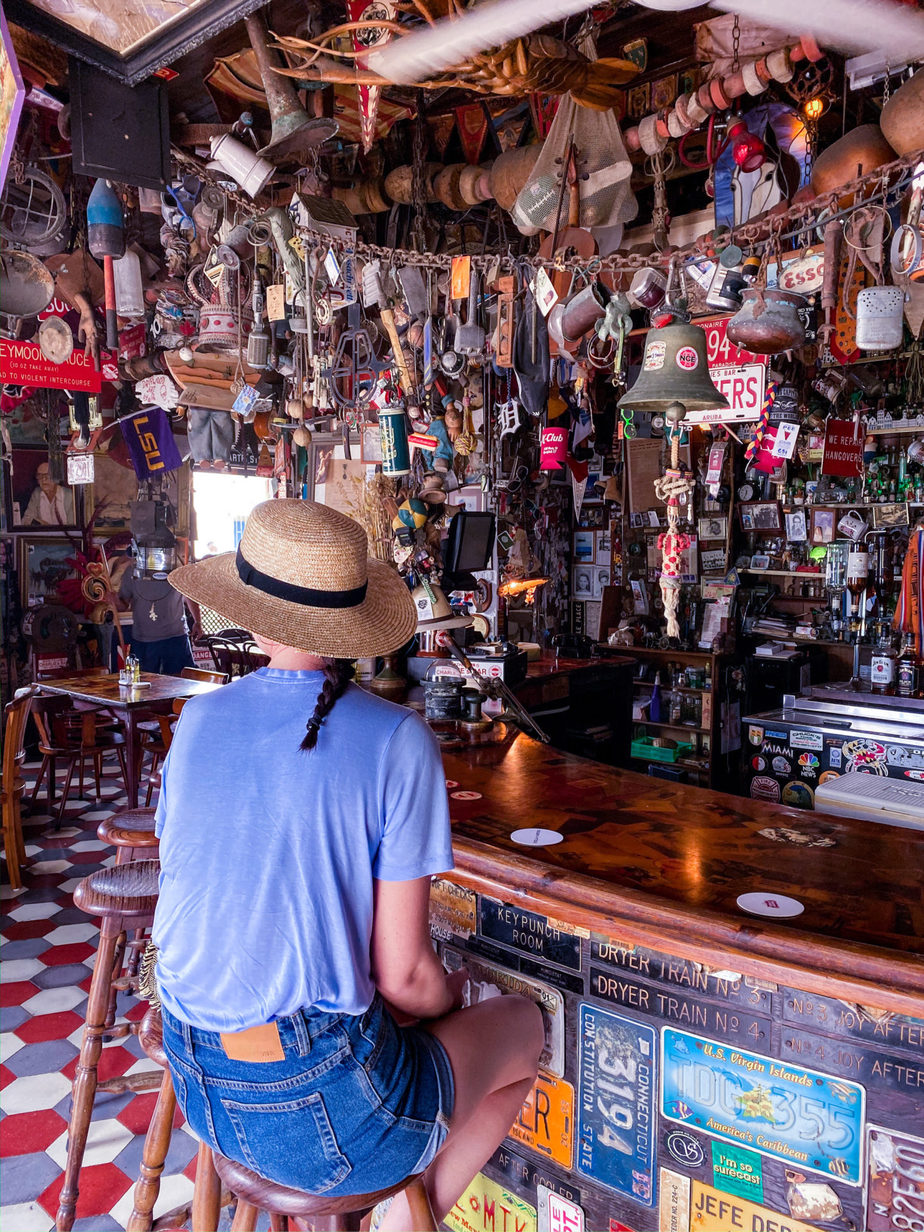 Natural Bridge & Bushiribana Gold Mine Ruins
Where: to the east of the island
Formed out of natural limestone, the Natural Bridge collapsed on September 2, 2005 due to extensive damage caused by Hurricane Katrina. The natural arch, measuring approximately 25 feet high and 100 feet long, was the remnant of an ancient cave.
Here you will find a small pebbly beach and landscape that is very different to the west coast of the island. There is also a small shop and a small area to walk. We were a little disappointed with this attraction and spent no more than 15 minutes here.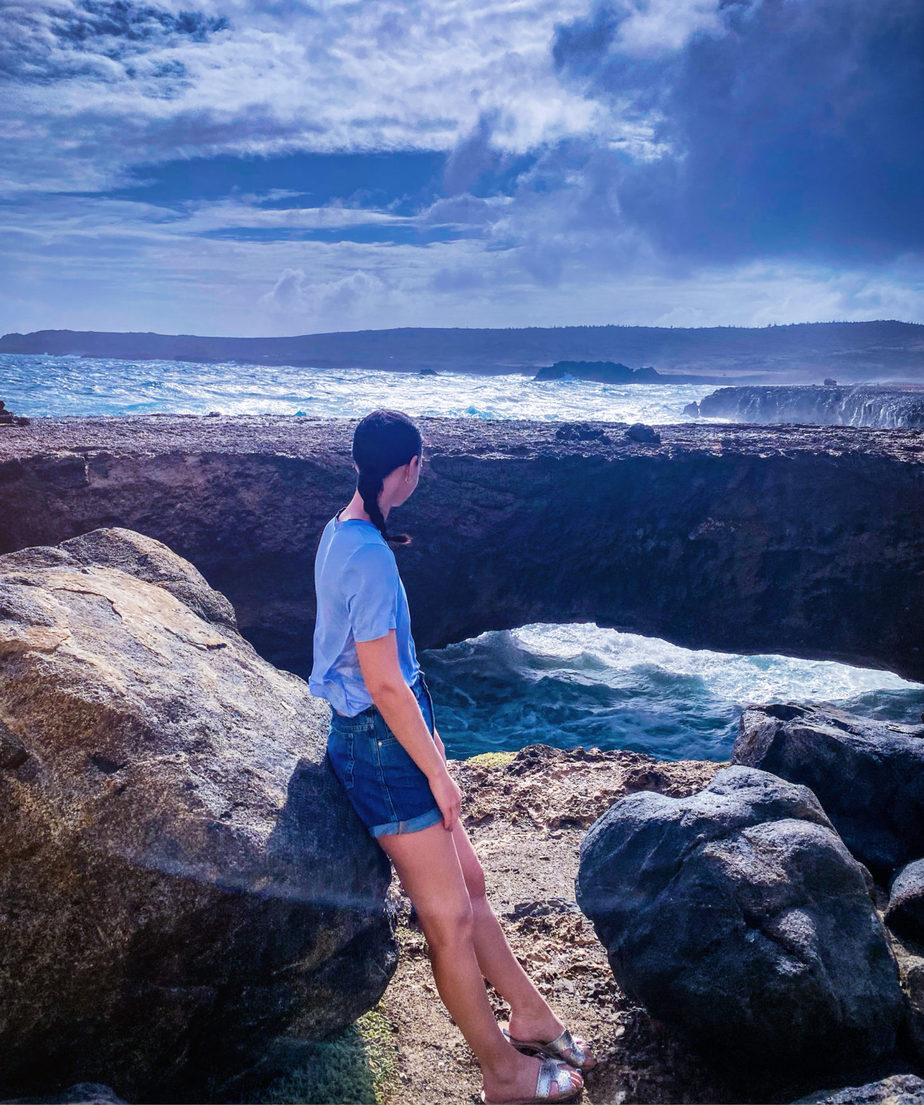 The Bushiribana Gold Mine Ruins are on the way towards the Natural Bridge and the mine was built to extract ore from the nearby hills of Ceru Plat and operated for ten years.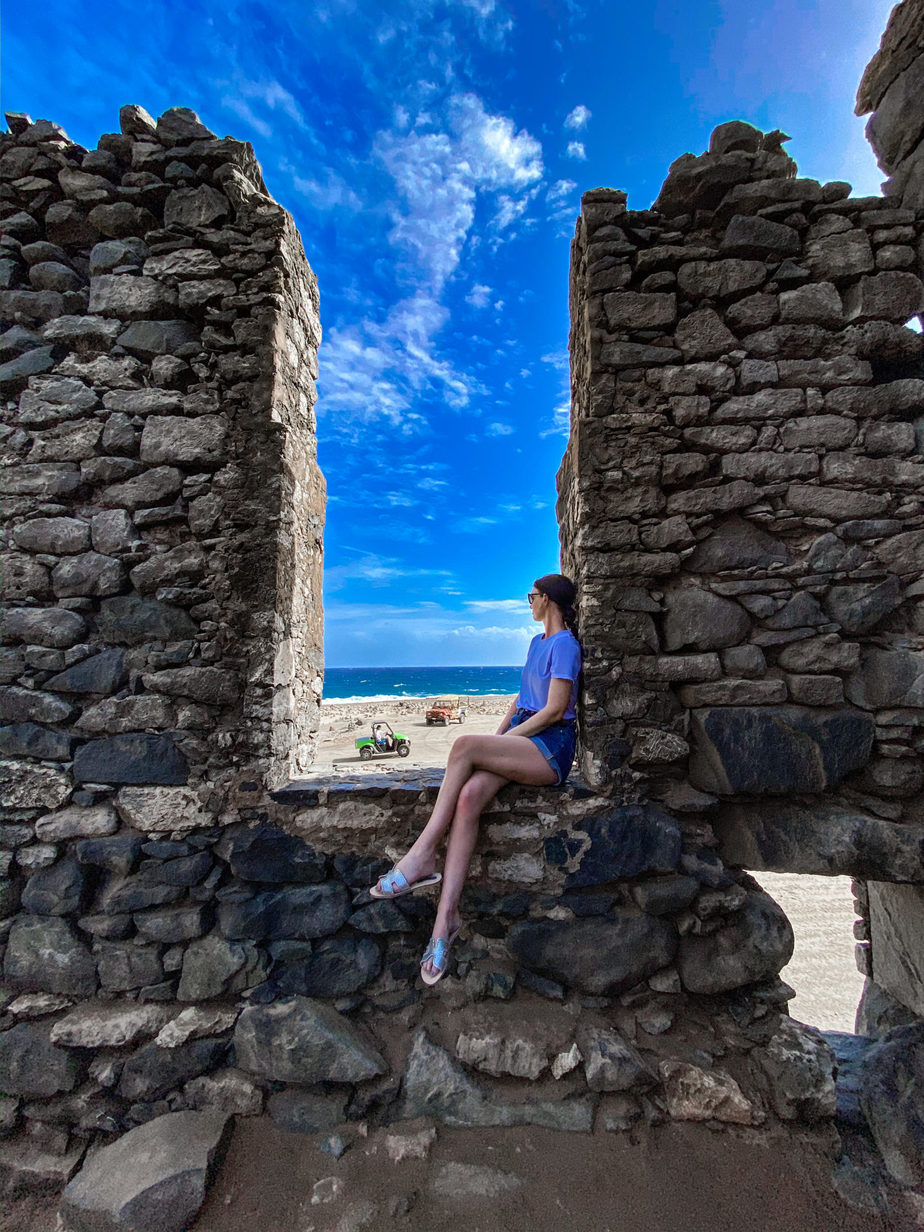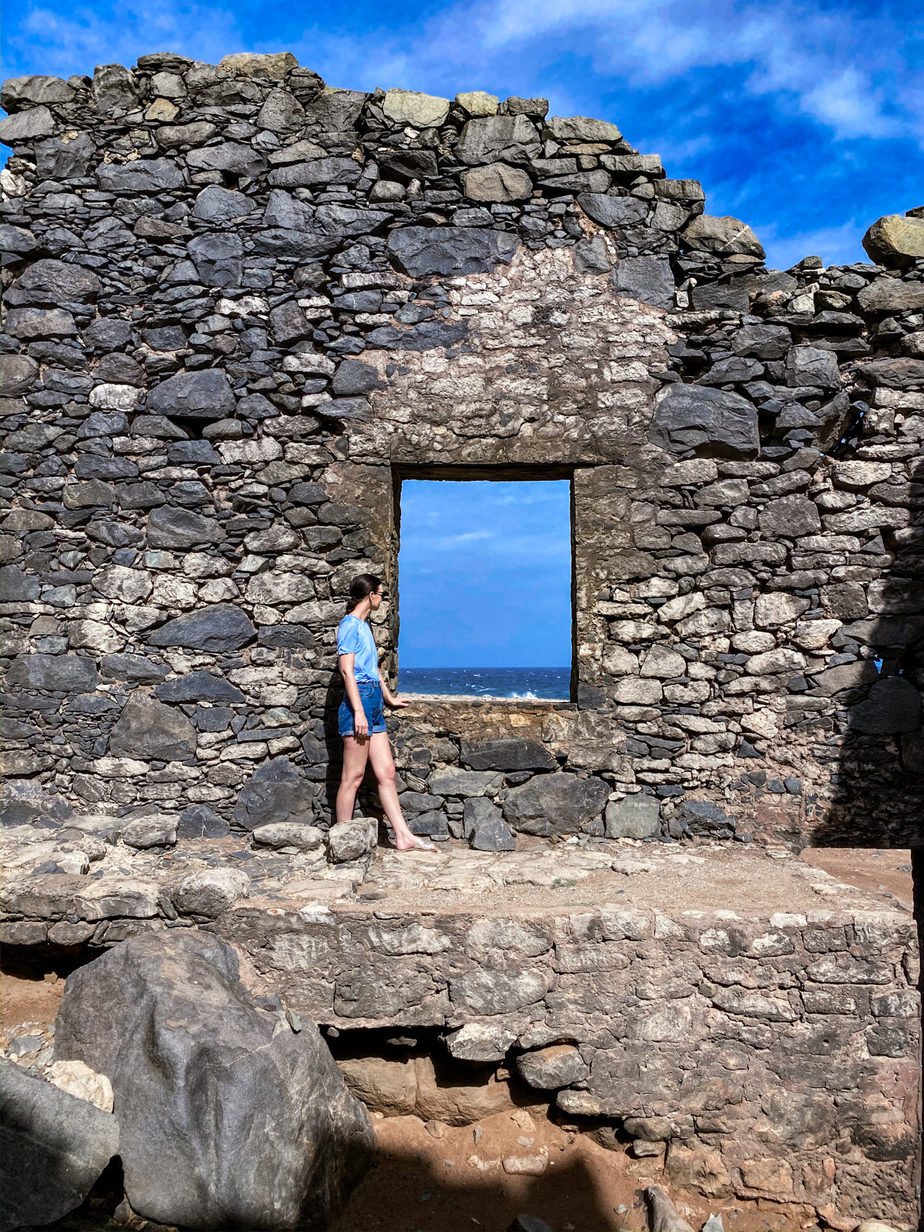 5. Take a boat trip!
I don't think there is anything that can beat getting out on the sea when you're on a beautiful island like Aruba. We took a champagne breakfast tour with stops for snorkelling, lunch and snorkelling equipment provided.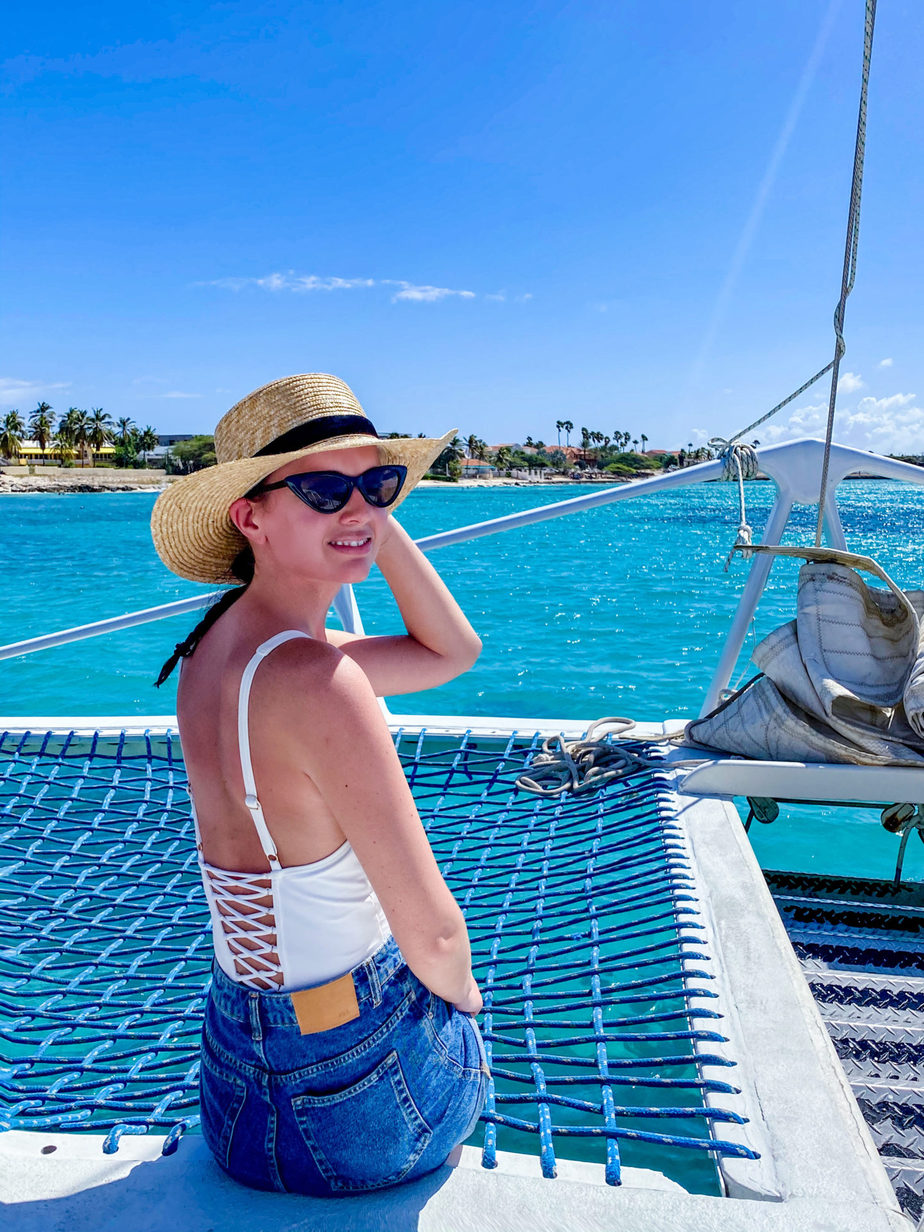 And lastly…..
If you're looking for a romantic on the beach dining experience head to Barefoot Aruba in Oranjestad on the west coast. Book your table for sunset and sit back and relax.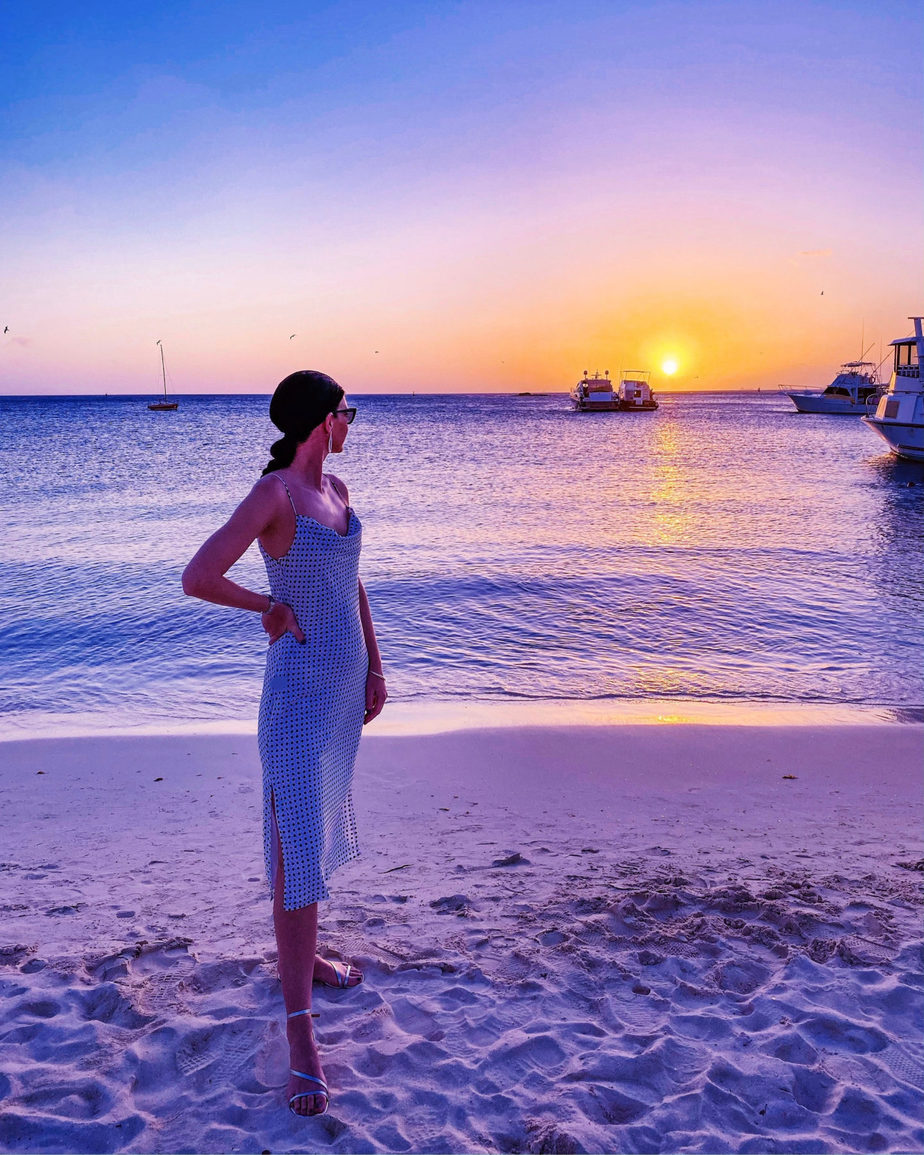 You can watch my full highlights of my Aruba trip on Instagram.
If you are looking for somewhere to stay in Aruba, check out my review of the Hilton Aruba Caribbean Resort & Casino here.
Have you been to Aruba? Have I missed anywhere? Where would you recommend?