Underwater Restaurant Ithaa at Conrad Maldives | amy en voyage
Visit the world's only underwater restaurant Ithaa, at the Conrad Maldives resort. Read on to find out more about my own experience at this amazing and unique destination…
Set 5m below the surface of the sea, Ithaa is the world's first undersea restaurant and is located at the Conrad Maldives Rangali Island resort. This famous restaurant has gained a lot of attention since its opening, but what's it really like to dine under the sea? Read on to find out…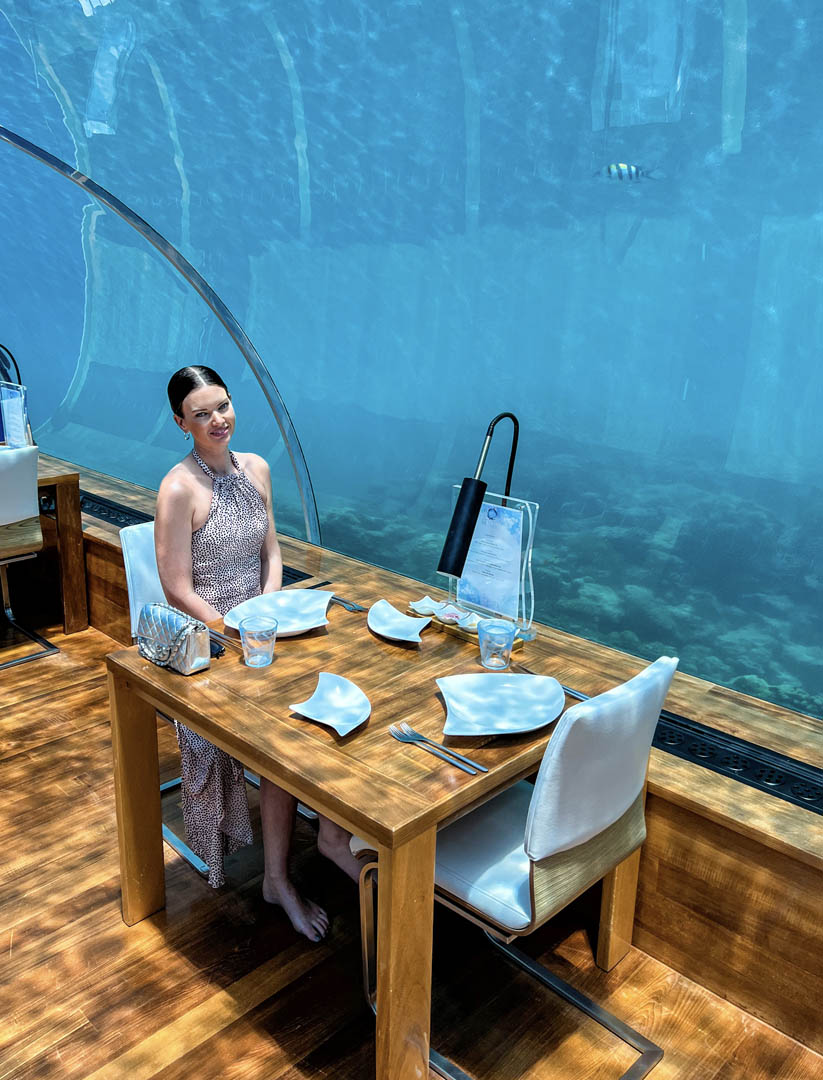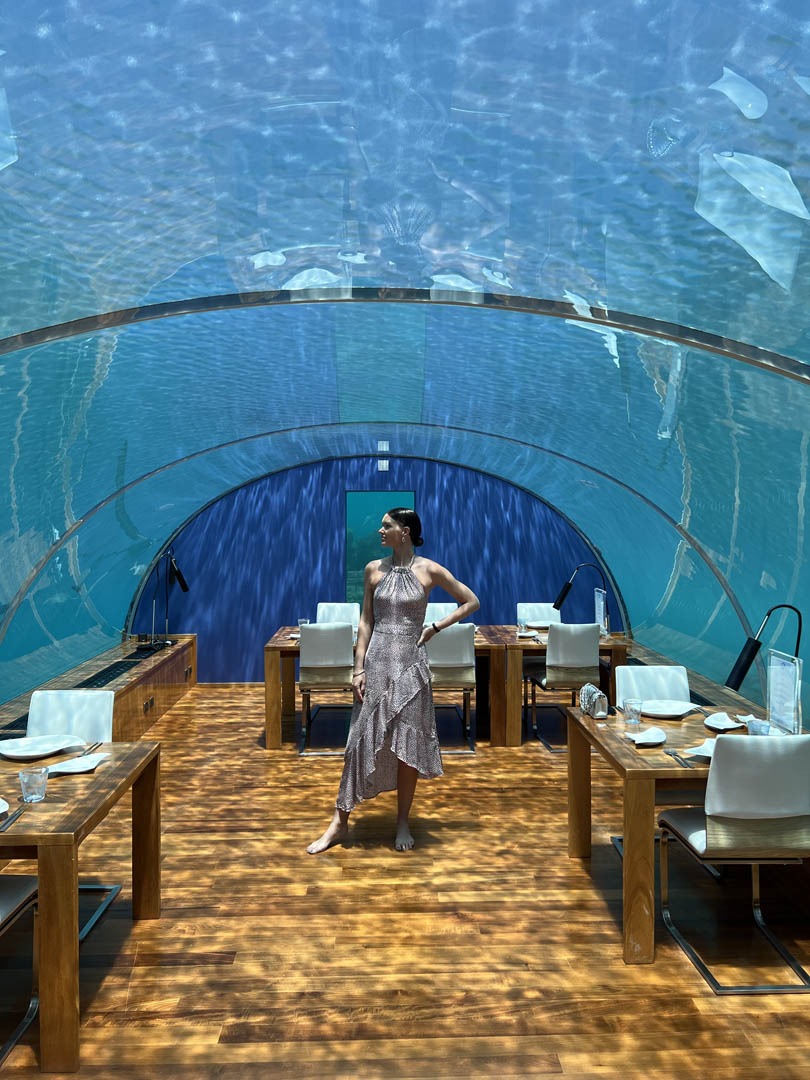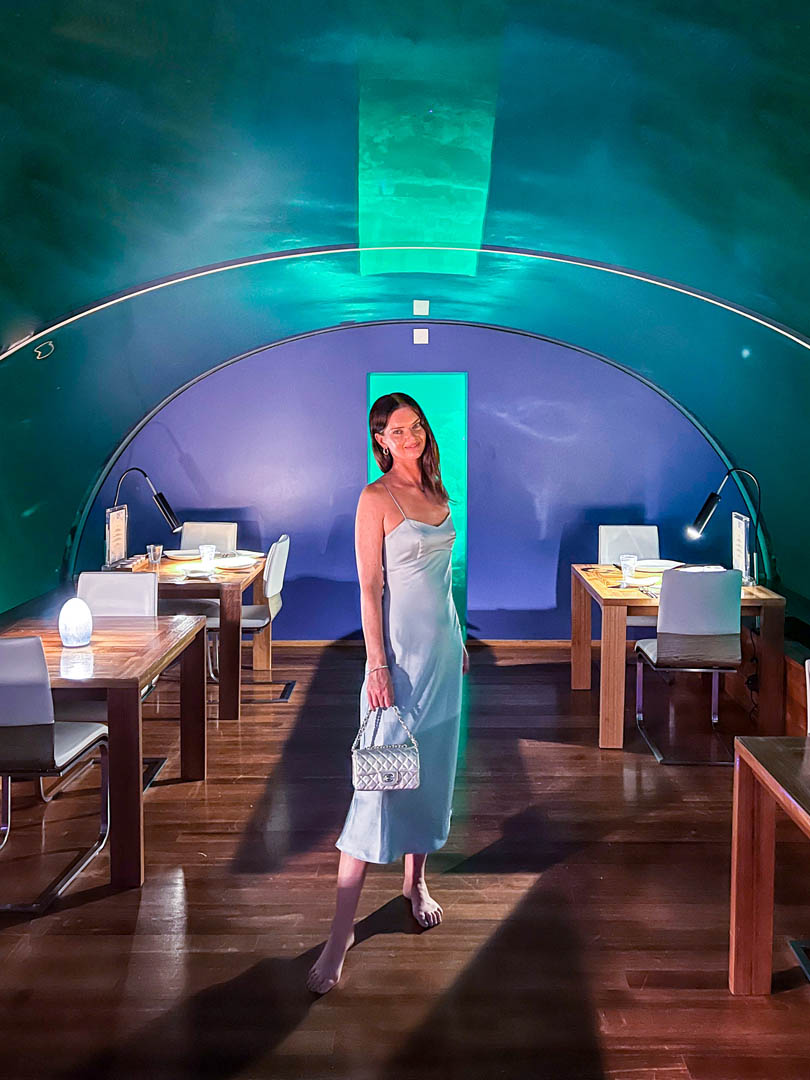 The Setting…
As you cross the bridge to a modest wooden building, everything appears normal, until you spot the underwater restaurant from above. From first impressions, the restaurant looks quite big, but it can actually only seat up to 15 people, so make sure you book in advance ahead of your trip to ensure you don't miss your opportunity to experience it for yourself.
As you go through the door from the decked walkway, there's comfy seats to relax in as you wait to be taken down to the restaurant. You are required to take your shoes off, and then we descend down a winding staircase. First impressions are amazing – we spotted a shark as soon as we walked in, and you can see the surrounding ocean and marine life so clearly.
The roof is made from glass and sweeps above your head. This ensures all tables have a great view of the sea beyond. The decor of the restaurant is kept simple, with wood floors and tables, allowing the view to take centre stage. It's tricky not to look at what's going on around you, and you're likely to find yourself mesmerised by the colourful fish and sharks during your entire stay.
During the day it's really bright in the restaurant, so make sure you bring your sunglasses.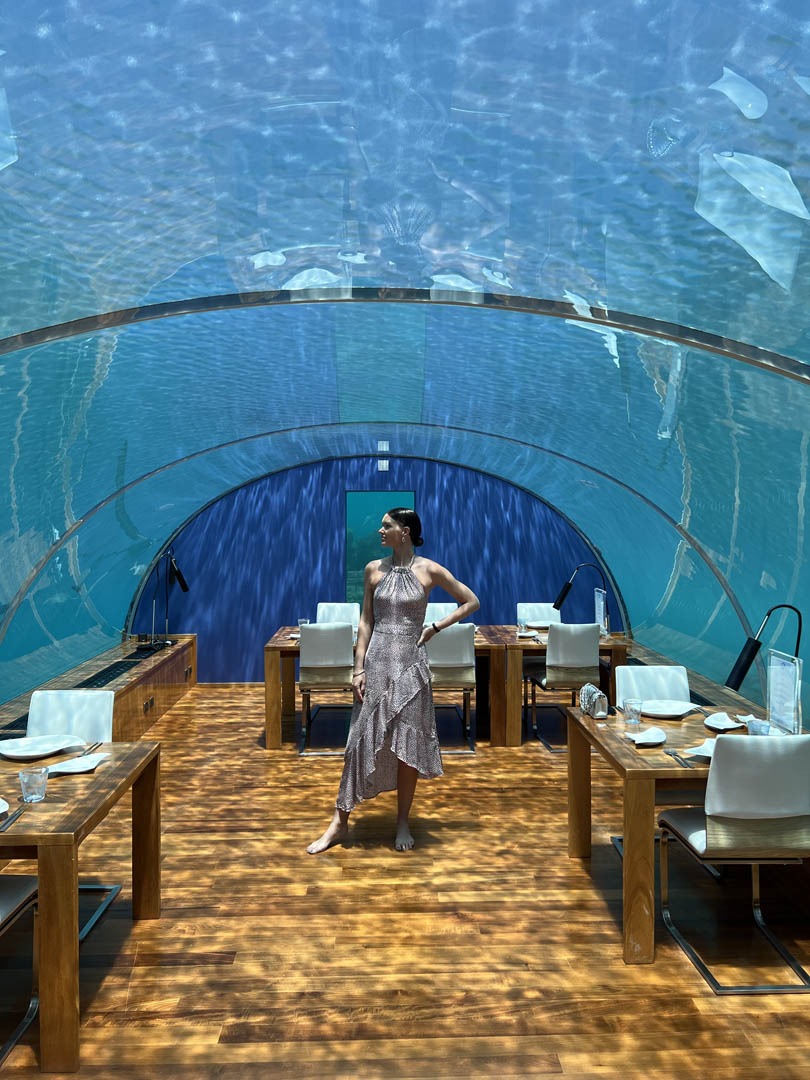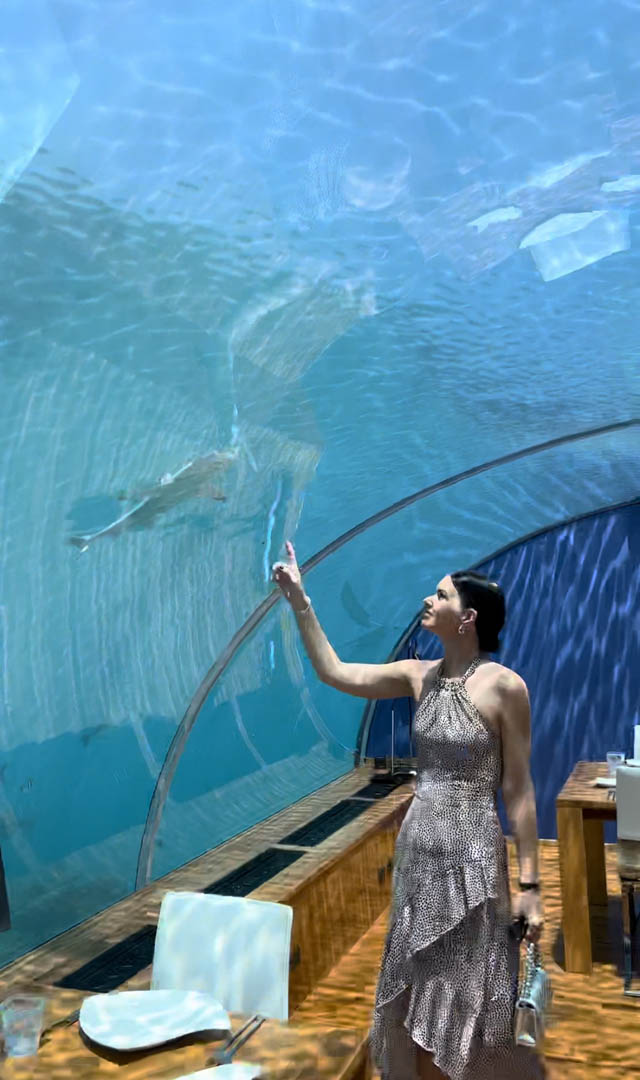 The Menu…
Along with an unbeatable view like nothing you've ever seen before, Ithaa offers a fine dining experience. With fusion menus paired with fine wines, you can dine here for lunch or dinner, or you can simply visit just for drinks.
The set lunch and dinner menus focus on local flavours and produce combined with Western influences. Also open for mid-morning cocktails, you can experience this amazing restaurant in a variety of different ways, depending on how much time you wish to spend here. We had a three course lunch and I personally found the food to be incredible.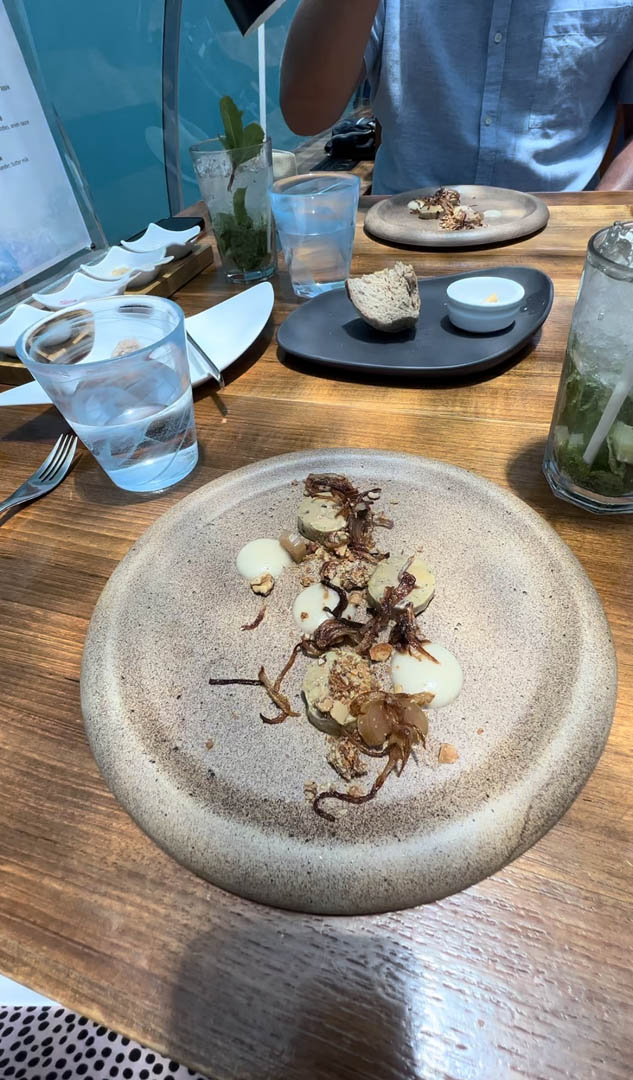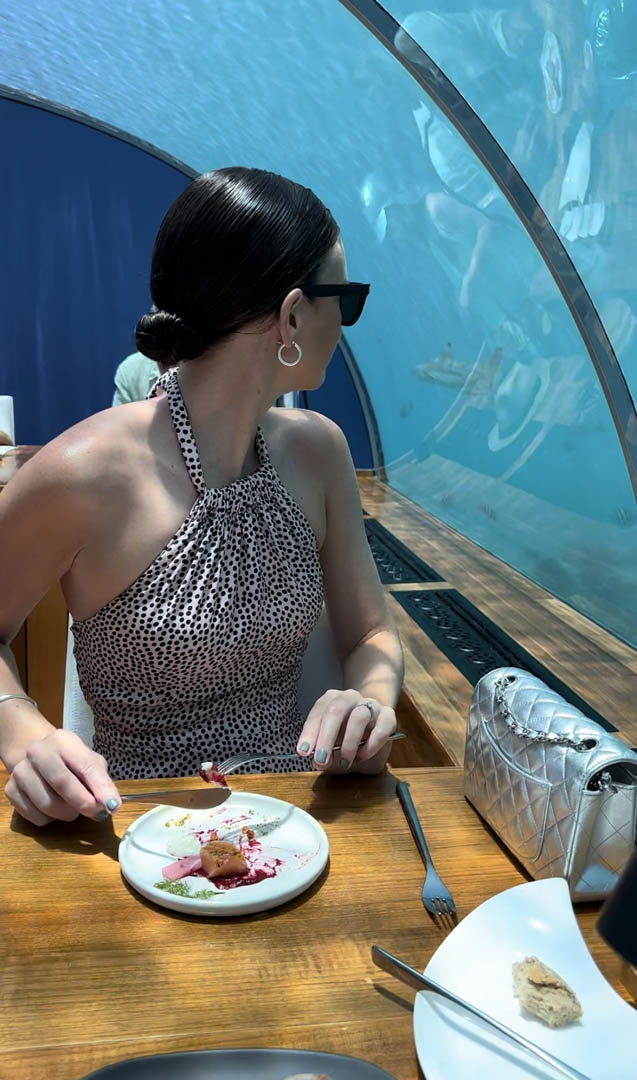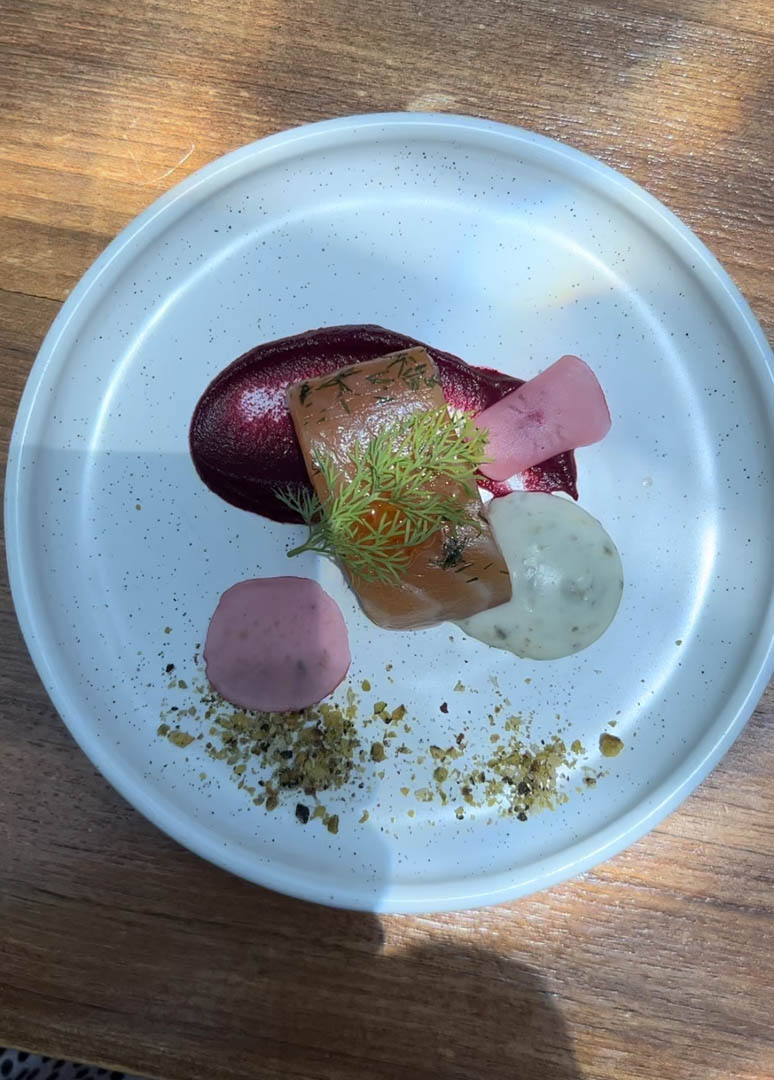 Conrad Maldives Rangali Island…
Ithaa is one of the on-site restaurants at the Conrad Maldives Rangali Island resort. It's set on two private islands, which are connected by a 500m footbridge. In total there are 12 restaurants and bars, as well as two spas at the resort.
In the South Ari Atoll, you can reach the Conrad Maldives Rangali Island by a 30-minute seaplane ride which takes you directly to the hotel jetty. Should you arrive after 4pm, you can get a domestic flight to Maamigili airport, and then a 20-minute speedboat trip.
The accommodation compromises of villas and suites, plus an amazing two-level property, with its main bedroom sitting under water with stunning views of your own private underwater aquarium. You can choose from water and beach villas, with the water villas sat on stilts over the sea. The villas have thatched roofs and private outdoor hot tubs or pools that give direct access to the Indian ocean, whereas the beach villas have private gardens with sunken baths or plunge pools.
The decor of the villas is bright and modern, with traditional Maldivian touches, floor-to-ceiling windows and king-sized beds. The resort is family friendly, with various larger villas for groups or those travelling with children, and there's a kids' club on-site too.
When it comes to dining, of course there's Ithaa, which really is a must-visit. Atoll Market is the perfect spot for breakfast, offering a wonderfully varied buffet with dishes such as pancakes and eggs Benedict, as well as huge fruit platters. Sunset Grill offers a stunning setting for dinner. An open-air restaurant, it's set on stilts 50 metres into the Indian Ocean and offers an amazing menu with a focus on seafood and meats, plus a great wine list. There are also frequent beach dining events, so have a look at what's going on during your stay. You can even take a cooking class at Ufaa by Jereme Leung during your stay too.
If you are planning a trip to the Maldives, don't miss this amazing once in a lifetime dining experience, and if possible, stay at the resort for a few days and soak up all that it has to offer.