As a frequent traveler and digital nomad, I often visit the UAE which is home to some of the world's best hotels, spas and gyms.
Having friends in Dubai, I was often intrigued by how they got to enjoy going to so many of the luxury hotels pools and beaches without staying as a guest. Also how they seemed to be working out in so many different amazing gyms and classes every week. When I asked what the secret was, the answer was one word and that one word was "Privilee".
I needed to know more so I visited Privilee's website where I discovered all about this fantastic membership scheme that allowed access to all these beautiful facilities to enjoy the 5-star luxury lifestyle in the UAE.
Watch my 8 Best Beach Clubs to Visit in the UAE using Privilee here:
Ok so what exactly is Privilee?
Privilee is the UAE's ultimate fitness and lifestyle membership. The award-winning membership is for residents or those visiting for a long-period (1 month).
When you become a Privilee member you will enjoy unlimited access to five-star beach clubs and state-of-the-art gyms.
Privilee perks also include access to fitness classes, kids' clubs, tennis and squash courts as well as hundreds of Spa and F&B discounts across their venues. You really will make some amazing savings whilst enjoying the very best leisure facilities in the UAE.
How easy is it to become a member?
It's a really simple three-step process to become a member.
Select a membership. Privilee offer a selection of plans that work around you, so you can get the best value to the needs you require.
Download the app onto your smartphone. It's simple to download and use; you can explore all the benefits of your membership inside the app too. What made me excited was all the extra benefits on offer at the venues I wanted to book; such as discounts on food/drink and spa treatments. You can also get access to tennis and squash courts and discounts on water sports and activities.
The most important step; start Privilee'ing! Use your app to plan visits, check-in and out of venues and redeem discounts. It can be difficult to choose as there are so many options but that's what makes the membership so incredible as you can work through a bucket list of venues to visit but also find ones you love so much you make them your regular to enjoy.
Once you have started your Privilee membership it opens the door to so many gyms, resorts, spas and restaurants. I was very fortunate to become a member while spending time in Dubai and Abu Dhabi recently and this is how I used my membership.
Keeping fit
Privilee gives you access to the UAE's best gyms, studios and fitness classes with just one membership. From state-of-the-art gyms to award-winning studios and specialist fitness centers, there are convenient options for everyone. I was able to access a number of gyms and classes and it was so convenient around my schedule and the multiple locations I was staying at while in the UAE. You have no excuse to not make the most of the gyms and classes as there are so many options. If you would rather skip the gym and just do classes then you have so many to choose from with timings to suit all and if you are not a fan of classes then you can visit so many world-class gyms that have the very best equipment and machinery to workout to your own programs and at your own pace. I like to mix it up and do both and that's where Privilee really delivers with options to suit any lifestyle and preference.
Daycaytion at Iconic resorts
Ok, so I must be honest here, this was what really hooked me the most. Who doesn't want to lounge around beautiful pools and beaches while enjoying discounts on amazing food and drink? Also, for the discounted spa treatments, who can turn this down?
Privilee really is a game changer and allowed me to enjoy the UAE's most beautiful beaches and five-star pools. A quick check-in with the app and I was treated to five-star luxury without the huge price tag of having to stay as a guest.
I found myself hopping on a daily basis between the most beautiful pools and beaches, it was impossible to get bored and gives you the chance to enjoy so many places through a few clicks on an app.
On my recent trip, I visited the following resorts which span from Dubai to Abu Dhabi.
Palazzo Versace
Upon arrival I was blown away by the beauty of Palazzo Versace, I had the choice of three pools at this opulent palace, The three outdoor pools are decorated with mosaic tiles and surrounded by palm trees and flowers, it is hard to describe how beautiful this place looks without seeing it for yourself. Thanks to my Privilee membership here I was. The three-pool concept is perfect for chasing the sun or relaxing in the shade as they get the sun at different times of the day, I headed to the adults-only spot, La Piscina which had a live DJ playing and a stunning swim-up bar. I also took full advantage of the 25% off dining at Palazzo Versace. I did have some emails and work to pick up on too whilst visiting and enjoyed some shaded areas to work from whilst enjoying a fresh juice. If you are looking to take some cool photos to capture your visit then I would highly recommend La Piscina which has some stunning backdrops with the famous Versace branding on show.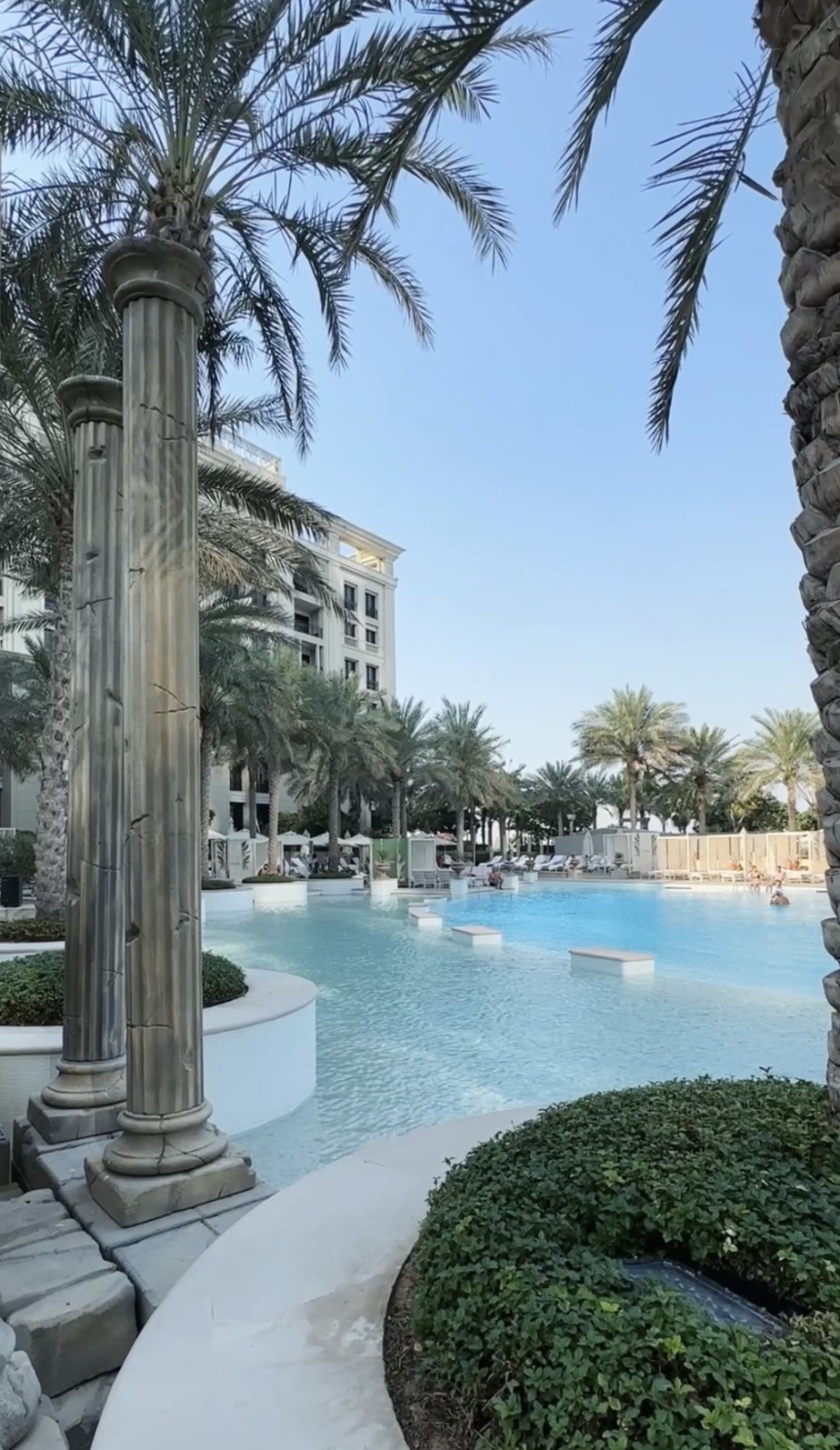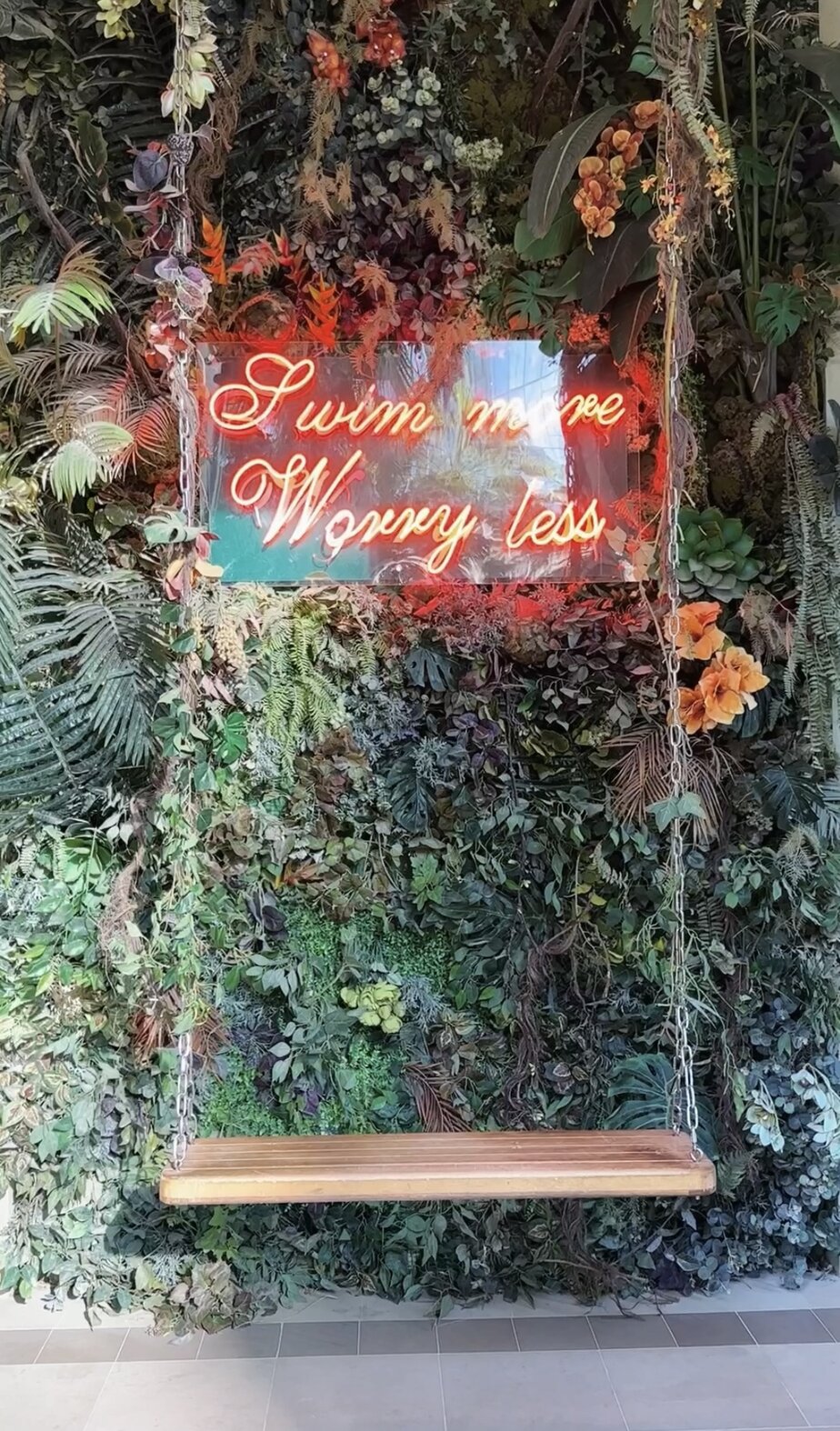 W Abu Dhabi – Yas Island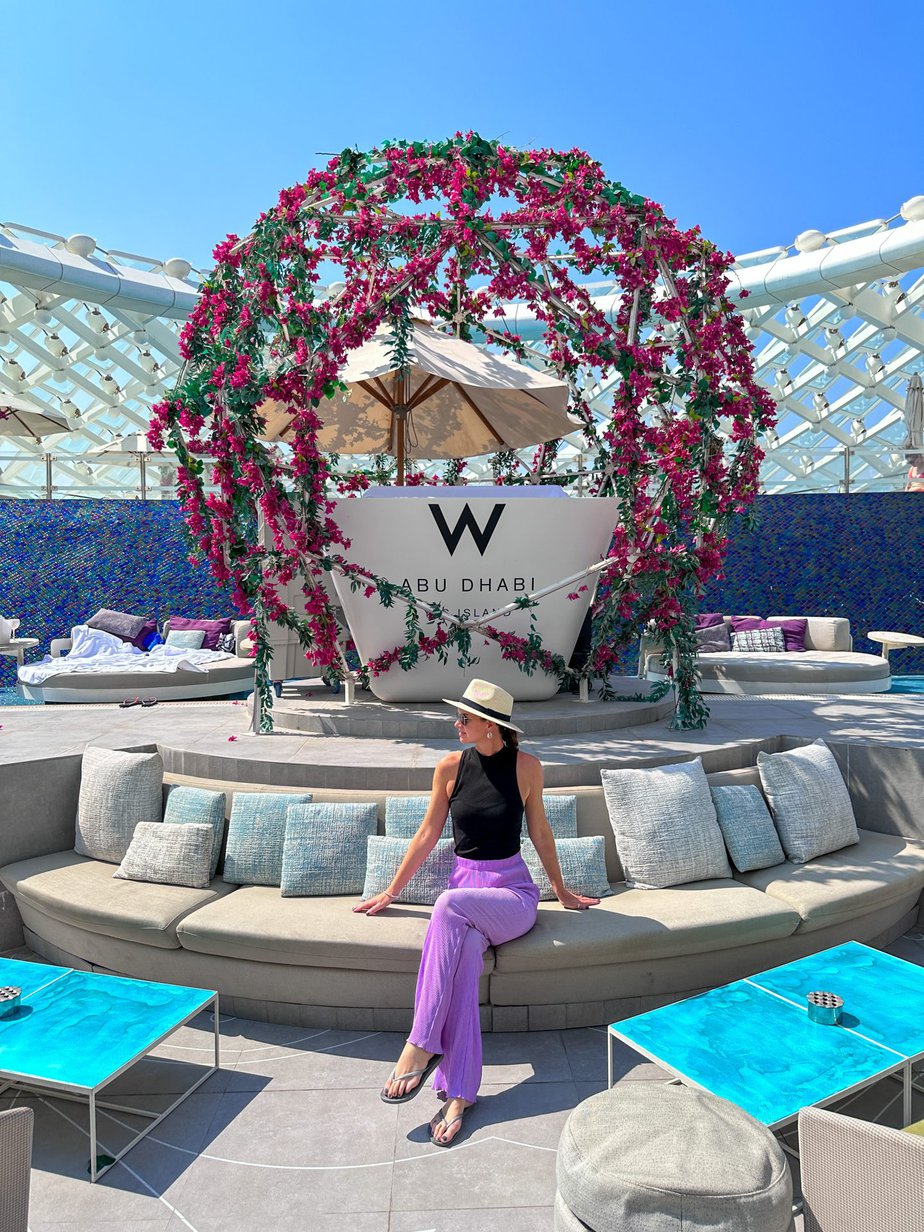 As Formula One was coming to town I visited the WET Deck at the W Abu Dhabi to enjoy a day by the adults-only pool, which has views overlooking the Grand Prix racetrack. There was something surreal about relaxing on a sunbed whilst watching and hearing the roar of some F1 vehicles doing practice runs. It was a very special experience. This doesn't happen every day though and the hotel often has in-house DJs and entertainment whilst you kick back and enjoy. The pool was very refreshing with enough room to swim but also very handy to just have a quick dip with an ice cold water kindly provided by the hotel team. I was really looked after at this resort and the check-in process was so easy.
I also enjoyed a beautiful lunch and mocktails and took full advantage of the 25% off dining at W Abu Dhabi – Yas Island.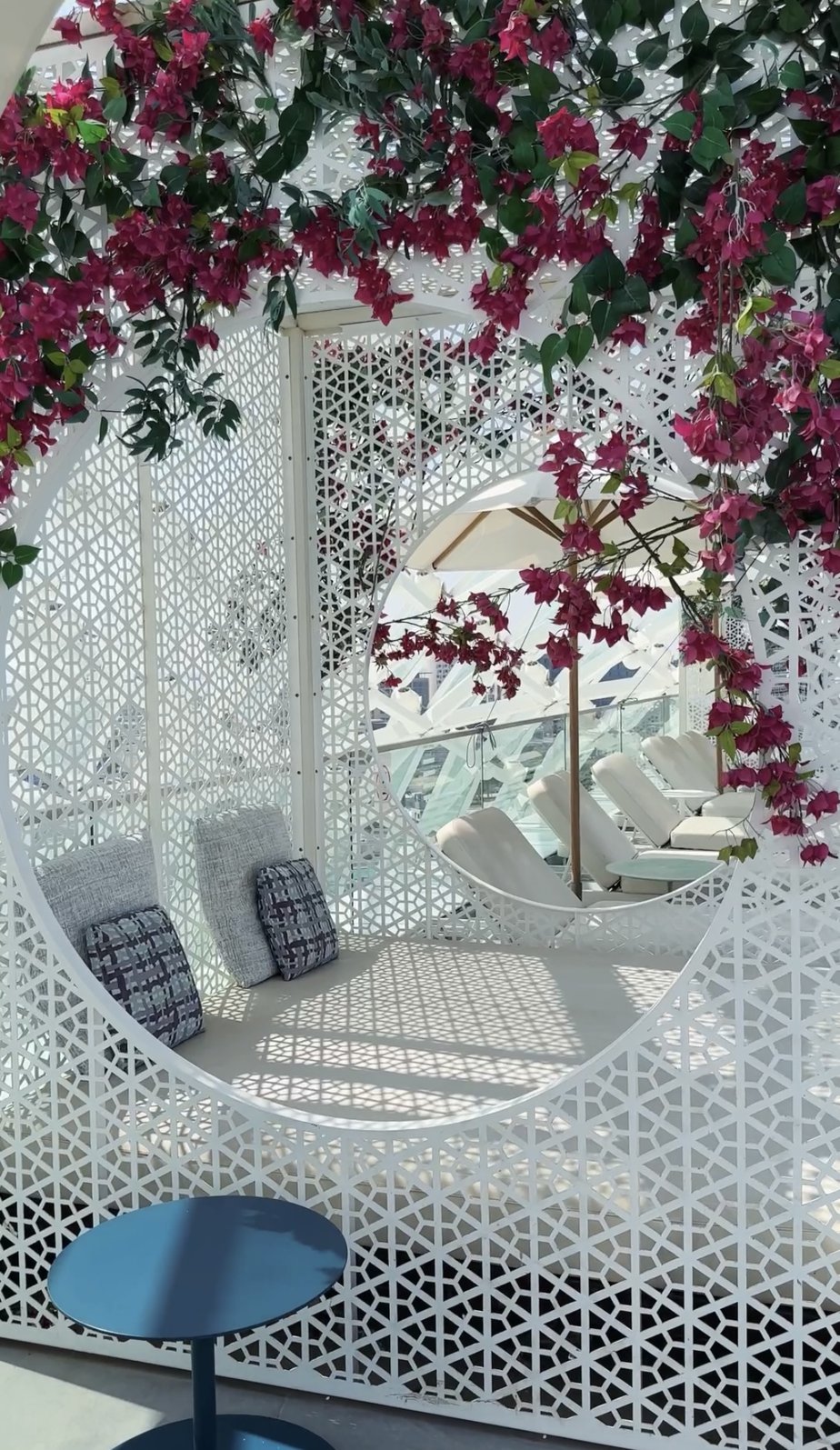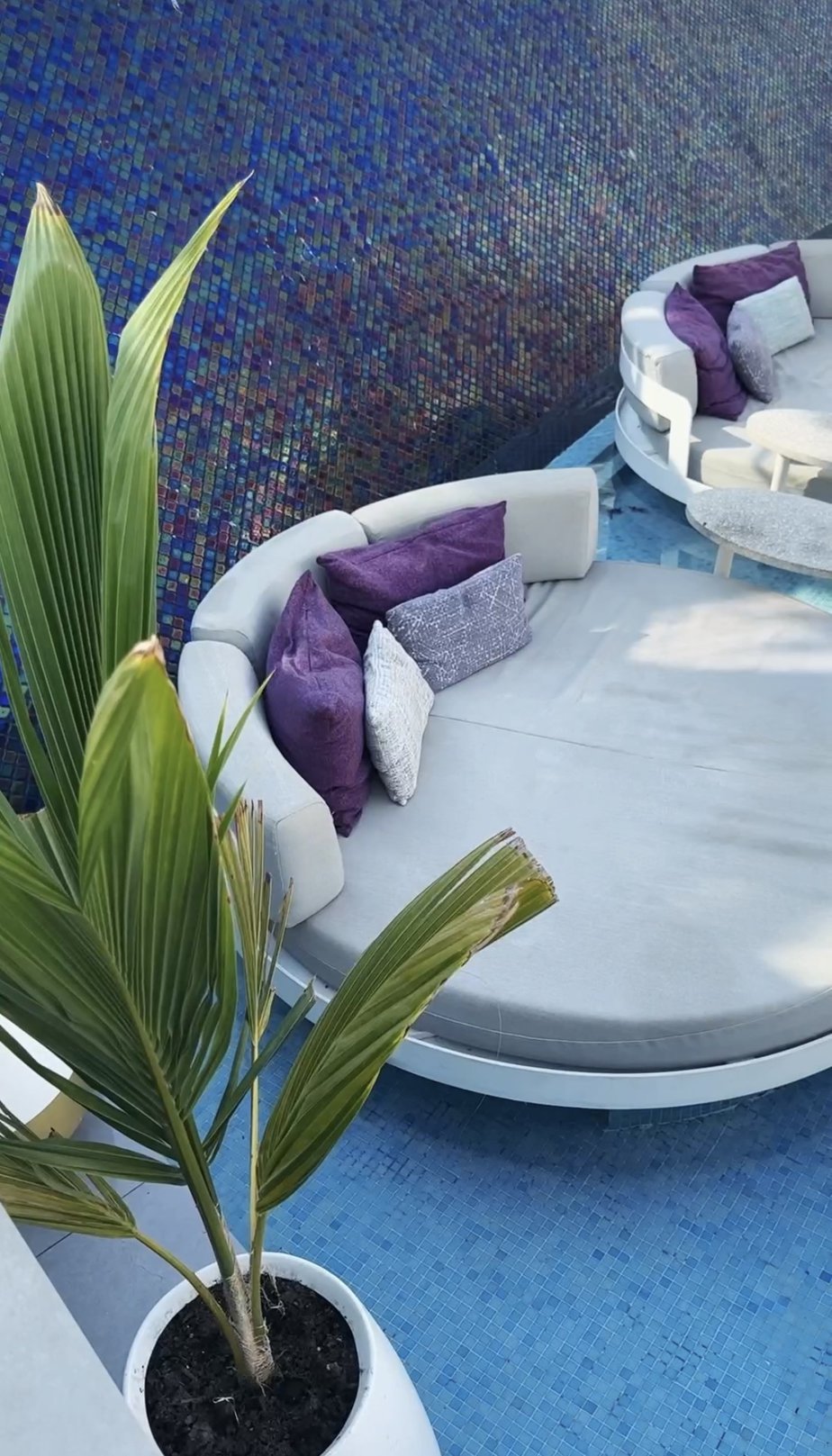 Conrad Abu Dhabi Etihad Towers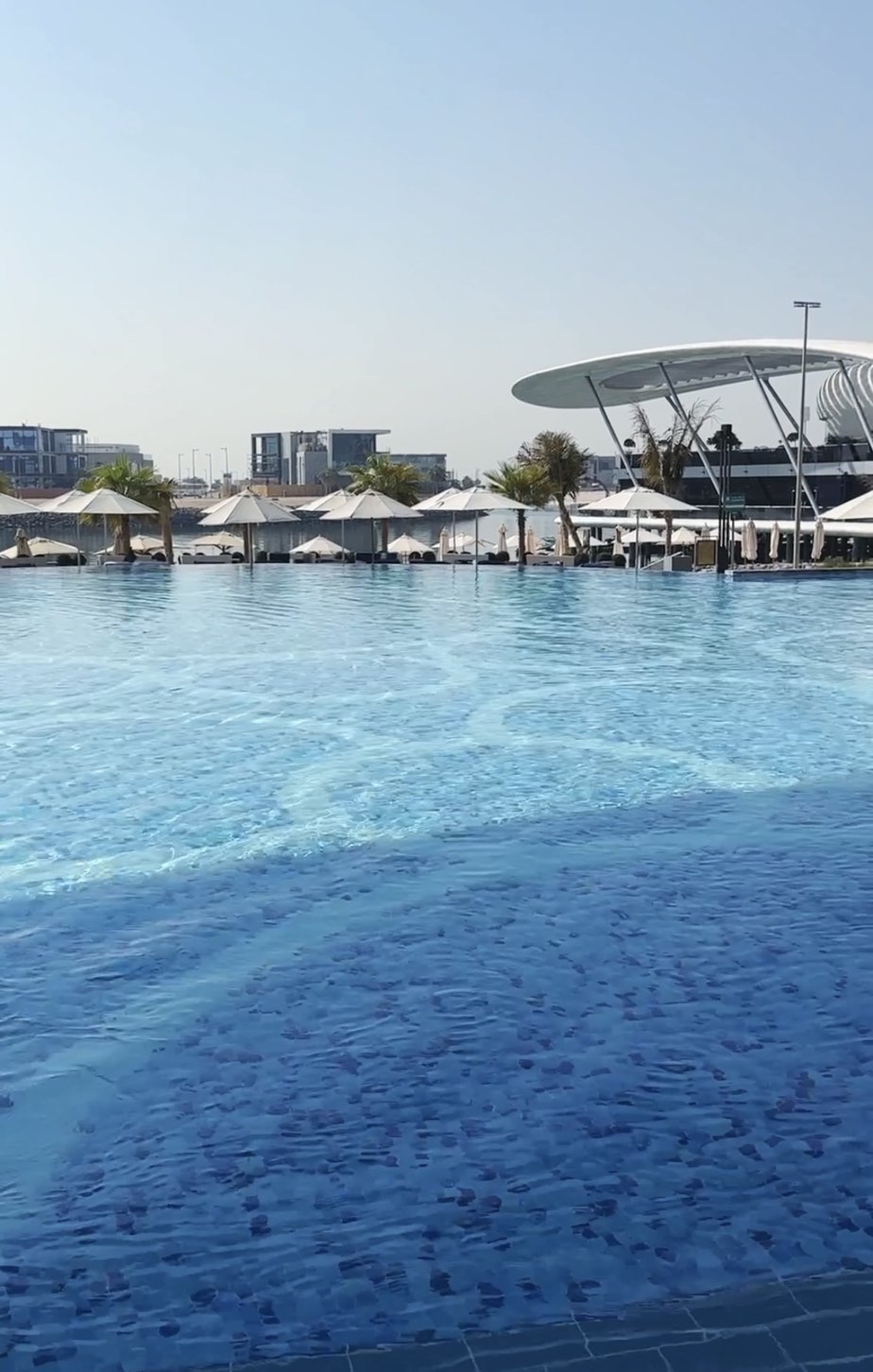 Conrad Abu Dhabi Etihad Towers is an award-winning hotel, offering three pools, unique dining venues, a tranquil spa and a peaceful gym. I spent the day by the beach and enjoyed the beachside pool and swimming in the sea. I also visited the spa using my Privilee discount and enjoyed lunch on the beach. The hotel was very spacious and was also very convenient to work from too. After relaxing and making full use of the pools and beach, I had a session at the hotel's gym. Fully equipped with modern equipment it was a very enjoyable workout and I also maximised my Privilee membership with discounts on my food and drink during my day at the hotel.
If you are looking for a place to work, rest and play then this Privilee resort is worth trying out whilst in Abu Dhabi.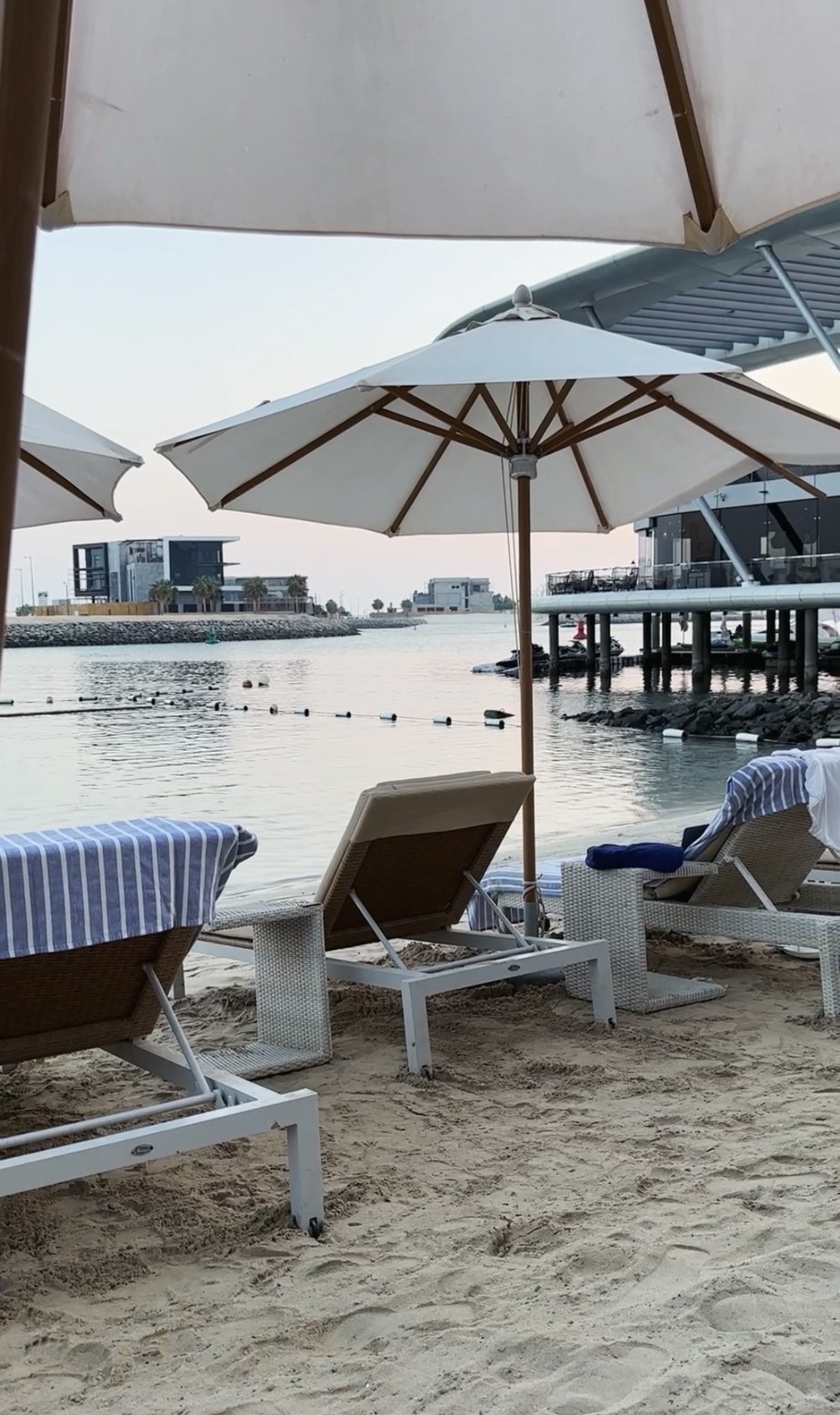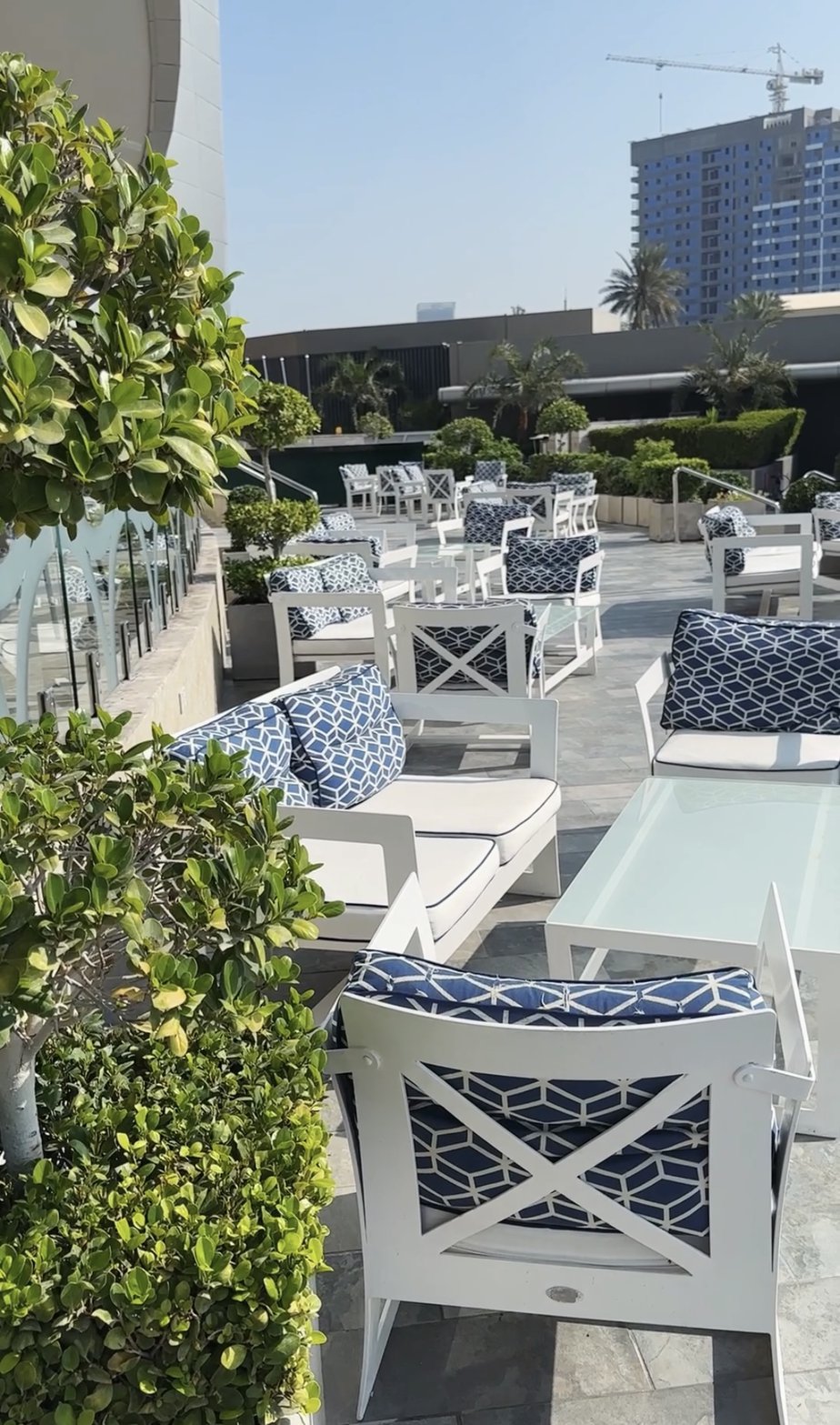 The Palace Downtown Dubai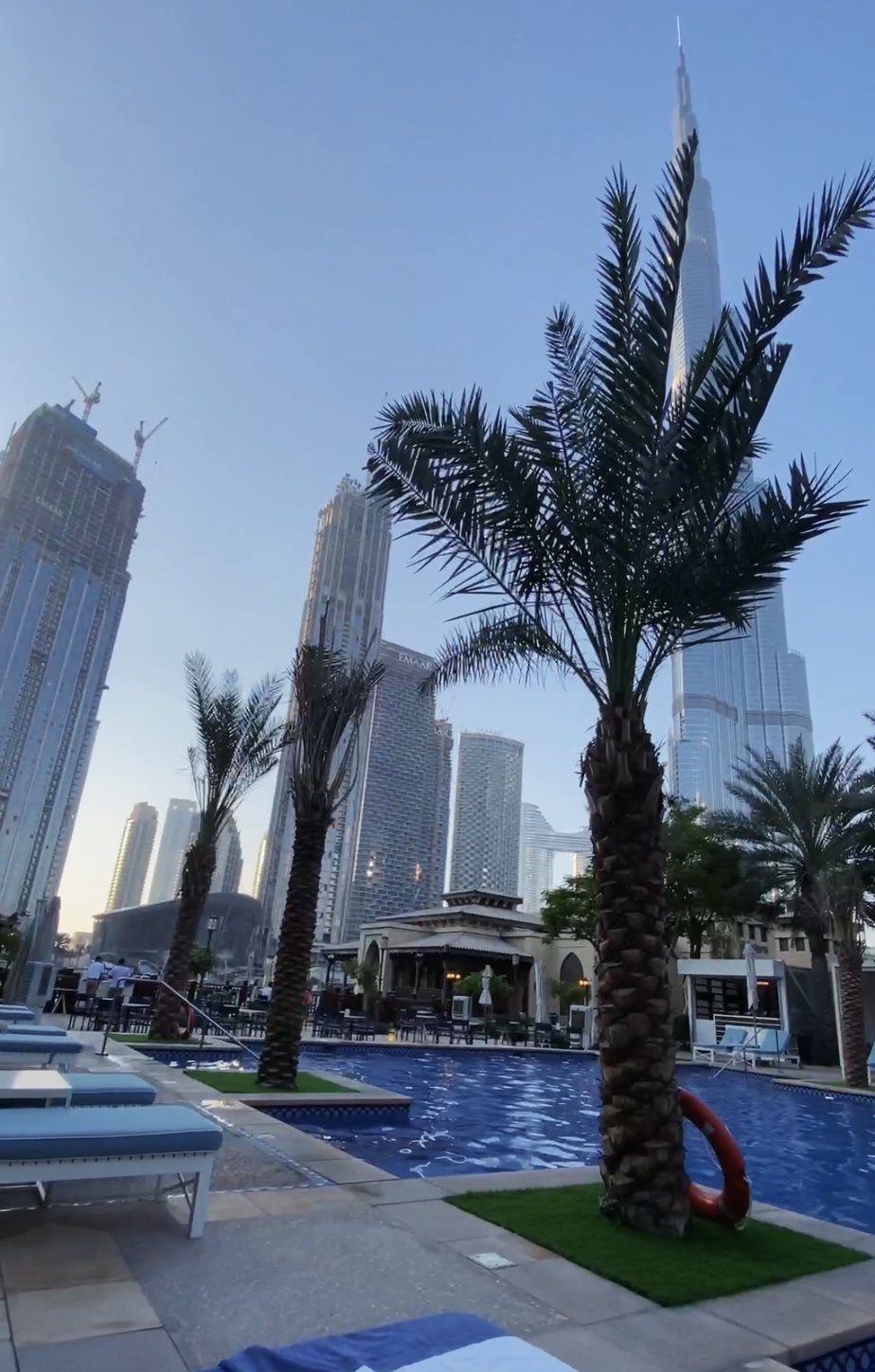 The first impressions when arriving here are always "Wow" With jaw dropping views of the Burj Khalifa and Dubai Fountains, the pool at The Palace is like no other. Being in such a central location it surprised me just how calming and relaxing The Palace Downtown was. You can truly escape the hustle and bustle of Dubai here whilst also being in such a fantastic location.
I really enjoyed a relaxing day here soaking up the sun and swimming in the pool while taking in the views of the Burj Khalifa.
I also had to check out the fitness center which was world-class.
Top tip. Once you've enjoyed your access to the pool, why not stay and enjoy some of the best views of the Dubai fountains or head to the Dubai Mall for some retail therapy? You have so much to enjoy while being at The Palace Downtown.
You can't say you've enjoyed the luxuries of Dubai if you haven't spent time on the Palm Jumeriah and this is where Privilee well and truly has you covered. I ticked off a number of resorts and these included:
The Waldorf Astoria Palm Jumeriah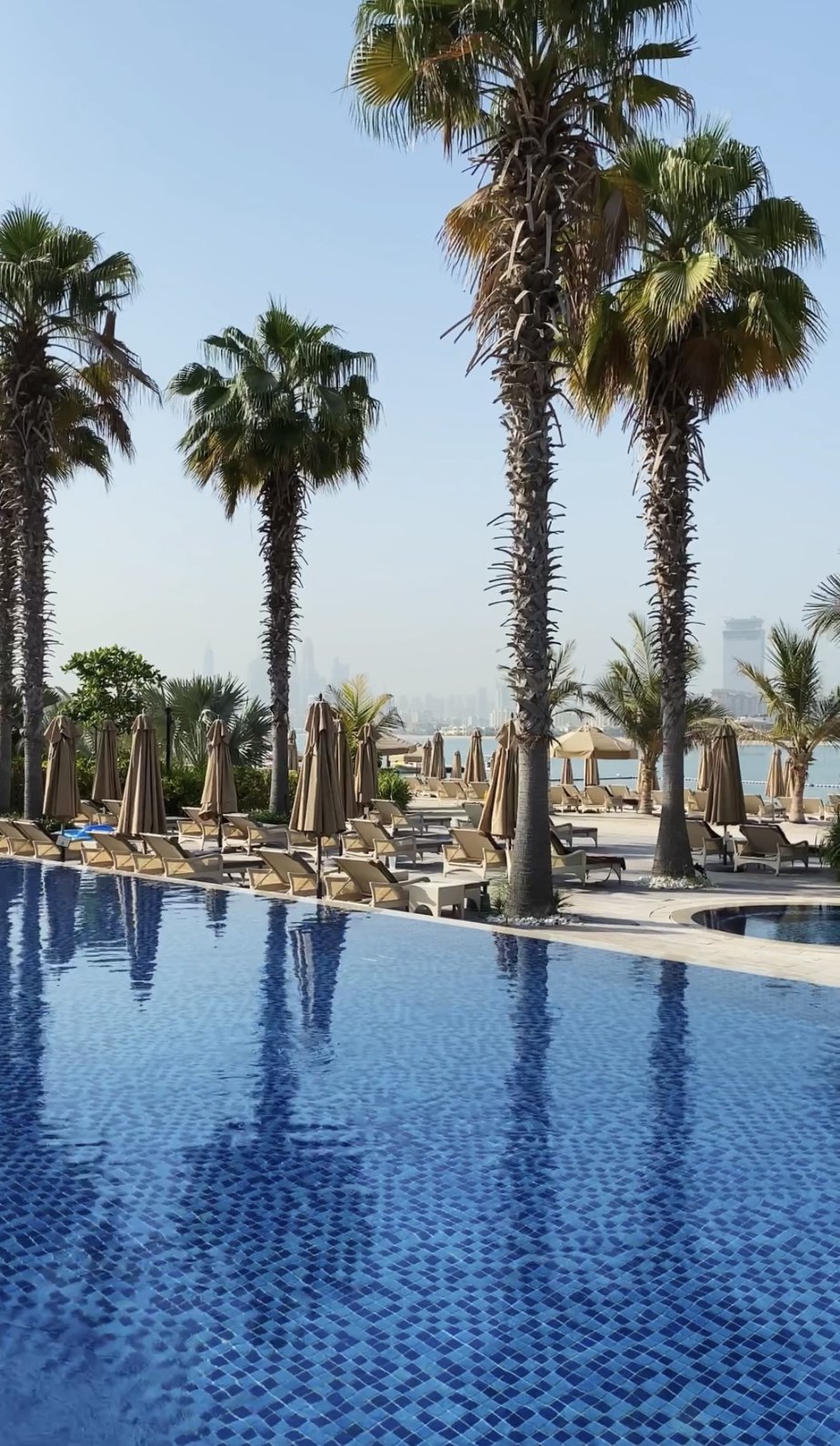 On arrival I was blown away by the huge infinity pool.
The pool at Waldorf Astoria overlooks the beach, and is conveniently located next door to Palm Avenue, the resorts poolside restaurant and bar (Remember to make the most of the 20% Privilee discount). There is also a small, shaded kids' pool just behind the main infinity pool if visiting with children.
I spent some of the day on the beach as I love the feeling of walking on the beach and dipping your toes into the sea. But I also spent some time at the peaceful adults-only pool.
If you want to relax in peace and quiet and catch up on emails ,read a book or just have a power nap then head to the quiet zone, it's impossible not to feel relaxed on the luxurious sunloungers here.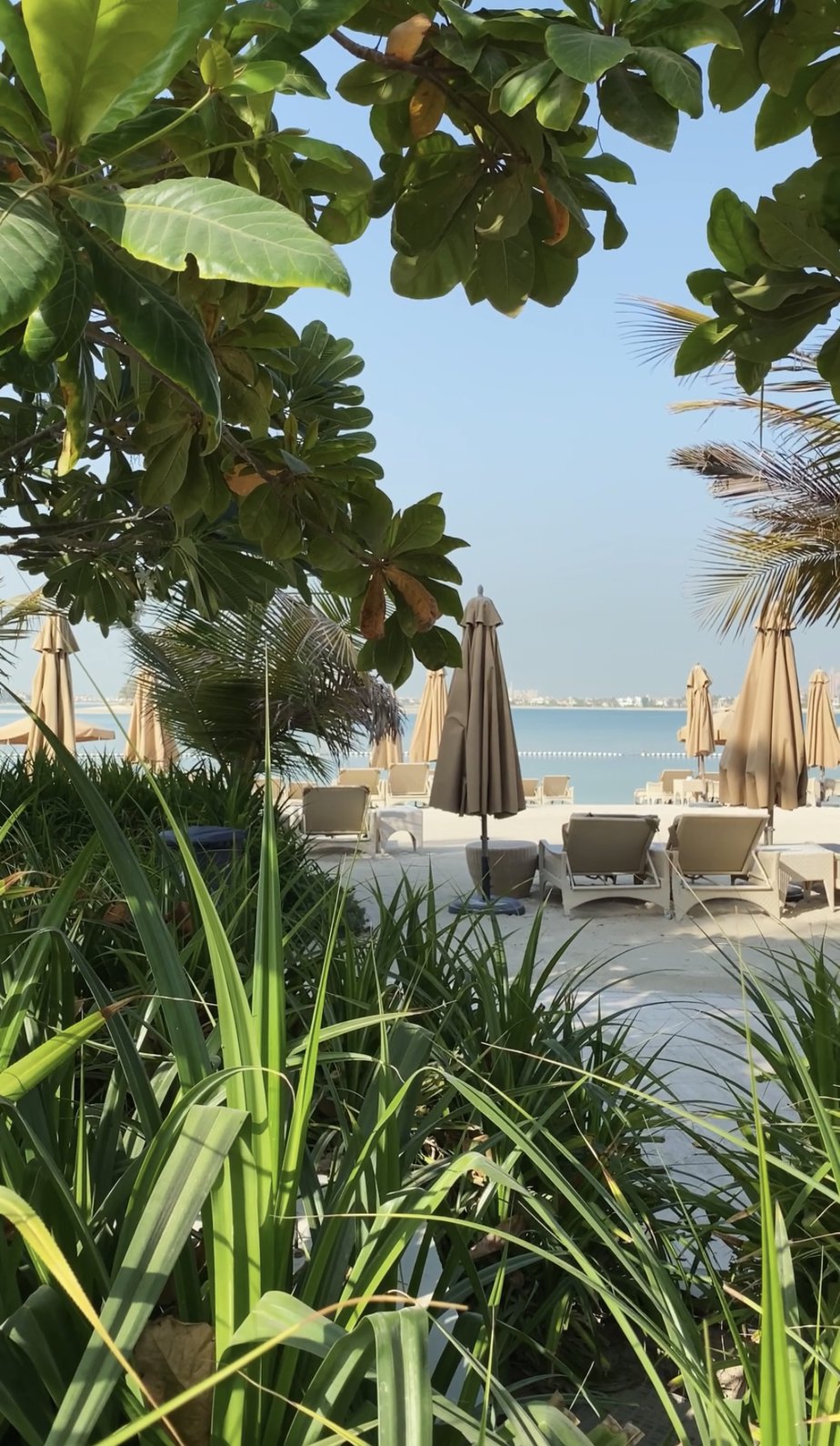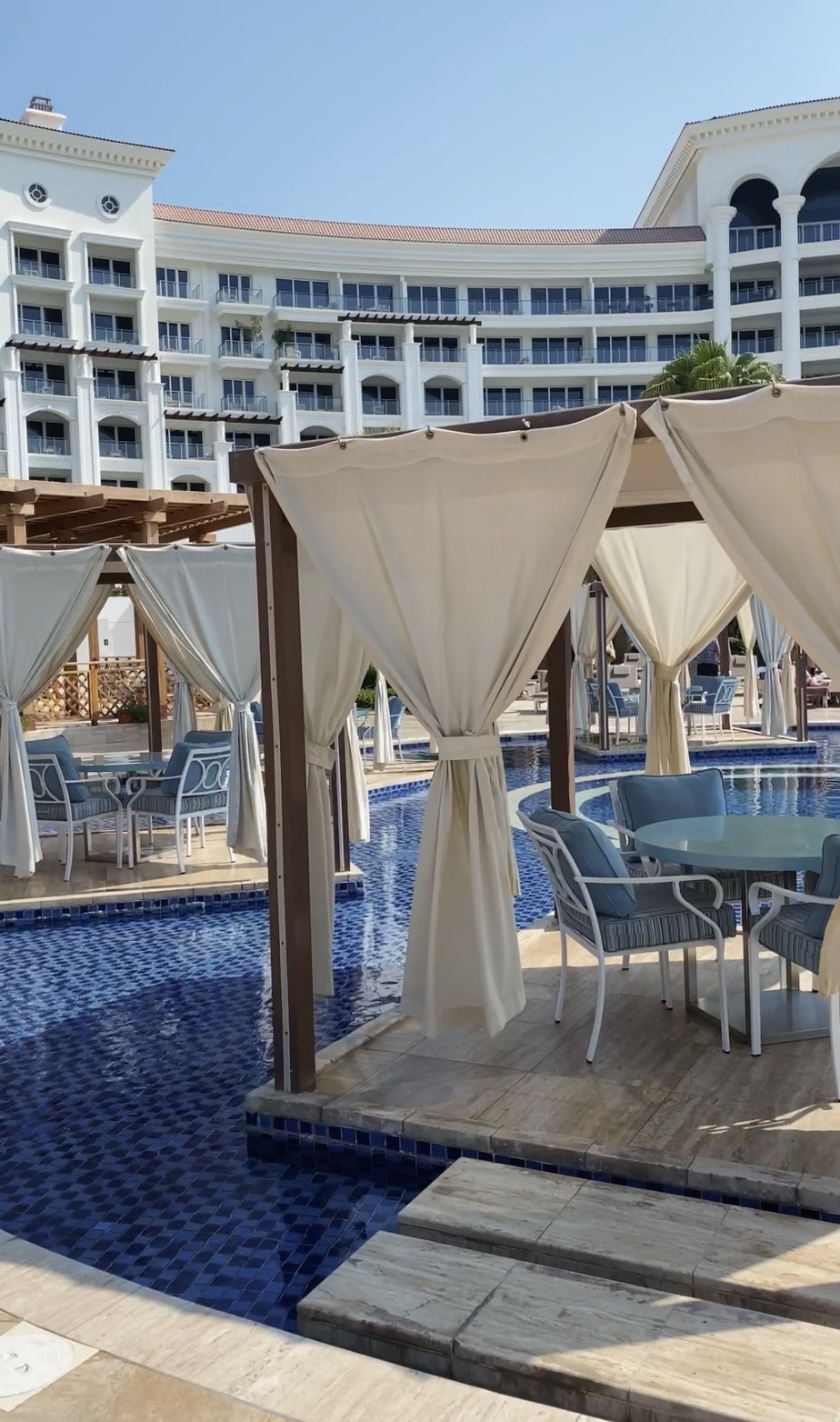 ULA Dubai
I had seen ULA all over Instagram and I really wanted to check it out.
Stepping into Ula Dubai makes you feel like you've arrived at a beautiful European destination. It was light and airy with stunning wooden architecture. The central tree and bar space is the heart of the restaurant and bar area and I enjoyed a refreshing drink whilst sitting in one of their booths which made me feel like I was in the Mediterranean.
The pool looked incredible but I decided to spend a lazy morning on the beach. The check-in was super easy ( I got a taxi to Dukes The Palm and the reception team gave me directions to ULA) where I scanned my app and picked up some fresh towels and grabbed a spot right by the sea.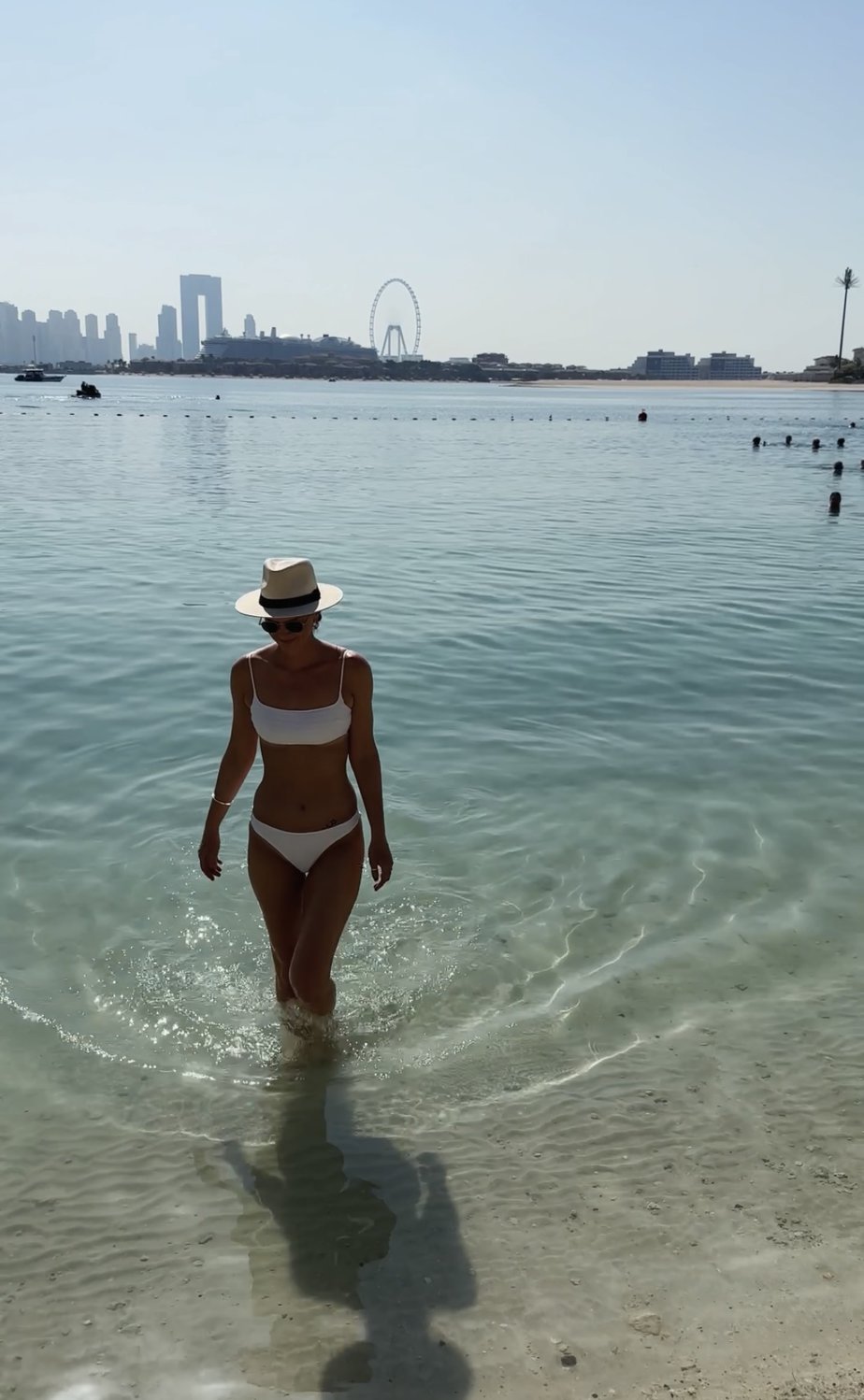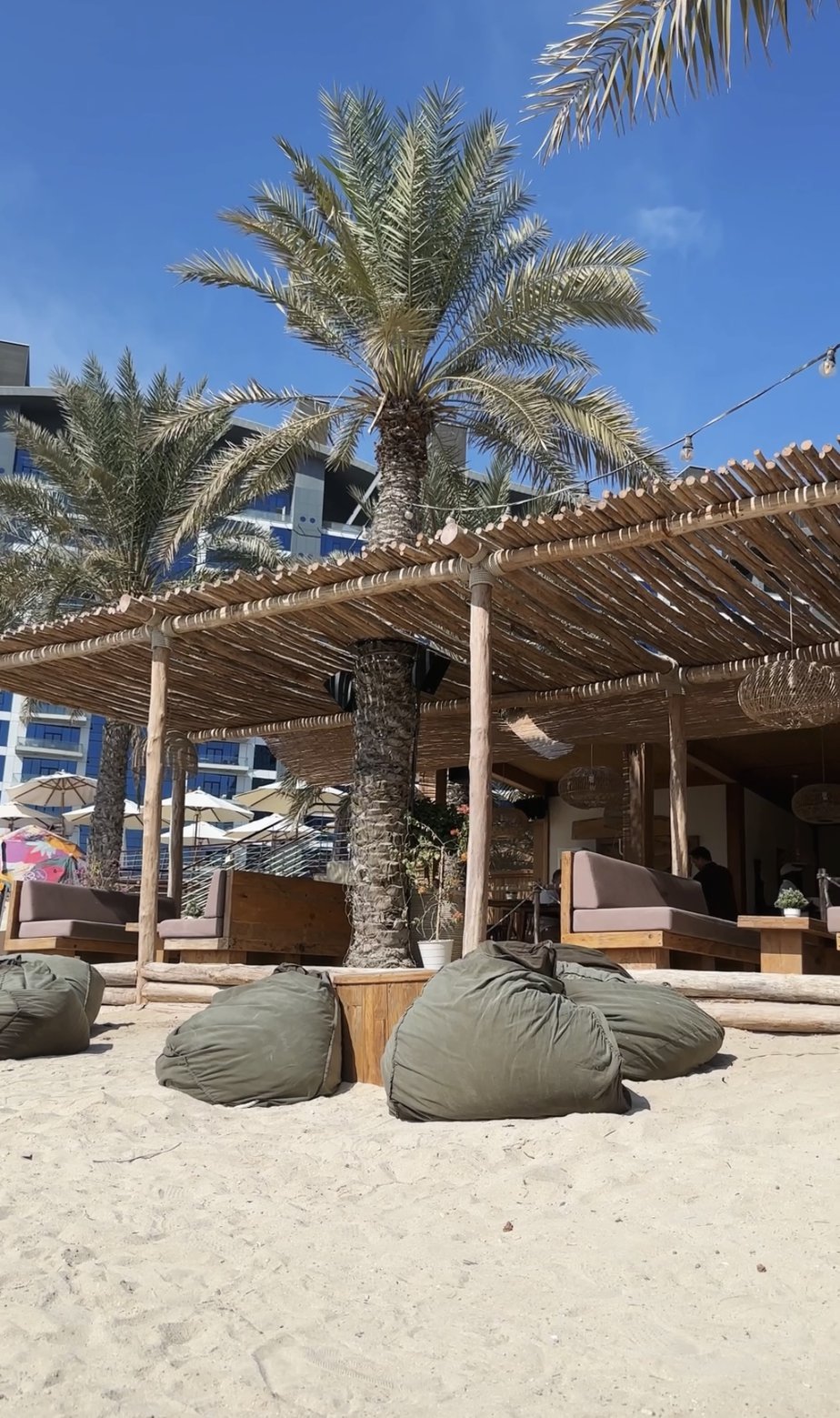 Taj Exotica Resort and Spa
I had read about this new hotel and how it has the longest pool on the palm so I was really excited to visit and it didn't disappoint.
The 70-metre pool is also home to two Pool Bars, making it the perfect spot to cool off and catch up with friends and family (remember to check out the guest pass option with your Privilee as when you have family and friends visiting you can often buy day passes so they can join you too)
Alongside the pool is a spacious private beach with gorgeous views of The Palm. You won't struggle to find a sunbed here either, I arrived later in the day and despite this, I had lots of options but I would always recommend arriving as early as you can for the most
Fancy maximising your Privilee even further here? If so, I highly recommend booking one of their tennis courts or getting a 20% discount on the non-motorised water sports offered.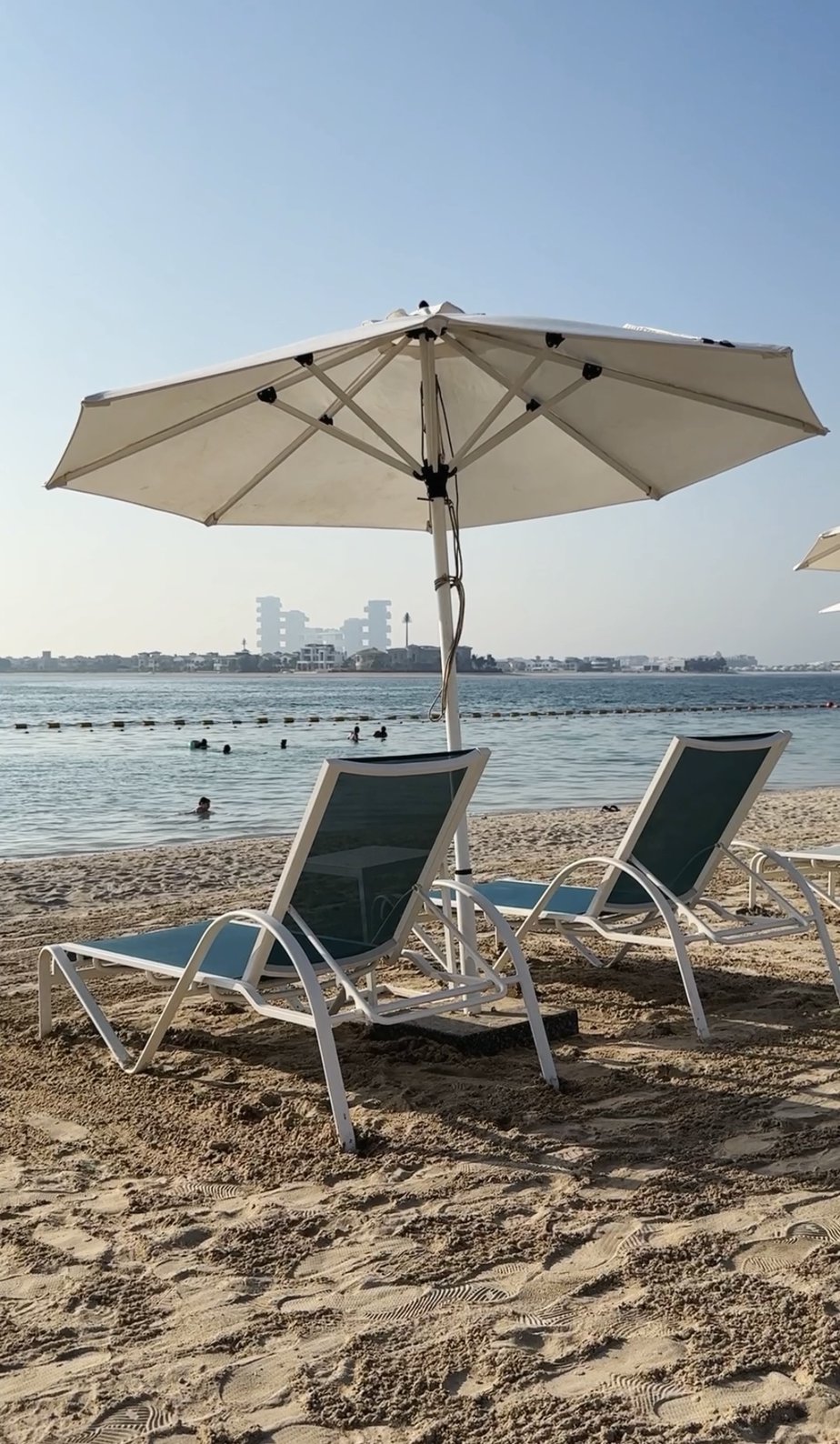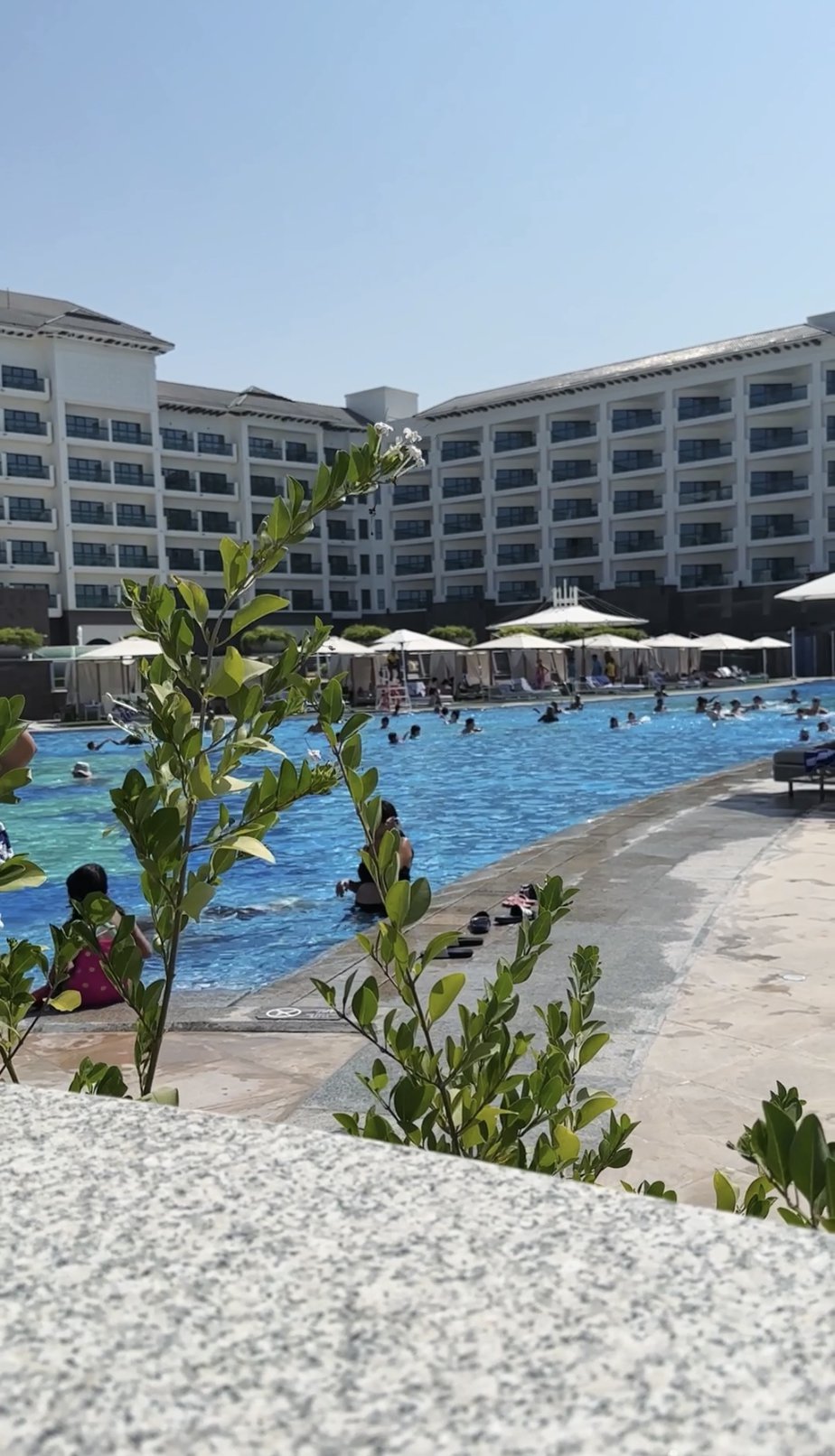 Anantara The Palm Dubai Resort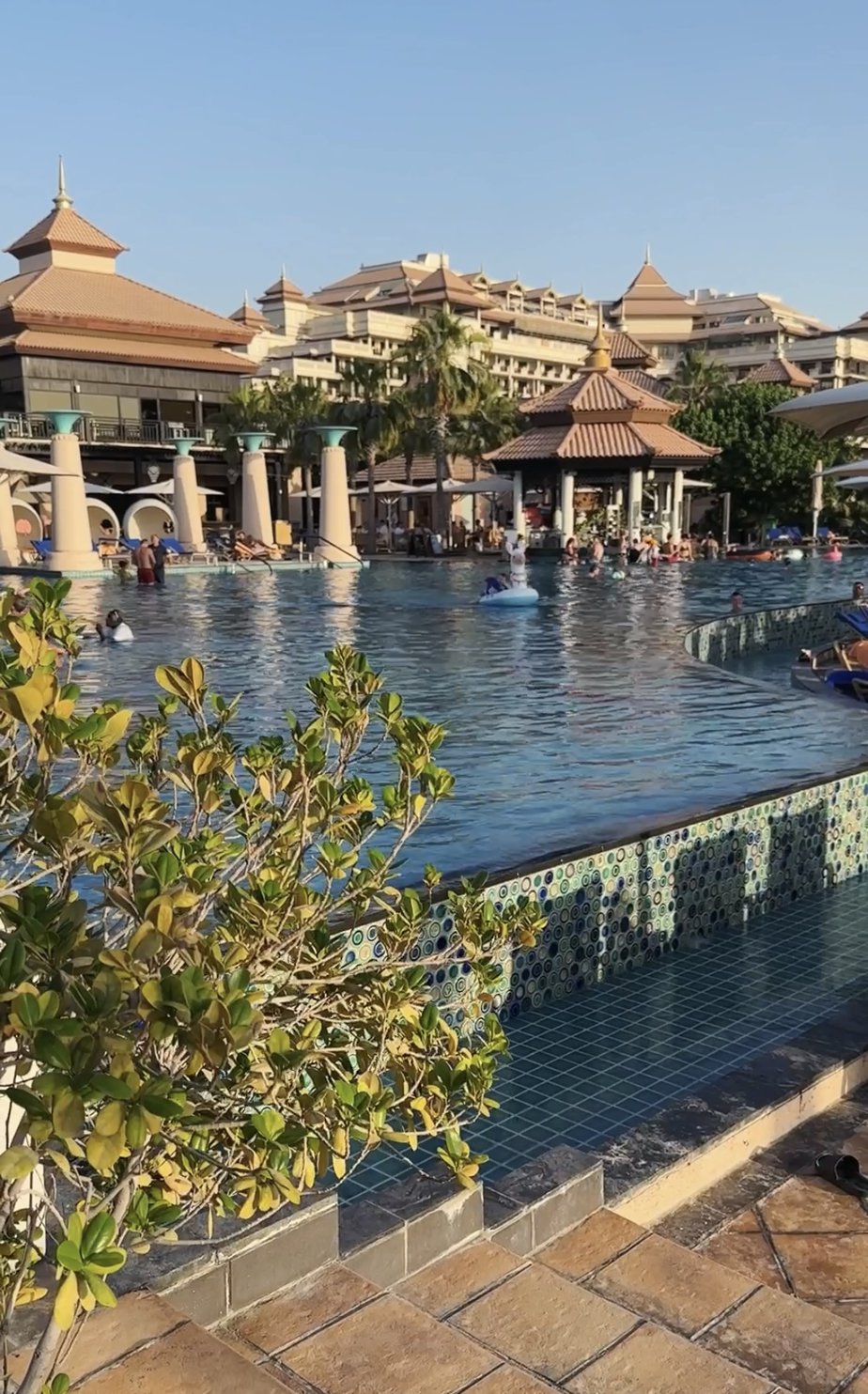 When living in Dubai it becomes more normal to be surrounded by beautiful surroundings; especially when visiting the pools and beaches of luxury hotels but Anantara The Palm Dubai Resort takes this to the next level. The resort is surrounded by lush gardens with unique architecture, combining both Asian and Arabic design. I got a taxi to the resort and would recommend factoring in time for traffic delays when traveling here as it is located on the East Crescent of the Palm Jumeriah. This also places it in one of the very best locations in Dubai so it is well worth the visit.
The huge resort is home to a 50-metre infinity pool and 400 meter stretch of private beach, meaning you can kick back and relax in stunning surroundings
I mixed up my day in the best way possible; 50% beach and 50% poolside. The beach was stunning and very relaxing whilst the pool had a great vibe and who doesn't enjoy a refreshing swim to cool off after soaking up the sunshine on the beach.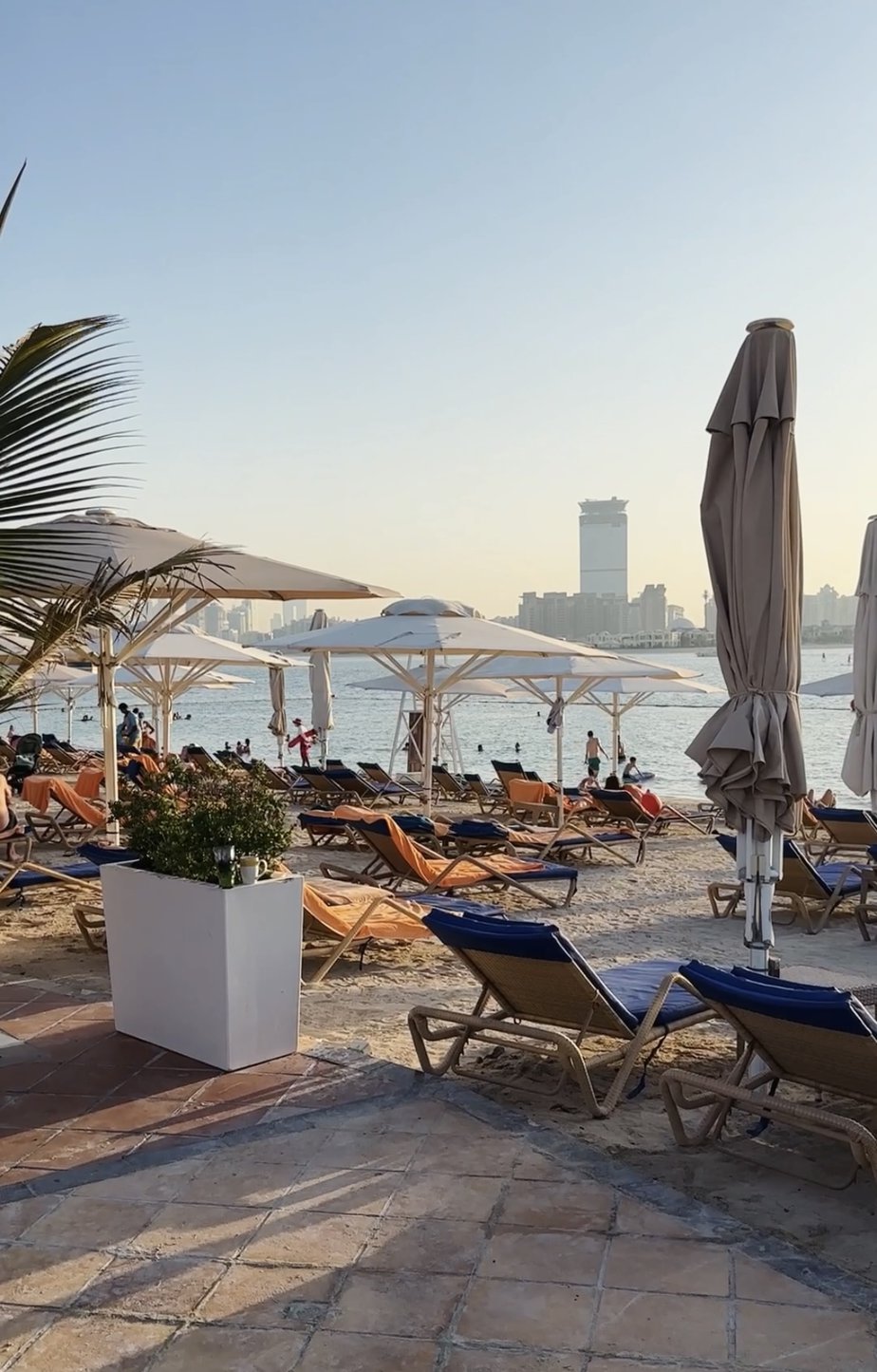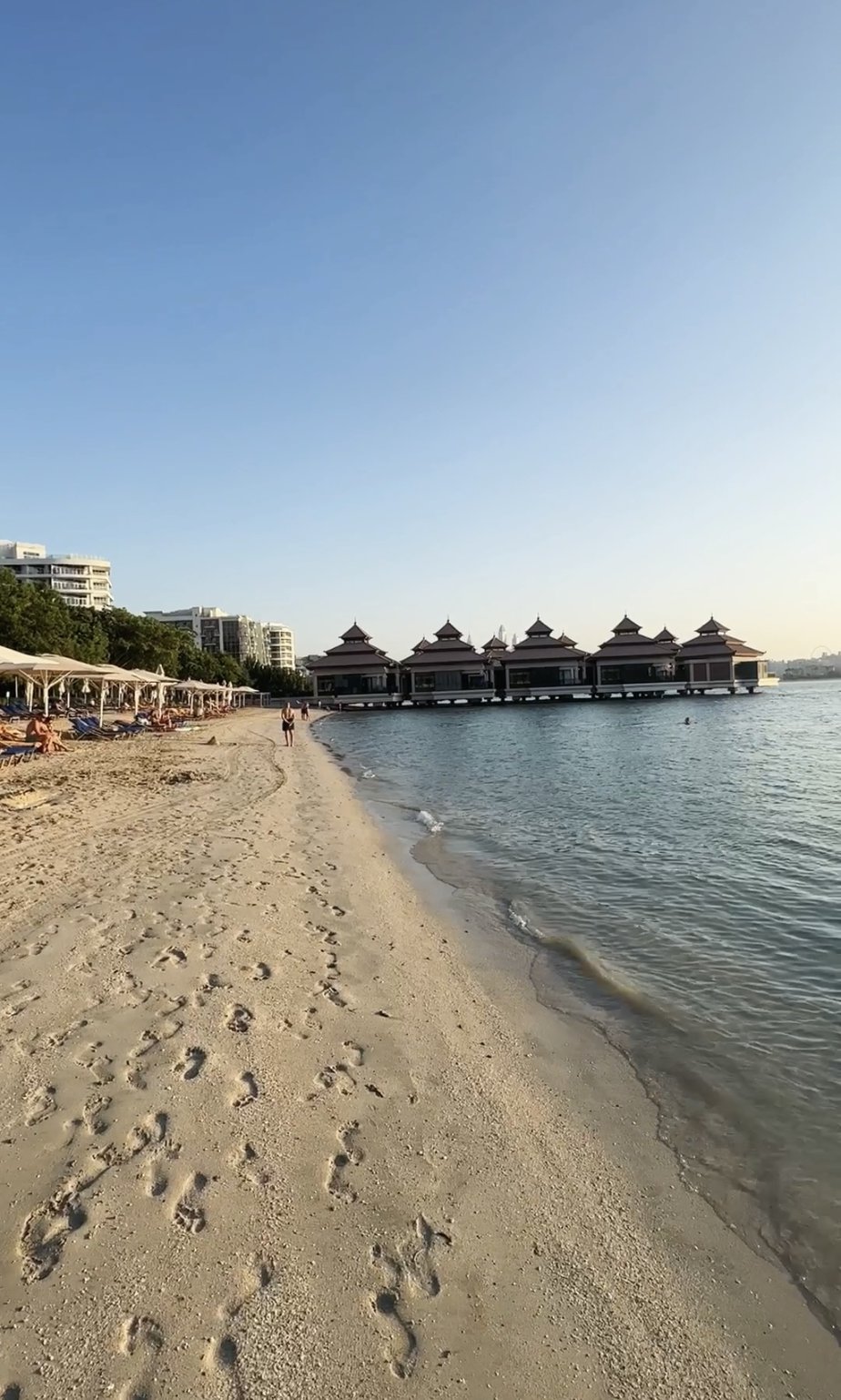 Why I recommend joining Privilee
Privilee is the ultimate lifestyle membership for those that live in the UAE, or are here visiting for an extended period (1-month+)
Looking to move to the UAE from the UK? This should be the first thing you sign up to when you land. Why would you relocate to the UAE and not enjoy the finest things it can offer? And to do so at an affordable price that makes joining Privilee the easiest decision you can make.
This award-winning digital app membership in the UAE will open you up to living your best life, accessing the five star luxury the UAE has to offer, for a fraction of the price.
Although it has so many choices, Privilee is actually very simple. It gives Members access to the best pools, resorts, gyms, and food & drinks discounts. Who doesn't want that? You don't need multiple memberships, you don't need to call venues and payday rates and scroll for packages, you simply open up the Privilee app and make a reservation. It's so simple to use and time-saving.
You never need to worry about hidden costs either as you simply plan your visit in the Privilee app and check in at venues using your digital membership card. All the gyms and resorts are extremely welcoming to Privilee members and you receive the same standard of service as a hotel guest or full-time gym member of each location.
It's a membership you will never want to give up either as the team are always introducing new venues and offerings to visit as well as having well-established and stunning venues already on offer. Sign up to their email database and they are constantly inspiring you with offers and new locations and recommendations. You really are joining a family and the team really do care that you get the best return for your membership fee.
Ok, this sounds like the membership for me, how do I reach out and find out more?
Get in touch with Privilee via Whatsapp on 058 536 7847 or email info@Privilee.ae The team is very friendly and helpful and they will help you find the best membership that suits you.
And give them a follow on Instagram @Privilee_UAE
Watch my 8 Best Beach Clubs to Visit in the UAE using Privilee here: