If you're looking for a base to explore Downtown Dubai from, you can't go far wrong with Hotel Indigo. Home to some of Dubai's most iconic landmarks, Downtown Dubai has a lot going for it, and Hotel Indigo is the perfect place to head back to at the end of a day exploring…
Hotel Indigo is Dubai's first boutique hotel and it even has its very own art tour. Located just five minutes away from Dubai Mall, it's a fantastic base for experiencing all that Downtown Dubai has to offer.
Decades of culture and curation has resulted in a vibrant, quirky and super comfortable luxurious interior, making for a unique experience. From mother-of-pearl bathrooms and bold colours everywhere you look, to floor-to-ceiling views of the city and playful patterns and prints, Hotel Indigo is like nowhere I had ever been before. The decor is certainly lavish, and there's a laid back yet luxurious feel to this beautiful hotel.
There is art to admire on every floor of the hotel, and some of the floors are even pet friendly too. The location also offers a different take on Dubai and provides a glimpse of the history of this iconically modern city, providing a glimpse into the past, where old meets new.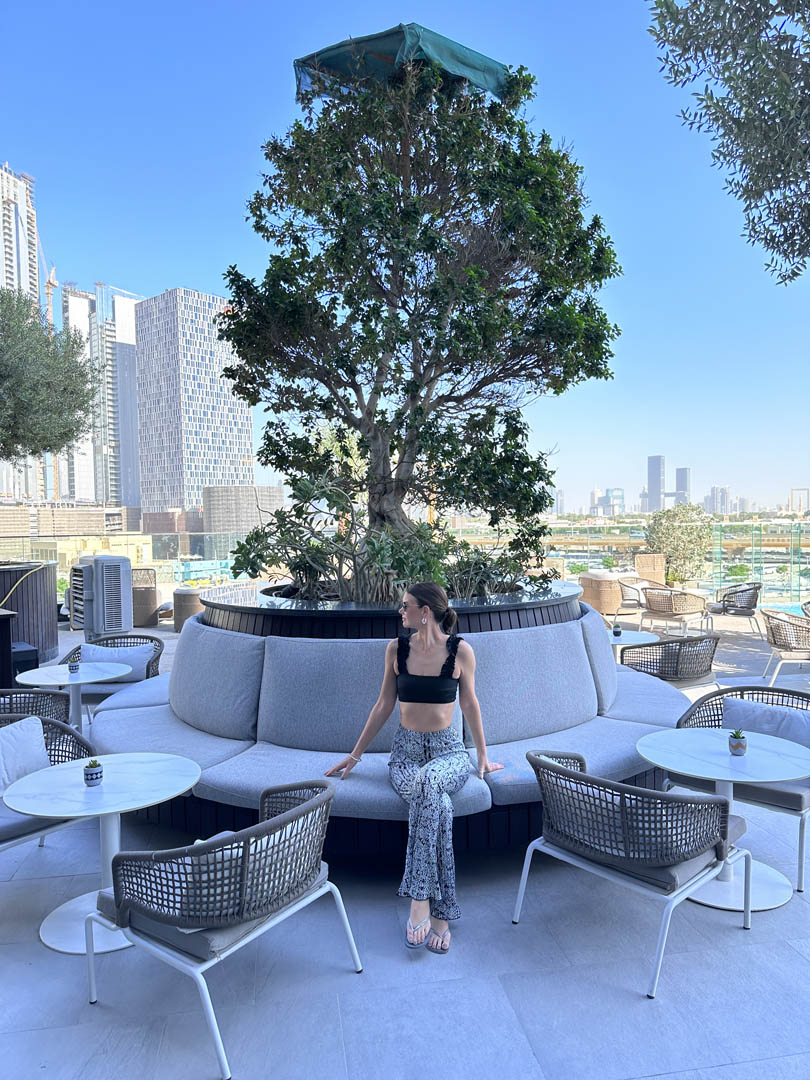 The Art Tour…
Considered an 'art hotel', within the hotel you will find over 200 pieces of original artwork created by local and international talented artists. You can book a tour of the artwork to find out more about all of the individual pieces, as well as the history of the hotel. You can experience just the tour, or book it as part of a package with afternoon tea. There are also regular exhibitions, showcasing unique pieces – these typically change every few months, so check out what's going to be on during your stay.
There's also an option to enjoy your own 'self-guided' tour. Download the app 'ARTin Hotel Indigo', which will provide all the information that you need about each piece, including the artist and the inspiration behind the artwork.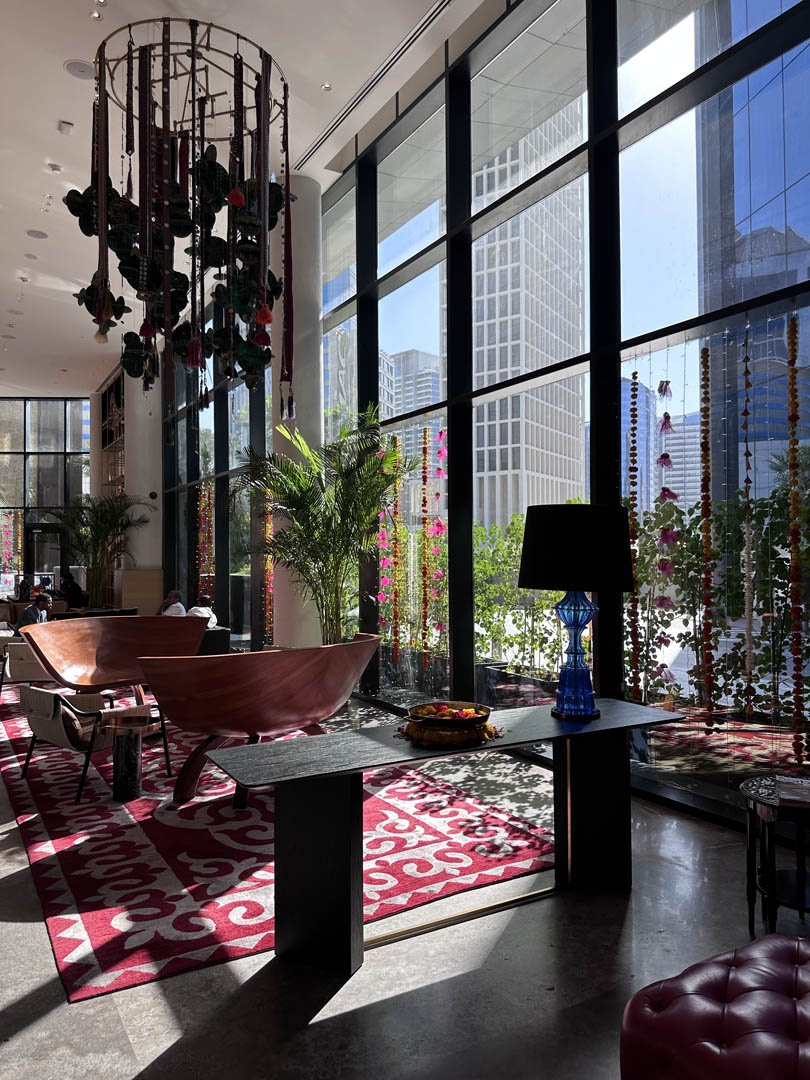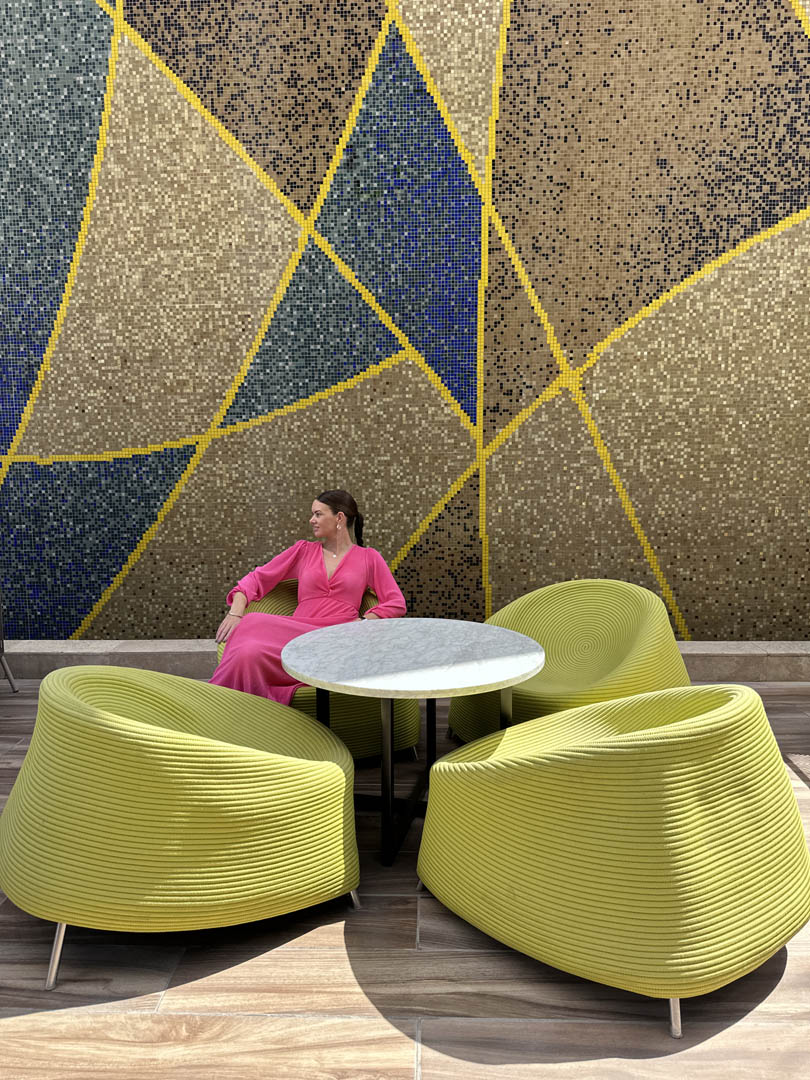 Dining at Hotel Indigo…
There are a few options for dining and drinks at the hotel, all of which are a must-visit during your stay. If you're looking for something substantial, head to Open Sesame, which is found on the ground floor. With a menu inspired by Mediterranean cuisine, the restaurant serves breakfast, lunch and dinner, as well as afternoon tea and coffee. There's also an extensive menu of organic wines too.
Sat alongside the beautiful infinity pool you will find the Orange Feels Bar and Shisha Lounge. Indulge in an Aperol Inspired cocktail and nibbles as you sit by the pool, or take in the amazing night's skyline while you try one of the flavoured shishas in the evening.
Finally, head to the Off the Wall cocktail bar for a bite to eat and of course, a cocktail or two. Here you'll find Asian street food inspired dishes, classic cocktails and stunning artwork by local artists.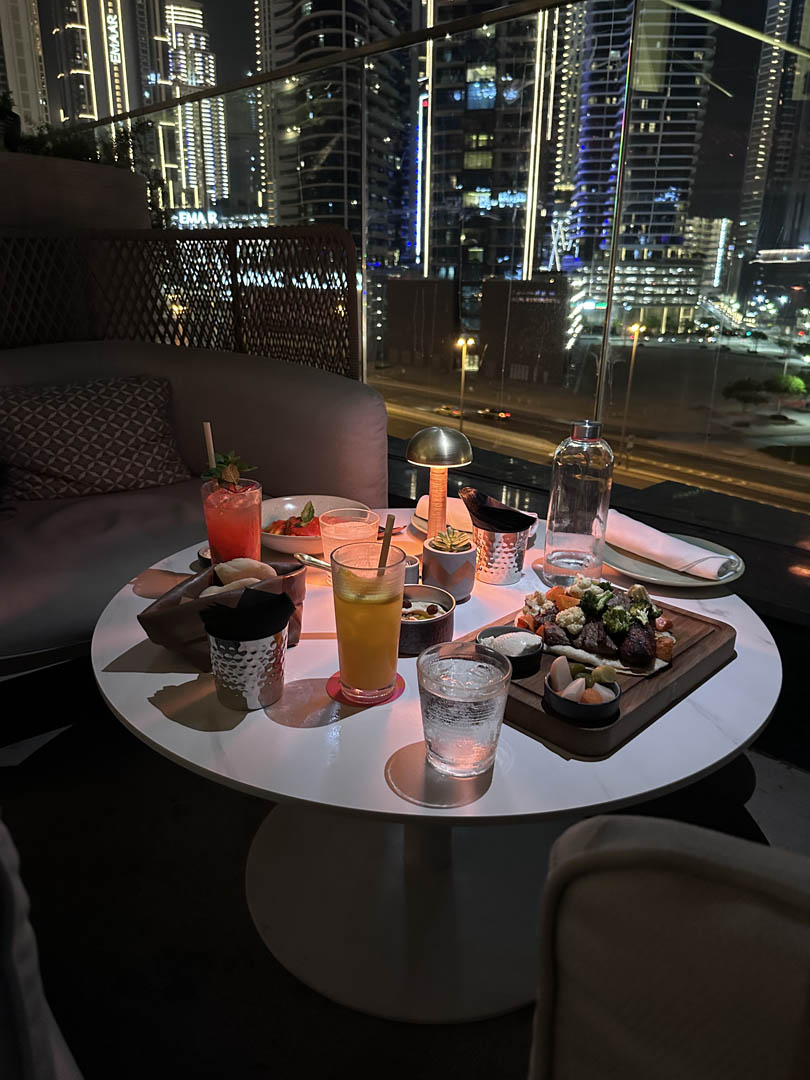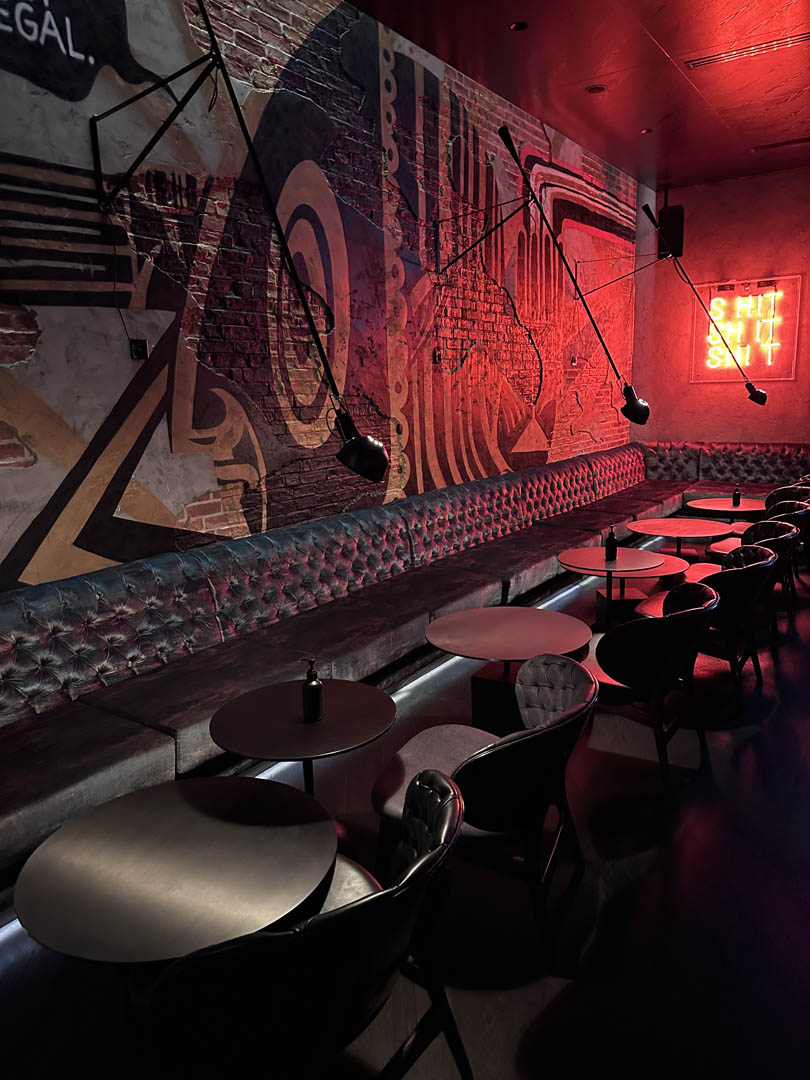 The 'Extras'
Whether you want a day to just relax, or you plan to fit in some downtime at the end of a day exploring, before your evening begins, head to the beautiful 25m infinity pool. With amazing views of the Dubai skyline, you can relax on super comfy lounge beds, or take a dip to revitalise ready for the evening ahead. As well as the pool, there's also a fully kitted out gym that's open 24/7 for hotel guests.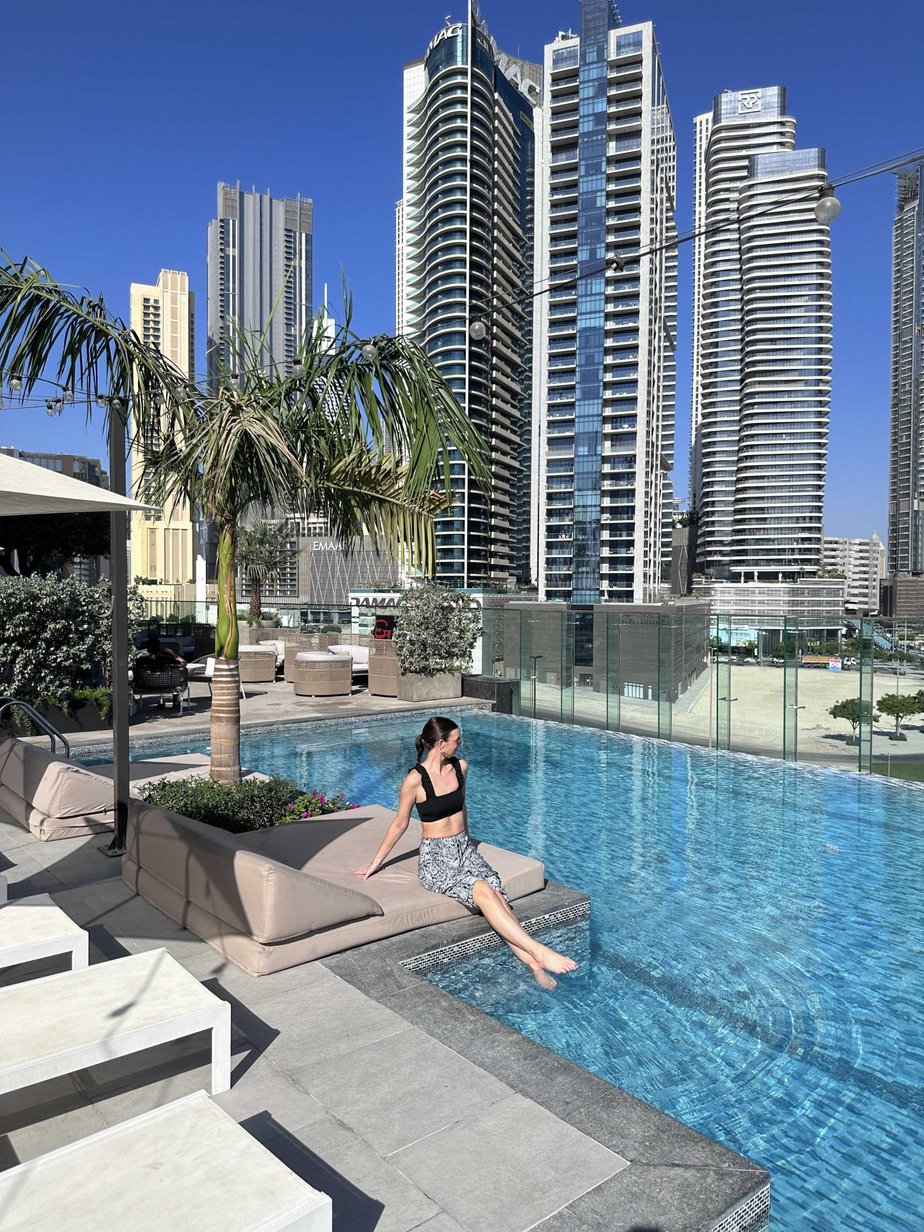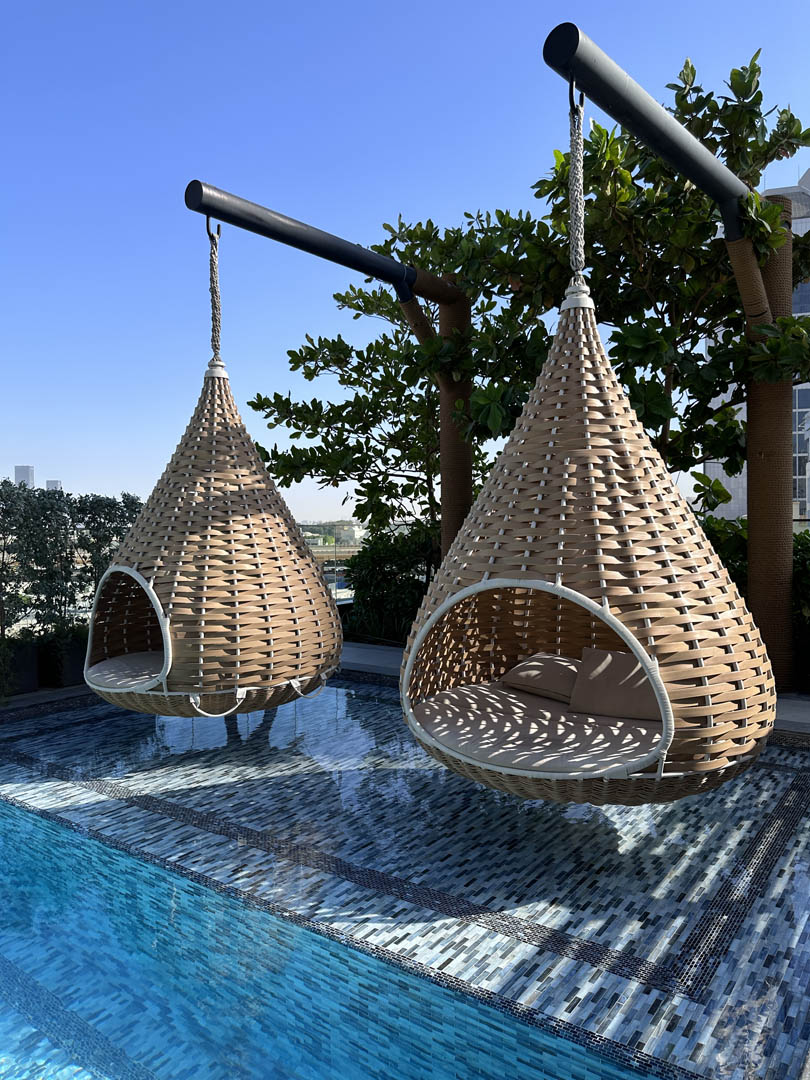 The Area: Downtown Dubai
In Downtown Dubai you'll find Dubai Mall and the Design District, as well as various amazing landmarks. The hotel itself is actually in the heart of Business Bay, which is right next to Dubai Downtown (think a short walk, rather than a car journey). The immediate area is urban and vibrant, with loads going on.
You can walk to the mall and the Burj Khalifa skyscraper, and there are several amazing art galleries to explore. Should you want to head further afield, or simply don't fancy a walk, you can grab a water taxi on the creek, which is a great experience in itself. Another way to get around is the Dubai Trolley – the world's first hydrogen-powered trolley. It goes along the Mohammed Bin Rashid Boulevard and goes between various landmarks and places of interest.
There's a unique mix of modern and traditional architecture, making for a really interesting and diverse landscape. Here you'll witness huge towers, along with traditional Arabian-style buildings, as well as some small green spaces thrown in.
Staying at Hotel Indigo makes for a truly unique, varied and memorable trip. I loved every minute I spent here and would head back in a heartbeat.